The embattled former Arroyo Grande city councilman who pleaded no contest to charges of residential burglary and possession of child pornography will serve nine months in county jail.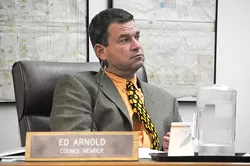 Ed Arnold, 46, heard his sentence in San Luis Obispo Superior Court on July 12, and as part of his plea bargain with prosecutors, will serve 270 days in jail, receive three years of formal probation, and will be required to attend a batterer intervention program. Arnold will also be required to register with the state as a sex offender.
Under the plea deal, Arnold pleaded no contest to burglary and pornography charges in exchange for the dismissal of other pending charges, which included domestic violence, assault with a deadly weapon, possession of an illegal assault weapon, and threatening bodily harm.
PHOTO BY ROBERT A. MCDONALD/MUG SHOT COURTESY OF SLO SHERIFF'S DEPT.
BEFORE AND AFTER: Former Arroyo Grande City Councilman Ed Arnold, who pleaded no contest to charges of burglary and child pornography stemming from a December 2009 arrest, has been sentenced to nine months in jail and three years of probation. He also must register as a sex offender.
A plea of not guilty is not an admission of guilt.
Arnold was arrested in December 2009 after an incident in which he was suspected of breaking into the home of a woman he allegedly blamed for the dissolution of his marriage and attacking her with a blunt object.
During the course of their investigation, police discovered a webcam video on Arnold's personal computer of an underage female showering. It was later discovered that the female was a foreign exchange student who briefly lived with Arnold at his Arroyo Grande residence. Police also found other images of naked underage girls on the computer.
Arnold's "burglary" victim—who was not identified by name—read a prepared statement to Superior Court Judge Barry LaBarbera before he announced the final punishment.
"He always told me, 'He who crosses Ed Arnold's wishes, pays. I don't get even, I get ahead,'" said the alleged assault victim, a small, slender woman who was barely able to read a prepared statement while choking back tears, the pages shaking in her hands. "His words are just like his soul: They're completely empty."
Her speech had an immediate and obvious impact on LaBarbera, who said he was considering rejecting the plea deal based on the powerful statement and probation report.
Arnold's attorney Ilan Funke-Bilu argued that he was skeptical of the probation report—which labeled Arnold as a sociopath who may not have had any remorse for his actions—and the person who wrote it.
"This is a man who feels terrible about what he's done," Funke-Bilu said in defense of Arnold. "I don't know what else a man can do. … This is the closest thing to a Greek tragedy I've had in my career."
Arnold is due to surrender for his sentence Sept. 19.