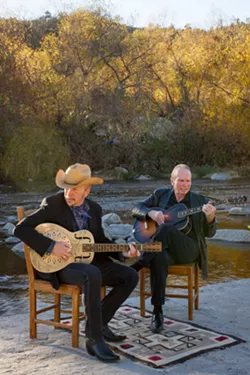 PHOTO BY BETH HERZHAFT
THIRTY YEARS GONE!: Former Blasters members Dave Alvin and Phil Alvin have teamed up to record their first new studio album in 30 years, a tribute to Big Bill Broonzy, selections from which they'll play June 13 at the Live Oak Music Festival.
I loved, loved, loved The Blasters in the early '80s. The American roots revival act (as well as The Stray Cats) introduced me to rockabilly and turned me on to original rockabilly artists like Gene Vincent, Duane Eddy, Buddy Holly, Wanda Jackson, and Elvis Presley, the latter of whom I was aware of more as a Vegas lounge act thanks to my mom's record collection. It was only later after I'd heard the raucous and raw sounds of The Blasters that I dug back into the old stuff that informed their style.
I also have a vivid memory of the horror of dead air during my trial-by-fire DJ test run at KCPR. It was my first solo show, around 1983 or '84, early in the wee hours of the morning when no one was listening, and I decided to play The Blasters' "Marie Marie" off their self-titled 1982 album. As I was digging out my next cut from the stacks, the song abruptly ended. It was only two minutes and seven seconds long. That dead air as I raced to get the next song on was unbearable. The Blasters taught me about rockabilly, and they taught be to be fast!
Now the two brothers at the heart of The Blasters—Dave and Phil Alvin—are teaching me about Big Bill Broonzy (1893-1958), an African-American blues singer, songwriter, and guitarist who copyrighted more than 300 songs in his lifetime.
The brothers' new album, Common Ground: Dave Alvin & Phil Alvin Play and Sing the Songs of Big Bill Broonzy, which was officially released on June 3, is a dozen classic country blues songs featuring great guitar picking and those earthy, rustic Alvin voices.
The Alvins—whose cantankerous and rocky relationship has been well documented, starting with Dave's abrupt 1986 departure from The Blasters to join X for two years before going solo—remained at arm's length for decades. Maybe they've mellowed, simply come to appreciate each other more as they've gotten older, or stared their own mortality in the face and decided life is too short, but I'm grateful to hear them together again.
"We argue sometimes, but we never argue about Big Bill Broonzy," Dave said in press materials when explaining why he and brother Phil, who haven't made an album together in almost 30 years, were inspired to record the new album. The brothers have shared a fascination with Broonzy since childhood.
"After an illness nearly took Phil's life in 2012, they resolved to return to the studio and pay tribute to the blues legend," according to press materials. "Common Ground includes 12 songs that capture a 30-year cross section of Broonzy's canon, performed by the Alvins in their signature style of rollicking roots and stomping country blues."
You can see Dave Alvin and Phil Alvin and The Guilty Ones at the Live Oak Music Festival (June 13 through June 15) on Friday, June 13, from 9 to 10:30 p.m. on the Main Stage.
It's not too late for you to get tickets to Live Oak, either full festival camping passes or single day pass. Just visit liveoakfest.org and follow the links. There're so many great acts this year, from JD McPherson to Shadowlands to The Boogaloo Assassins to The Monroe to Holly Williams to Railroad Earth. The event takes place at Live Oak Camp, off Highway 154, about 80 minutes south of SLO Town.
A festival for the rest of you
PHOTO COURTESY OF ROBERT DELONG
ARTIST TO WATCH!: Robert DeLong was named a 2013 Artist to Watch by the likes of MTV and the magazines Billboard and VIBE, and he plays June 7 at the third annual Central Coast Oyster and Music Festival at Avila Beach Golf Resort.
It seems like a lot of music festivals are geared for kids, especially those electronic dance rave thingies (man, do I sound old!), but some music festivals are aimed straight for adults—the ones too young to care about Sammy Hagar and Chicago but too old to listen to a repetitively thumping DJ and suffer through a light and laser show. If that sounds like you, The third annual Central Coast Oyster and Music Festival this Saturday, June 7, from noon to 8 p.m. at Avila Beach Golf Resort will be right up your alley, offering up new cutting edge music without the glow sticks and glazed eyes.
Of course there will be copious amounts of food and drink as well as cool installation art and an eclectic festival vibe (plus you're at the beach and it'll be in the 70s and sunny), but more importantly, there's some really cool music this year.
Robert DeLong was named a 2013 Artist to Watch by the likes of MTV and the magazines Billboard and VIBE, and for the record, he is an electronic artist, but the dude can play the drums, and his lyrics are introspective and literate.
Then there's The Honey Trees, a lush and dreamy pop duo whose songs are gorgeous and whose melodies and instrumentation feel like magic. Featuring Becky Filip and Jacob Wick, the two teamed with producer Jeremy Larson on their latest CD. "He essentially took our music to another world," the duo said in press materials. "He helped us achieve the magical, dreamy, otherworldliness we always strive for when writing music."
Ferocious Few, AKA Francisco Fernandez and drummer Jessamyn Cuneo, brings a raw and immediate punk energy to the stage, which Fernandez sums up with this line: "You can help give people what they want: rock 'n' roll with the combined power of cocaine and gasoline." And that from a guy who tours relentless in his Prius!
Rey Fresco (that's Spanish for King Fresh!) has been described as "original" and "eclectic," which is to say their sound is hard to describe, in part because it traverses a lot of ground. Suffice it to say, they bring a lot of different genres to the table: The group is "comprised of soulful lead singer and Fiji native Roger Keiaho; drummer Andrew Jones, who builds his own drums with techniques borrowed from surfboard making; bassist Shawn Echevarria; and harpist Xocoyotzin 'Xoco' Moraza, who plays a 36-string Veracruz harp built by his father and also holds a degree in ethnomusicology."
And the final act in this varied lineup is 9 Theory, the solo project of electric producer, singer-songwriter, and recording-mixing engineer Gabe Lehner, which goes all over the place! He collaborates with a lot of vocalists and emcees and creates a lot of diverse and cool music.
Buy your tickets online at centralcoastoysterfestival.com. General admission is $23.60. The event benefits "a local nonprofit providing a zero waste event and educational program for 18-to-108-year-old at-risk youth, an alternative school of education for nonconformist individuals, teaching sustainable nonconformity and offering an education in biology, ecology, communications, gardening, and hustling." Hey, man, that's what the promoter's press release says. Don't ask me what it means!
Metalachi and Castillo!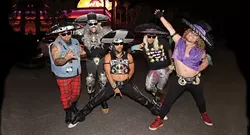 PHOTO BY SCOTT HARRISON
METAL MARIACHI MASHUP!: Metalachi brings their mariachi style black metal music to SLO Brew on June 5.
SLO Brew, which is running the stage at the Oyster Fest, also has a pretty full week at the club, starting with Metalachi on Thursday, June 5 (8 p.m.; 21-and-older; $12 presale or $13 at the door). I missed this combination mariachi and metal band mash-up the last time they were here, but word on the street was they were amazeballz!
Look, sometimes a band's bio can sum up what they're about way better than I could: "On a hot summer night in Veracruz, Mexico, circa 1982, Consuela Espinoza stumbled out of her dilapidated shanty and into rock 'n' roll history. What began as an innocent night of snorting horse tranquilizers in a hotel room with seven members of the village jai alai team went on to produce the greatest metal band to ever live. Unhampered by a steady regime of tequila and ill advised sumo lessons, nine months later five bastard children where born. Unable to care for her hungry offspring and concerned that motherhood would seriously interfere with her Tuesday night Karaoke league, Consuela hastily packed the babies into the saddlebags of a burro and sent her children off to America in search of a better life. Against all odds, 14 years later, and nearly dead from dehydration, the burro knelt down to drink from the stagnant waters of the Rio Grande just outside of Juarez Mexico—mere yards from the U.S. border. With one fleeting burst of energy, the brothers Espinoza cinco climbed from their leather restraints and scampered the vast reach of the river, collapsing onto the sweet amber hue of American soil. As if by destiny, lodged in the sand beneath their tanned faces was a record sleeve upon which were the words "PARANOID" and "BLACK SABBATH." For many years to follow, this definitive black metal album served not only as a teacher and a mentor, but also as a friend. From these bleak and humble beginnings grew the seed that would eventually be the band we know today. Often referred to as the greatest heavy metal band to ever live, always referred to as … METALACHI!"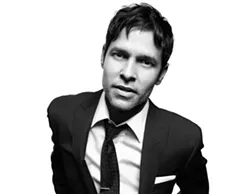 PHOTO COURTESY OF DAMON CASTILLO
BRILLIANT!: Damon Castillo's new album Mess of Me is a brilliant collection of soul, funk, and jazz inspired songs, and he and his band will release it June 6 at SLO Brew.
Of course, the really big news in this already jam-packed weekend of great music is the long awaited release of Damon Castillo's new album Mess of Me that continues the soulful, funky, jazzy brilliant singer-songwriter and guitarist's long march of excellence! This guy is a great songwriter and amazing performer, and this beautifully arranged, recorded, and engineered marvel of an album is filled with hooky and complex songs with Castillo's arresting voice front and center. The Damon Castillo Band plays an album release party on Friday, June 6 (7:30 p.m.; 21-and-older; $10 presale or $12 at the door).
"I love all aspects of being a musician, but I feel best when I am performing," Castillo said in press materials. "A great performance is a special connection between an artist, their art, and the audience; there is nothing like it. I know music changes lives. It changed mine. With our album's release, we will play shows from Laurel Lane [the band's SLO Town recording studio] to New York and back again. At every show, the Damon Castillo Band will play for music, for each other, for [deceased band member] Matt [Taylor], and we will never stop."
'80s redux!
PHOTO COURTESY OF BERLIN
NUNN BETTER!: Terri Nunn will lead her band Berlin through its paces on June 6 at Templeton's Venteux Vineyards.
The music of the '80s has never been hotter than it was in the '80s, and this Friday, June 6, one of the biggest stars of that neon-festooned decade—Terri Nunn and Berlin—plays Templeton's Venteux Vineyards (6 p.m.; $37.22 at brownpapertickets.com). Berlin released Animal, their seventh studio album, late last year, and on it they incorporate modern electronic dance music while remaining true to their groundbreaking synth-electro-pop sounds. Nunn's voice sounds great too!
I'm guessing they'll also play some of their classic hits such as "Take My Breath Away" from Top Gun, and "Sex (I'm A...)" from the platinum-selling debut EP Pleasure Victim in 1982, "The Metro," and "No More Words."
Nunn holds the No. 11 spot on VH1.com's 100 Greatest Women in Rock. She's a legend!
Morro music!
As if there weren't enough other awesome events happening this week, just to throw another option into the mix, here comes the always fun Morro Bay Music Festival on Saturday, June 7, from 11 a.m. to 7 p.m. at Tidelands Park on the Embarcadero.
This one's great for families! Tidelands Park features a Pirate Playground and sandbox plus statues of seals, a whale's tail, and crow's nest.
Dr. Nick the Balloonatic and face painting by Namaste Studios will be on hand, plus great music by Back Bay Betty, Lou Mars, Chicago Mike, Lenny Blue Band, Lou Lou and the Cow Tippers, and the reunited Louie Ortega and the Lovers.
Naturally there'll be food, wine, and beer available for sale including a delicious barbecue. Bring your lawn chairs and enjoy the day by the Bay. Admission is $2 per person at the door, with kids 12 and under free. All proceeds go to the Morro Bay Harbor Festival, which takes place October 4 and 5.
Keep up with Glen Starkey via twitter at twitter.com/glenstarkey, friend him at facebook.com/glenstarkey or myspace.com/glenstarkey, or contact him at gstarkey@newtimesslo.com.