Not all kale is created equally. Sure, you can always pick up some bagged kale at the supermarket. However, you can also grab some fresh and locally grown kale, straight from the hands of a farmer you know. Cam Sluggett wants to help you with the second option.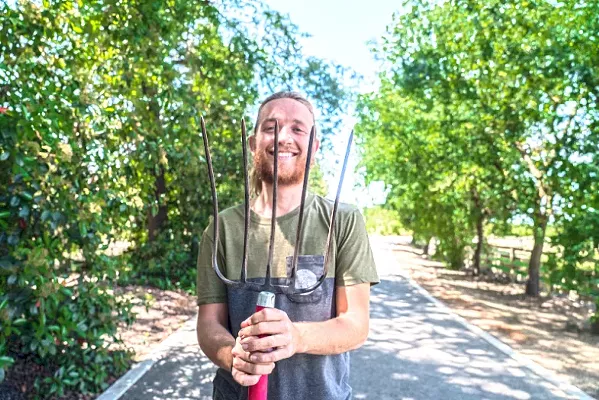 Photo Courtesy Of Arkitu
MAKING THE CONNECTION Combining his love for both agriculture and technology, Cam Sluggett created an app that connects farmers and consumers.
Growing up in Oakdale (the "Cowboy Capital of the World"), Sluggett spent many of his weekends working on ranches and hanging out with local farmers. He loves getting to know farmers and discussing their products, yet believes many people are disconnected from how their food gets to their table. As not only a farm enthusiast but tech junkie, Sluggett's determined to change that with a smartphone app.
"Right now, there's nothing that lets people say, 'I want the lettuce now, and I want to know the farmer and where they picked the lettuce from,'" Sluggett said. "I'm mainly concerned with helping people connect with farmers, knowing where their food comes from, and knowing it's good food."
Sluggett's solution is Arkitu, an app for farmers and consumers alike on the Central Coast. Arkitu, which means "find it" in Basque, is a mobile marketplace of sorts: Vendors can drop pins on maps of where they will be and when—think farmers' markets—and buyers can use the app to find where to go for the products they need.
Let's say you want to purchase some ghee. After searching "ghee" in the app, you'll learn Grateful Ghee offers sustainably made ghee at the downtown SLO Farmers' Market each Thursday. If you want to know what else will be available at that market, you can search by location to see which vendors will be available and when.
A payment option is also gradually being introduced. Consumers can look at a vendor's products through Arkitu, select and purchase the ones they want, and show the vendor an online receipt to pick up their order. This option is currently only available for 10 vendors, but Sluggett is focusing on reaching out to more to help them set up the feature.
"I designed it so they can quickly set it up on a computer at home and then just go to the market and do their thing," Sluggett said. "It enables farmers to take a form of electronic payment without having any technology at the market, because that's a big barrier to them."
Sluggett believes both the increased ease of finding products and additional payment options will encourage more people to utilize farmers' markets and connect with local farmers.
"I want people to understand the food isn't just there—more than likely the person you see selling it is picking it," Sluggett said. "I want people to say, 'I know the guy who picked this avocado. He makes me laugh and I see him every week.'"
Arkitu is currently available for free through the App Store. If any vendor is interested in featuring their products through the app, visit arkitu.co or email Sluggett at cam@arkitu.co.
Fast facts
For a different way to explore San Luis Obispo this summer, Puzzling Adventures offers a Mini Puzzling Adventure of the downtown area. The self-guided walking tour provides clues to solve and highlights lesser-known facts about historic areas of SLO and Mission Plaza. It's $30 per team (check Groupon for occasional deals) and can be done competitively or just for a fun outing.
The Central Coast Realtors Charitable Foundation recently donated almost $10,500 to the SLO County Food Bank from funds that were raised during the foundation's second annual poker tournament. The Food Bank's vision is for every person in the county to have adequate access to nutritious foods. Δ
Editorial Intern Ashley Ladin wrote this week's Strokes and Plugs. Send tidbits to strokes@newtimesslo.com.