Atascadero homeowner and well-known activist David Broadwater has accused Mayor Tom O'Malley of attempting to squelch both his right to information and his exercise of free speech during a City Council meeting on May 23. "O'Malley said I might be in trouble with the law if I speak to other council members,� claims Broadwater. "I'll be damned if I allow any public official to tread on my right of free speech.�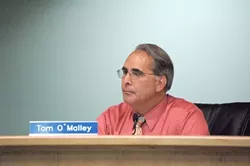 PHOTO BY NICK COURY
UNDER FIRE : Atascadero Mayor Tom O'Malley listens to complaints and concerns of an irate constituency at the City Council meeting May 23.
# Atascadero residents packed the 7 p.m. meeting to find out how negotiations on a massive box store have been proceeding for more than a year behind closed doors.
In mid-April the Rottman Group, a San Luis Obispo-based developer, announced a proposal to build a Super Wal-Mart at the corner of El Camino Real and Del Rio Road. City Councilman George Luna told New Times (May 4, "Opponents Face off in Atascadero�) that Assistant City Manager Jim Lewis had been courting Wal-Mart for almost a year while keeping residents and the council in the dark.
In an attempt to shed light on the situation, Broadwater says he contacted Marcia Torgerson, assistant to City Manager Wade McKinney; Warren Frace, community development director; Jim Lewis, assistant city manager; and Maury Froman, the Rottman Group's senior vice president, to ask for records of all communications regarding the project. While these parties acknowledged that numerous "informal� meetings occurred between the developer and city staff, Broadwater says he was told that no letters, e-mails, or records of phone conversations and meetings existed.
At the May 9 regular council meeting, Broadwater asked members to require city staff, in accordance with the California Public Records Act, to provide a report of all communications regarding the project. In response, the council unanimously voted to direct City Manager McKinney to prepare a report for the May 23 council meeting.
On May 13, Mayor O'Malley sent an e-mail to Broadwater that says, "I expect staff to have a summary report on any and all formal requests or discussions regarding the Del Rio site complete for our next council meeting.� In the e-mail he praises Wal-Mart's employee insurance program, even though a 2004 UC Berkley study shows that the reliance of California Wal-Mart employees on Medicare and food stamps costs California taxpayers approximately $86 million a year.
O'Malley ends his e-mail with, "By the way, I know you are familiar with the Brown Act, so please remember that you can discuss your thoughts with all council members individually, but should not discuss any content of discussions you may have with any one of us to the others.� However, the Brown Act does not apply to conversations between a council member and any other un-elected person.
"For the mayor to use the Brown Act to muzzle a citizen with a law that governs only the behavior of elected and appointed officials, and to nullify a citizen's Constitutional rights, exemplifies a level of abuse of power, and is behavior unacceptable for any representative of the people,� Broadwater says.
O'Malley countered that passing information from one council member to another is forbidden by the Brown Act, but asked Patrick Enright, the city's attorney to clarify the relevance of the act. "It does not apply to the public,� Enright says. "�They can discuss any matter with any of you.�
In 1953, the Brown Act (named for then Assemblyman Ralph M. Brown of Turlock) was enacted in response to mounting public concerns over informal, undisclosed meetings held by local elected officials which did not comply with requirements for advance public notice, instead, holding secret workshops and study sessions. The Brown Act applies solely to California city and county government agencies, boards, and councils.
In another attempt to control communication regarding the Del Rio project, City Manager McKinney sent an e-mail to "all employees� on what information to provide the public. According to the e-mail, the first formal step in the review process will occur at the special May 30 council meeting, which will be dedicated to the Del Rio/Wal-Mart project, when the Rottman Group is slated to formally submit their plans, and that to "our knowledge� retailers have not been secured for the site. McKinney ends his e-mail with, "Please feel free to share this information with members of the public. If you are asked other questions that you are not able to answer, please feel free to forward individuals to Warren Frace.�
During the May 23 meeting McKinney explained his failure to provide the public with report of any and all staff activity dealing with the Del Rio project, "We understand you wanted a memo, but unfortunately it is not responsive to needs. It is difficult to explain nothing.�
Residents lined up to voice their dismay with city staff's failure to document their activities and to demand the disclosure of information on all contacts with the Rottman Group. "To assert now that no one has taken any notes, received an e-mail, or a phone call is ridiculous,� says John Heatherington, an Atascadero resident. "I am asking you to demand public employees disclose information. They are trying to avoid public scrutiny.�