Upon hearing that El Rancho Market, a special wine country gourmet food and wine market based in Santa Ynez Valley, was opening in Pismo Beach at 555 Five Cities Drive, I immediately called co-owner Greg King and asked him to keep me informed about the upcoming arrival. I had been a regular at Scolari's ever since I moved to Pismo Beach, and I sorely missed it. That said, El Rancho has been a remarkable improvement, and I'm downright excited about it. In fact, King has many plans to continue to improve this new marketplace.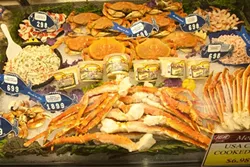 CRUNCHY CRUSTACEANS : Fresh local caught crab is one of the many products in the seafood department.
I have tons to rave about, starting with their well-stocked shelves and refrigerated cases, and moving to the deli with artisan cheeses and specialty meats. It features an array of ready-to-eat foods offering everything from chicken wings, corndogs, fries, and salad bar to sushi made by chefs on duty (who will make a hand roll or sashimi exactly as you like it), sandwiches and wraps freshly made to order, and easily grabbed packaged foods that they say are made the same day. The thing that surprises me is that there's not enough signage to let you know that many of the products, including salsa and guacamole, breads and pastries, freshly squeezed orange juice, and fresh sausages are made in-house by chef Andrew Kossuth and his team of cooks, as well as butchers and bakers.
Some of my favorites things come from the butcher shop, where I've purchased fresh Scottish salmon, Dungeness crabs brought in live and cooked the same day by the butchers, and excellent handmade sausages. I first tried the sweet Italian pork sausage at the suggestion of the young butcher who made them earlier that morning and found them exceptional. I haven't tried all of their savory sausages yet, but I look forward to grilling the "holiday sausage" made with minced bell peppers and white wine.
CHEFS O'PLENTY : Chefs Andrew Kossuth, Jimmy Ramirez, and Efren Alvarez work in a huge kitchen behind the fresh food cabinet.
I also tried the prime top sirloin steak because it was highly recommended by the butcher and King, who's the store's chief operating officer. Initially I said I wasn't interested because I only like New York and filet mignon steaks.
"You'll be surprised—these top sirloins are really good, especially with some of our Mississippi Caviar over them," King promised, and to my surprise the steak was tender and delicious. I seasoned the steak with freshly ground coriander, cumin, black pepper, and sea salt, then pan-fried it with extra virgin olive oil and a smashed garlic clove; it was ideal. The texture was tender, not tough, and the heavy seasoning coating brought out the beef flavor. I've tried all of their five salsas and preferred the Mississippi Caviar and Misty's salsa.
"We make most of our products in-house, roast the coffee beans, bake breads and pies, the guacamole. Our shining star is the full service deli," King pointed out. He's a partner with founder Alfred Holzheu and CFO Sean Walwick.
"We're proud of our selection of craft beers," he said. "Next to BevMo!, we have the largest selection of cold craft beers. We're planning to bring in much more local produce."
MILES OF FRESH FOOD : In the front of the store is the fresh food cabinet with a multitude of offerings.
They want to work with local farmers, particularly those who farm organically, to introduce their shoppers to their amazing locally grown foods.
King grew up in Pismo Beach, so he's renewing old friendships while creating a grocery store that has something for every taste.
"We love to feed people, and our vision is to reach the needs for everyone, no matter what their budget," he noted.
They've been listening, too, to the suggestions of their clientele so far, who have requested more lighting and lower pricing. And they offer many choices of whatever you're shopping for, making it more interesting to go up and down every aisle.
"Everything I've done here, I've done before in Solvang," King said candidly.
Over the years he rebuilt various sections, but starting out here he and his staff have had to do it all at once.
"We're still learning, but it comes naturally to us," King said. "People enjoy finding new ingredients and products we carry, and that always brings them back for more."

Contact Cuisine columnist Kathy Marcks Hardesty at khardesty@newtimesslo.com.