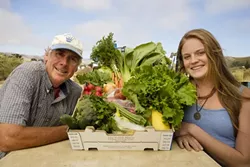 PHOTO BY STEVE E. MILLER
THINK LOCAL : Jim Terrick of Clark Valley Organic Farm and Sami Schermerhorn connect area schools with SLO County growers.
Farm to School is a growing national program that connects students with local farms. School cafeterias serve produce straight from local growers while educating students about agriculture and nutrition, thanks to the program. Moreover, students learn first hand how food is raised by visits to farms and by gardening.
"We're establishing the movement, concept, and program of Farm to School in this area," Farm to School coordinator Sami Schermerhorn explained. "We are teaching children about produce and diverse food groups so that they are not just eating pizza and chicken nuggets." At least half of the schools among SLO county's 14 districts participate.
A grant from Healthy Eating Active Living (HEAL SLO) enables Oceano and Lillian Larsen Elementary Schools to purchase fruits and vegetables from area farms. At Oceano Elementary, Health Grant Coordinator Andrea Keisler designed a tasting competition. Students taste two different fruits or vegetables (carrots and cucumbers, or example) and vote for which they like best. The winner is featured in the salad bar that month.
"It was a pleasure to work with the farmers who grew the produce," Keisler emphasized, "It is an entirely different and more personal experience than going to the grocery store. At school I could tell the students exactly where the produce was grown."
Similarly, Lillian Larsen School's Soils to Succulent Flavors after-school program is extremely popular. San Luis Coastal Unified School District Monarch Grove Elementary participates with a garden program called SLO Grown Kids, whose director Jennifer Codron explained, "We seek to enhance the health and well-being of the community through life-long healthful eating habits." Networking with local agencies and groups, Codron brings volunteers and garden supplies into schools.
Central Coast Ag Network (CCAN) has also taken a leadership role in establishing Farm to School in the community through its sustainable agriculture program. "Farm to School programs are part of a larger effort toward local and regional food systems. Our health, the viability of agriculture, and the environment all depend on a working, sustainable food system," said Kim Pasciuto, executive director of CCAN.
Pasciuto became involved in Farm to School programs when her family first moved to Paso Robles in 2003. Seeing the abundance of crops and farms, she wondered why schools didn't use more of it for their lunches.
Farm to School also benefits local farmers. Opening up a new, potentially large and reliable market, it not only connects growers with school districts but also to students' families. Still, Pasciuto points out farmers' concerns: "Will the school commit to buy what they grow? Can they grow enough to supply demands?"
Food service directors have some concerns, as well. The food service division of the school district is required to be self-supporting; food service professionals must manage cost, availability, delivery, and food preparation. Many directors would rather get all their food from one source, not six different local farms.
But there is an urgent need to engage students in the movement. "Most farmers in this country are over 60 years old," Schermerhorn emphasized. "We need to get the younger generation interested, continue farm traditions, and care for our land. Our land is, after all, our largest resource. By getting more people involved, hopefully farming will become a feasible way of living."
Equally urgent is the nutrition crisis among children. According to Schermerhorn, during the last 20 years there has been a national increase in obesity and consequent diseases among the young. A poor diet limits a child's ability to learn.
As the new school year approaches, much is in store to promote the Farm to School program, including Farmer of the Month baseball cards. There's a picture of a farmer on one side of the cards; the other lists statistics of how much produce the farmer produces.
A feasibility study conducted by Cal Poly professors Chuck Stevenson and Steven Slezak this fall will examine the growth of local farms in connection with Farm to School. "Their Ag Business students will be looking at our local growing capability, school demands, price, delivery, and light prep to see where the weaknesses are," Pasciuto explained.
The study will document the local food system from field to lunchroom. Results will be used to refine the Farm to School system. "My hope for the next year," Pasciuto said, "is that the feasibility study will be the catalyst for a focused Farm to School effort."
"I want to see a tasting program in all schools with the ultimate goal of fresh, local food in schools. I want to see Farm to School grow and become the standard in schools instead of something unique," Schermerhorn stated.
For more information visit cafarmtoschool.org, harvestofthemonth.com, slogrownkids.org, and CCAN's site centralcoastgrown.org.
Intern Alycia Kiley can be reached via the editor at econnolly@newtimesslo.com.