PHOTO BY STEVE E. MILLER
SHAKE IT UP: The Granada Boys, Henry Bley (left) and Bar Manager Eric Hunter, not only showed New Times a few of their craft drinks, but also how they infuse their own mescal and syrups.
Seven stunning cocktail recipes from SLO's innovative professionals.
GRENADA HOTEL AND BISTRO, 1126 Morro St.
Matt: We've all seen the craft beer scene take off across the country. But here in our small and humble hamlet of San Luis Obispo, with our unique—dare I say the best in the county—nightlife, a group of innovative bartenders is bringing the big city concept of creating and serving original handcrafted cocktails to a crowd that prefers a little more to their drinking than PBR and shot of Jameson. But don't call them "mixologists." They're not that pretentious. Sure, they add new twists on old classics, but check out the drink menus at a few of their establishments and you'll see these professionals are doing something that's relatively new to this area: using local produce with an unconventional blend of local ingredients to create drinks you want to taste—and that you won't find anywhere else.
Jono: And it isn't just local produce they're using. Behind these bars you'll find a cornucopia of rare and unique spirits, and then there's all the liquor. An array of small-batch and artisan distilled products have come to the party and been an integral part of the emergence of this scene. Some made by monks in Europe, some by experts and life-long bartenders in the Bay Area, and some right up in Paso Robles, where the presence of artisan products are influencing the growing food and wine culture.
Matt: Yes, it was a pretty eye-opening experience to see all the different types of booze these artisans put to use—many of which I had never heard of, much less tried out. Don't get me wrong: Nine times out of 10, I'll slink into my favorite dive bar for the aforementioned cheap beer and a glass of whiskey. But like Eric Hunter, the bar manager at Granada Hotel and Bistro said, if you're looking for the signs of a good bar, a good selection of spirits and other ingredients is a good indication—and likely good bartenders who know how to mix more than a Vodka-Red Bull. That's what we found at Granada.
Jono: Eric helped us kick off the process of delving into the details of craft cocktails, and the role they play in the evolving food and beverage culture in the area, which I really appreciated. Don't get me wrong; he's always been doing his thing, but it's the cutting-edge creativity and the attention to detail that really impressed me, kind of resembling the traits of a revered chef who's always coming out with some crazy shit. But throughout, he keeps it classic and whole. As someone who has grown up around here, been working in the restaurant business for years, and has contributed my share to the coffers of ASH Management, it's really great to see these ambassadors bringing the next level of drink and food.
Matt: I agree. What I dug most about the guys at Granada was how they make their own mescal and syrups with fresh fruit, and all the work that it takes to keep their bar stocked with those.
Jono: Word. Good mescal infused with grilled pineapple. My goodness, I've never tasted anything like it. It's a little bit of paradise in your mouth, and the next best thing to sitting on a beach in Jalisco.
Eric: You'll taste that sweetness from the pineapple, balanced with the heat from the alcohol, balanced with the sweetness of the smoke. When you start to throw fun ingredients in there like fresh juice, it adds a whole other element to it. You start to get this balanced, leveled cocktail. You've got a lot of tart there with your fresh juice; you're not using something that already has some sugar in it already. You're using a fresh juice—which by itself will be a little overwhelming on the palate—but when you're using fresh syrup, that sweet syrup you've made in-house, you balance out that tart. And you can get really playful with those syrups.
Matt: He started us off with one of his most popular creations, The Welcome Cocktail, a sweet blend of organic vodka, chardonnay juice, muddled fresh grape, crushed mint, and soda. I could see what he was talking about with the perfect mixture of sweet and bitter, with the syrup kind of wrapping itself around both elements, and then playing off the refreshing quality of the mint and soda water. Awesome! Jono, what did you think?
Jono: Cheers! Quite welcoming indeed—and so enlivening. I was really impressed with how local, seasonal produce was featured in these drinks. Eric got his hands on fresh-pressed chardonnay juice from Edna Valley, which first became known for its chardonnay. And at the same time, the cocktail was the antithesis to the ridiculous, over-the-top oaky-buttery fad seen in some Chardonnays. And it got better. The Drunken Gardener featured fresh carrot juice, made in-house—something I've never seen before, and thoroughly enjoyed. We also tasted a Blackberry Manhattan, featuring blackberry-infused Bulleit Rye. The drinks weren't weak or overly sweet either—they were well balanced, with an elegant bouquet of aromas in the nose that danced with a robust booze flavor.
Matt: Wow. Check out the big buzz words flying out of Jono's mouth. You been taking grammar lessons from Kathy Marks Hardesty?
Jono: Never met her, actually. I do have some other words for you, though Matt. But really, there's a great concept at work here, in which the ingredients are not meant to mask the flavor of the alcohol, like in some scenarios, but to enhance it.
Matt: Regardless of whom you choose to parse words with, I agree with your flowery language. There was a lot going on in those last two you mentioned. The Gardener was a combination of flavors I never thought would work, especially since I'm not a fan of carrots, but it totally worked! And created a new flavor this writer can only struggle to describe. But what really amazed me about Eric and his crew that I haven't seen anywhere else is the prep they have to carry out to infuse their own liquor for their specialty drinks. I mean, they really have to plan weeks out, and store the stuff near the bar, which has to be tough since the area they have to operate in is rather small. But they manage. One thing I will certainly come back for—that we didn't get the chance to try—is the SLO Down, their watermelon-infused vodka martini.
Jono: Speaking of a lot of prep work and well-planned—and executed—drinks, shall we hop on over to Luna Red? No hard feelings Eric, but you just got us more curious and thirsty for more.
LUNA RED, 1023 Chorro St.
PHOTO BY STEVE E. MILLER
GETTING CRAFTY: Luna Red Assistant Bar Manager Rylie Houston brought back a little slice of the Big Apple when she returned to SLO County a little more than a year ago. Her savory creations bring a balance to the drink menu that complements the heavier style of Bar Manager Jason Nuss.
Matt: We strolled into Luna Red about an hour before the dinner crowd was expected to begin rolling in and met up with Bar Manager Jason Nuss and Assistant Bar Manager Rylie Houston, who were busy prepping the bar. Jason's been in the industry for a little more than 11 years now and comes from that chef's background where he knows which drinks will complement the food, and what produce will complement different spirits. Speaking of produce, Luna Red really does get theirs from the local farmers markets—95 percent of their ingredients, he said. When a different season rolls around, they will get a list of the produce that's going to be in season and try to create a drink menu that will complement that.
Jono: The cocktail menu, and their presentation, was very impressive. Rylie lined up colorful drinks with clever names and very distinct, almost magical flavors. Here is where I first started to realize that all of the places we visited had their own unique personality when it came to the menu and the alchemy behind it. You can really see the ingredient-driven mentality that Jason picked up while working in the kitchen. That's paired with Rylie's charm and some East Coast insight she picked up while bartending in Brooklyn, to make for a duo delivering something fresh. Eric Hunter was telling us last night that on the East Coast there's a little more trend toward those classic cocktails rather than all this seasonal, creative stuff?
Rylie: Sort of. There's definitely a bit of both. There's some places that really just do all of the Prohibition throwbacks and Prohibition-era-type stuff ... but there's a lot of big fresh produce-type stuff, in New York especially. In Union Square, there's a green market even in the winter. Of course, the selection's a little smaller, but that's still a big thing there.
Matt: And California? Would you say we're any more geared toward the local ingredients "sustainable cocktails" here?
Rylie: I mean, hell yeah, California especially because it's so available. It seems kind of silly not to use all of the amazing ingredients that are out there.
Matt: That's one thing I've noticed about the different people we've met in these places offering these craft drinks: some started in the business locally, serving maybe your standard drinks. But then they spent some time out of the area, working in the food and beverage industry in larger cities—New York, San Francisco, Chicago, New Orleans—where this kind of scene has been established for some time now. When they returned to SLO County, they all seemed to bring that big-city knowledge with them. And just by luck we have the current group of guys and gals that we have serving downtown right now, and they all know each other and seem to feed off of that competitive spirit, that creativity.
Jason: It really is a scene that's popping up here. And the funny thing is, you know, obviously Novo is our sister restaurant, but like the guys at Sidecar and Grenada, though they're technically our "competitors"—we're all friends. We get together for drinks after work and see what each other's working on. We visit together, bounce ideas off each other.
Jono: It's true. While we were in Granada, Chris, a friend of ours—and a bartender at Novo—popped in with his girlfriend for a drink and dessert. Another bartender at Novo, Noah, who's worked elsewhere downtown, also does some great work up in Paso at Artisan. And one of the newest bartenders at Granada, Montgomery, has been working hard to get a food cooperative started in Paso Robles. It all is really part of a larger culture and an interwoven economy that is the current carrying the trend onto land. Like I said earlier, these folks are ambassadors in a way. Jason told us about one of his favorite ingredients: Re:Find vodka, made in Paso Robles from grape juice that is a normal bi-product in the wine making process and would otherwise be wasted. It really is indicative of the relationship forming between the bar and restaurant world and the area's agricultural heritage: innovative, resourceful, sustainable at times, and downright delicious.
Matt: So, down to brass tacks. For our interview, Rylie fixed us up five drinks that showed the wide breadth of their menu. We started off with The Heading East, a citrusy sparking wine cocktail that bounces off the tongue that would make for a great drink to start the night off before a meal. Then there was one of their more popular handcrafted drinks, The Killin' Thyme, which also had that citrus, smooth texture, infused with thyme, with just a touch of lemon and honey. It makes for the perfect autumn cocktail, and again, totally refreshing.
Jono: And then there's the goddess that took Matt's breath away and nearly pulled him down into the underworld: The Stealing Persephone. A bold drink served up in a martini glass, she's a mix of fall fruits and refined details that keep you from going clear off the brink of balance when her potency is revealed. I suppose that was the queen of the crowd of drinks, all of which brought some serious flavor to the table. And the presentation!
Matt: Oh, yes, the Stealing Persephone—"an ode to the tempting pomegranate," as they say—was probably my favorite drink of the night. It's one of those drinks both guys and ladies can dig; colorful, beautiful presentation, but yet heavy, thick, sweet, delicious. And it's multi-layered, if that makes any sense (I don't claim to be a food writer). First you taste the pomegranate, then the cranberry, the orange, and finally, a hint of the vodka. It's great. Unfortunately, I had to share it with Jono.
Jono: If you want to call that "sharing." I will spare you the embarrassment of elaborating. Matt is quite the sucker for redheads.
Matt: Cat's out of the bag. And for the non-drinkers out there, there's The Blackberry Sage, a non-alcoholic concoction of Luna Red's own homemade grenadine, blackberries, sage, simple syrup, and soda. It's a tasty blend you can serve the kids so they don't feel left out.
Rylie: Or people on their lunch break. And we have pregnant ladies that come in that are so stoked there's something unique to drink other than juice or sodas.
Matt: Jason, as far as the customer base, what's more popular: the classics or what you're creating behind the bar?
Jason: I think it's a good balance of both. People love the classics. Like The Sazerac; that's one of our biggest sellers. That's a total throwback. People say it's the original cocktail of America. But then again, people like to enjoy our house creations, the new stuff we're doing.
Rylie: Yeah, it's really all over the map. Everyone has their own preferences … but we're a real good team because [Jason and my] preferences are really very different. He's a heavier, whiskey-based Manhattan style kinda guy. And I kind of remind him that girls come in here. But there's stuff in here for everyone. Guys and girls will try things out and get something you wouldn't think they would.
Jason: I think what it comes down to is being passionate about what you're putting out there, and people get it.
Matt: How do you guys keep ahead of what trends, what's going on?
Rylie: The trend thing, it's not so much about being trendy. I'll get a stack of cookbooks, and you can take flavors that would blend with food, and you can translate them to drinks. You can mix fruit and vanilla or citrus and spice that you wouldn't think to normally put in a drink. … There's always so many new drinks that you're always trying to stay ahead of the curve a little bit and come up with new things, and I think that's a really good way to do it. Sometimes we're putting a seasonal spin on something that's classic, and sometimes we're just totally starting from the ground up and building on flavor concepts.
Jono: How do you come up with the names?
Rylie: That's hard work, and we'll go back and forth on that a lot. The Stealing Persephone—that was a bit of a fight.
Matt: Tell us a story about how you came up with one of your drinks.
Rylie: It's real funny because this one we created (gestures toward The Spice Merchant) because we used Re:Find, up in Paso, because they're local, and they wanted to do a spot on us because we featured their spirits.
Jason: So they called us on a Thursday, sent me an e-mail that said, "Hey we have guys coming tomorrow to film and do a drink." And I'm like holy shit. And we're at work that night, and it's farmers market, and our buddy Matt who does our produce, I said, "Hey, what do we have out there tonight?" And he said Asian pears just came in. I asked if he could grab me some. He went out, came back in, and we just started mashing them up. And we came up with that cocktail within 15 minutes or so. And it was perfect. We didn't change it once. The next day, they came in, we made it for them, and they were blown away. The local thing, that's really what you want to support. That's the basis for the restaurant, really: local, sustainable.
NOVO RESTAURANT LOUNGE, 726 Higuera St.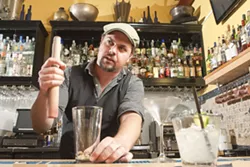 PHOTO BY STEVE E. MILLER
BARTENDER ROULETTE: Novo Bar Manager Matt Hanson encourages his staff to be creative and concoct their own exclusive cocktails in what's known as the Bartender's Roulette.
Jono: At Novo, Bar Manager Matt Hanson also did a little time in New York, where most of his 10 years were spent bartending, refining his skills along the way. During that time, he worked alongside some serious chefs who would coordinate the use of specific, fresh ingredients throughout the establishment, teaching him the value of an ingredient's freshness and quality alike.
Matt: Matt fixed us up the spicy Latin Linen, another of my favorites from this little outing. It defines what Matt and others have talked about: the perfect balance. Yes, it's spicy. But the spice of the tequila and serrano pepper comes secondary to the cool muddled cucumber and syrup. Then the spice kicks in, helped out by the black lava salt—which is pretty awesome—and it lingers for a moment before the cool of the cucumber makes a second appearance. That cucumber taste lingers after your drink, which in turn makes you feel cool as a, well, cucumber.
Matt Hanson: My experience started in very McCarthy's-eque places, with three ingredients, and one of them is ice. But I get a kick out of taking a few minutes to make something that someone will sit and enjoy—when I have the time. When we're not slammed.
Matt: So you and I are on the same page. But there's something to be said about hanging out in a nice place with a drink in your hand that it took someone a few minutes to make.
Jono: Yeah, he definitely still has a few twists up his sleeves, like his take on the classic Aviation. The old-school cocktail has all but faded to a memory, because one of the key ingredients—creme de violette—is expensive and very difficult to get.
Matt: Even though Matt said he poured a little too much Liqueur de Violette for the sake of Steve taking a colorful photo, I thought it tasted pretty good. One thing that stood out about our conversation with Matt was that the staff at Novo gets down on being competitive, they have what they call the Bartender's Roulette, where they challenge each other to come up with something new. Matt fed us one the staff is working on—though it hasn't a name yet—and it was OK. You could tell it was still in the process, a bit too heavy on the vodka and hadn't yet achieved that balance, which Matt totally admitted. He poured us a few more of their tried and true drinks, such as the Africano—named after a buddy of Matt's from his New York days—a Spanish-themed cocktail featuring regional ingredients like sherry, lavender, and lemon. This was absolutely delicious, and one of my favorite drinks of anywhere.
Matt Hanson: If you want a beer and a shot, we're surrounded on four sides by places that can do that for you. We're looking to provide the customer with something a little more.
Jono: I think what really gave the drinks at Novo their legs is Hanson's focus on both the fundamentals of making a cocktail and of running a business. Novo was already well established when the emphasis on craft cocktails made its way to town. While they had some signature cocktails, they kept it fairly straightforward. After all, the most popular drink there is the Moscow Mule, a classic mix of ginger beer, fresh lime, and vodka, or whiskey, that's made a popular resurgence. It's what people want, and it sells. The two most noteworthy products I noticed here were the caviar lime-infused vodka made by Ascendant Spirits out of Buellton, and Re:Find Gin, which the company makes in addition to their vodka.
Matt Hanson: I'm absolutely in love with their gin. I think it's a lovely, lovely product.
Matt: So, as far as this "scene" goes, how popular are the original cocktails with your customers?
Matt Hanson: With this town, I don't think it's going to take over, but it will definitely blend in.
SIDECAR, 1127 Broad St.

Jono: And then there's Josh Christensen. He's part scholar, part storyteller, a few dashes of some sort of surprise, and thoroughly stirred—never shaken. Josh has that young spirit that leads him to always be looking to step it up and a driving passion to match it. Back in the day, he bartended in the hustle and bustle of downtown SLO. Then he started working in restaurants with a little bit of swank in San Diego and then went to Austin, Texas, where everything is more colorful and crazy. He then returned to SLO, began bartending at Sidecar, and eventually just couldn't help himself from buying into the business and becoming its majority owner.
Matt: Right now, Sidecar is featuring 11 house originals—of course, all local, organic ingredients—and 12 of the classics. But that's set to change. By the time you, fair reader, are reading this, Sidecar's winter drink menu has just debuted. One thing about this place is, if you ever get a chance to rap with Josh, you'll find he's a freaking encyclopedia of bartending history. He seems to know everything and everybody who's made a mark in the world of mixology. He mixed us The Abstract Art, a floral blend of gin, bitters, egg whites, and lemon. As he tools around with the frothy head, he passes it over to us and says:
Josh: Look, it's two dolphins kissing underwater. See it?
Jono: Not really.
Josh: That's why we call it Abstract Art. Everybody sees something different. But sometimes it's just easier to say it's two dolphins.
Matt: I see it! The drink is tasty—I think it's kind of like a gin-infused Orange Julius, but with the lemon peel rubbed around the lip of the glass, it's kind of a Lemon Julius.
Jono: This piece is a real original, bringing together the imagination with the specific techniques required for working with egg whites. The egg whites give the drink a frothy, foamy texture, and while they don't influence flavor, they have an odor. Bitters and lemon peel oils dashed lightly atop the drink are used to mask the egg's odor.
Matt: Second up was the It's Science, a cinnamon-rum-nutmeg blend made by his cohort behind the bar, Joe Morlock, who will be debuting two of his own creations on Sidecar's winter menu.
Josh: It makes me super excited to know that it's not just me thinking up these cocktails. When I was Joe's age, I was just interested in making quick drinks, making money, and meeting girls. Now it's become something different.
News Editor Matt Fountain and Staff Writer Jono Kinkade can be reached at mfountain@newtimesslo.com and jkinkade@newtimesslo.com.
PHOTO BY STEVE E. MILLER
YOU'RE MORE THAN WELCOME: The Welcome Cocktail, a creation of Eric Hunter at the Granada Bistro, is essentially a vodka drink, but with touches of mint and grape.
The Welcome Cocktail
Muddled fresh grape and mint
1oz American Harvest Organic Vodka
1oz Lillet Blanc
1oz Fresh Pressed Chardonnay Juice (Local, from Spanish Springs in Edna Valley)
Topped with Fever Tree Club soda
PHOTO BY STEVE E. MILLER
KILLIN' IT: Brought to you by Luna Red's Bar Manager Jason Nuss, The Killin' Thyme is a perfect autumn cocktail: refreshing, but with a bite.
The Killin' Thyme
In a shaker add
1.5 oz St. George Botanivore gin
3/4 oz Lillet Blanc
1/2 oz lemon juice
1/2 oz honey syrup*
3/4 oz thyme water**
Add ice, shake briefly, and strain over fresh ice. Garnish with a sprig of thyme.
*Combine equal parts honey and hot water and stir.
** Steep Thyme in hot water until aromatic.
PHOTO BY STEVE E. MILLER
BETWEEN THE SHEETS: A creation of Novo's Matt Hanson, the mixture of top-shelf tequila, serrano peppers, and black lava salt makes The Latin Linen a spicy—but subtle—choice for any weather.
The Latin Linen
1 1/2 oz. Maestro Dobel Diamond Tequila
1/2 oz. St. Germain Elderflower Liqueur
1 splash del Maguey San Luis del Rio Mezcal
1 splash Agave Syrup
2 slices cucumber
2 wedges fresh lime
2-4 small slices serrano pepper (spice to taste)
Muddle cucumber, lime, and serrano with agave syrup. Add tequila, mezcal, and St. Germain. Shake and strain into an ice-filled old-fashioned glass rimmed with black lava salt. Top with soda. Garnish with a cucumber slice.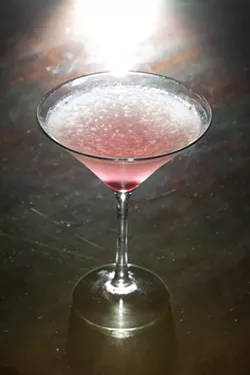 PHOTO BY STEVE E. MILLER
FLYIN' HIGH: Another Hanson twist on a classic, The Aviation is a simple but colorful mix of juniper, lemon, and maraschino.
The Aviation
2 oz. Blade Gin
1-2 dashes Luxardo Maraschino liqueur
1-2 dashes Liqueur de Violette
1/2 oz. fresh lemon juice
In an ice filled shaker combine bin, Maraschino liqueur, and lemon juice. Stir until ice cold. Double-strain into a chilled martini glass. Drizzle Liqueur de Violette over the surface. Garnish with a cherry.
PHOTO BY STEVE E. MILLER
UNDERWORLD GODDESS: Matt's favorite—the thick and sultry creation of Luna Red's Rylie Houston, The Stealing Persephone—is a drink sweet enough for the ladies but heavy enough that gentlemen need not feel ashamed.
The Stealing Persephone
In a mixing glass add
1.5oz Charbay Pomegranate vodka
3/4 oz Thatchers pomegranate liqueur
3/4 oz cranberry juice
1/2 oz lemon Juice
1/2 oz cinnamon simple syrup*
2 dashes Fee's orange flower water
1 dash home made pomegranate grenadine**
Add ice, shake and strain into a chilled martini glass.
Garnish with a lemon wheel and pomegranate seeds. Enjoy!
* Equal parts sugar dissolved in hot water. Add cinnamon sticks and refrigerate.
** Equal parts sugar dissolved in Pomegranate juice. Add 1 twist of orange peel and refrigerate.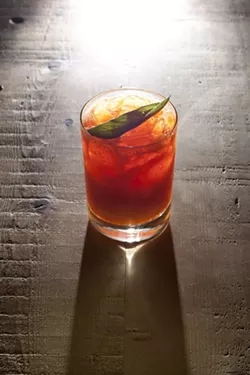 PHOTO BY STEVE E. MILLER
CARROT AND LIME?: Believe it or not, it works! Mix in sage, allspice syrup, and Death's Door gin, and you've got The Drunken Gardener, one of Granada Bistro's most popular original creations.
The Drunken Gardener
2oz Death's Door gin
3/4oz Cynar
1oz fresh carrot juice
1/2oz fresh lime juice
1/2oz allspice syrup
1/2oz sage syrup
PHOTO BY STEVE E. MILLER
TWO DOLPHINS KISSING!: Everybody sees something different in the head of the frothy Abstract Art, but it's consistently a floral blend of gin, bitters, egg whites, and lemon. Think of it as a tasty Lemon Julius.
Abstract Art

1.5 oz chamomile-infused gin
1/4 oz Benedictine
1/2 oz lavender-honey syrup
1/2 oz lemon juice
1 egg white
Pour all ingredients into a Boston shaker and dry shake (to emulsify the egg white). Add ice and shake again (vigorously).
Strain into a cocktail glass and add 2 dashes of angostura bitters then rub a lemon peel around the rim of the glass.
-- Melody DeMeritt - former city council member, Morro Bay