Tiny rainbows arc over the fertile earth along the Foxen Canyon Wine Trail, catching the spray from rows of sprinklers as vineyard manager Jim Stollberg readies the land for this spring's planting of grape vines. It's hard to imagine that just a short time ago, this area was a gaping mine pit where Union Asphalt's giant bulldozers scraped away tons of sand and gravel needed for local construction projects.
Another former mining pit next to the Santa Maria River just
By Kathy Johnston
PLANNING AHEAD : Dr. V.L. Holland, a retired Cal Poly biology professor, has been leading Cal Poly students as they plant native vegetation in a former Union Asphalt mine pit with help from a grant from the company.
# across the SLO County line is being turned back into a wildlife habitat, while neat rows of broccoli grow in a nearby riverside field that once yielded truckloads of rocks.
In the rugged mountains of south Atascadero, a former mining pit is being transformed by Cal Poly students into a profusion of colorful wildflowers and lush native plants that steadily grow as Union Asphalt's excavation equipment rumbles nearby.
With demand increasing for high-quality concrete-grade rocks and road-building materials, mining continues to be a big business on the Central Coast. When local riverbeds and mountainsides are scooped up and trucked off to cement factories and construction sites, the barren ground that's left behind must under state law be repaired, and put to a good use.
Union Asphalt's innovative reclamation project along the popular Santa Barbara County wine trail represents the first time ever in California where a productive gravel mine will be transformed into a productive vineyard.
"We're hometown boys. We want to leave it as good as we found it," explains Andy Hermreck, a co-owner of Union Asphalt and son of one of the founders of what's now the Central Coast's largest supplier of construction aggregates.
"It's going to be better!" chimes in fellow company owner Steve Will, another founder's son.
Their reclamation work is part of the requirements under California's Surface Mining and Reclamation Act. Although the family-owned company first began mining the San Luis Obispo County and the Santa Barbara County portions of the Santa Maria River 50 years ago, increasingly stringent regulations led to the requirement for a detailed Environmental Impact Report, which was filed in 1997.
The two-volume, eight-inch thick report on file in the SLO County planning department's basement library identifies various sensitive or endangered species in the 12-mile river corridor where the company sought a license to mine: red-legged frog, California horned lizard, Western spadefoot toad, Southwestern pond turtle, willow flycatcher, Least Bell's vireo, badger, and pallid bat.
Government agencies including the U.S. Army Corps of Engineers, U.S. Fish and Wildlife, California Department of Fish and Game, California Department of Conservation, and various county agencies in San Luis Obispo and Santa Barbara counties reviewed the report before a permit was granted for Union Asphalt's mining operation.
The mining license allows the removal of tons of sand and gravel, known as construction aggregates. Union Asphalt officials estimate there's enough of the resource for 75 years of mining.
The company is required by state law to reclaim the mined land for "beneficial use," but it's how Union Asphalt has defined the term "beneficial" that makes this a special project.
"A vineyard is a very interesting restoration activity. It's a pretty unique idea," says Murry Wilson, an environmental specialist with San Luis Obispo County who's responsible for inspecting the mining and reclamation work.
"It's a good fit with the agriculture there," he adds.

By Kathy Johnston
THE LONG VIEW : This barren land will soon be transformed into a thriving vineyard with a mix of Pinot Noir, Pinot Gris, and Viognier grapes. Union Asphalt plans to start planting the former mining basin this spring.
# "When you think of a surface mine, you picture big scars and hillsides cut away, like you'd see on the Discovery Channel. But this county has high quality aesthetics. Restoration helps returned a mined area to a native area or an agriculture area that looks good."
The vineyard reclamation project has also caught the eye of state regulators because of its originality.
"A vineyard is a great end use," Jim Pompy, head of the state Office of Mine Reclamation, says in a phone interview from his Sacramento office. He says he wants to include information about the unique project in the agency's newsletter.
Near the intersection of Foxen Canyon Road and Rancho Sisquoc Road along the popular wine trail, a former gravel mine near the river is now a neatly contoured, barren field that's being prepared for growing wine-grape vines.
"It's a great vineyard site," says Union Asphalt's vineyard manager Stollberg as he tests the frost-control sprinkler system and looks for leaks in the drip irrigation lines crisscrossing the 36-acre site now known as Riverbench Vineyard.
This spring, bareroot grape vines will be put in the ground, marking the company's first foray into the wine industry. Half of the vineyard will be Pinot Noir grapes, half Pinot Gris and there will be an acre of Viognier, too. The grapes will likely be sold to local winemakers.
"We've had a lot of interest in the fruit from this vineyard," Stollberg adds.
As part of the reclamation process, the topsoil was stockpiled several years ago before mining started on the site. The rich soil was later mixed with fine clay soil that was washed out of the gravel at the company's rock-sorting plant down the river. Earthmovers recently finished contouring the land that will soon become a vineyard, a gentle slope that falls away from Sisquoc Ranch road to a vista of green rolling hills across the river.
"You know, this is some of the better soil in this area, because they can put the soil back at a uniform rate. There isn't much rock, so it's easier to cultivate, with no deep ripping needed. I was surprised," Stollberg tells a team of reclamation scientists and engineers as they inspect the progress.
The touring group stops at another former Union Asphalt mine pit, down the river. This land has also been refilled with tons of soil and contoured, in preparation for replanting with native vegetation. Cal Poly students under the direction of retired Cal Poly biology professor Dr. V.L. Holland are carrying out the task of planting, with a grant from Union Asphalt.
"We're decorating the hillside with color," Holland tells the inspecting team as he supervises his students' work.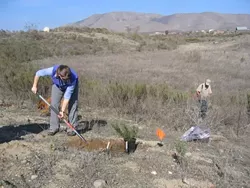 By Kathy Johnston
POLY PLANTERS : Kate Wilkin (left) and Mark Krist (right) recently shoveled mulch and spread soil as part of a project to transform a used mining pit into an ecological triumph.
# "We looked at the environmental conditions, where we could plant what, and we ended up with 15 different species. We're creating a natural gradient, just like in nature, with ceanothus from Nipomo on the upper part of the slope, coastal scrub and chaparral species on the slopes, oaks on the bottom where they can get into deep soil, and sycamores and cottonwood trees right at the toe of the slope," he explains.
Kneeling next to a hole dug into the ground, graduate student Kate Wilkin pulls a young coffeeberry plant from a gallon container and places it in a wire mesh gopher basket to protect it from ravaging rodents. She pops the plant and its basket into the earth, and spreads soil around it with her fingers.
Down the slope, senior Mark Krist shovels some bark mulch around a young oak tree he's just planted, as a red-tailed hawk soars overhead.
"It's been a wonderful learning experience," Krist tells the group, adding, "It's rewarding to know you're benefiting the ecosystem and the community at large."
Even though it's recently rained, the basin-shaped former mine pit is dry at the bottom. That's a marked contrast from last year, when a marshy wetland provided a stopping place for ducks and other waterfowl, according to Bob Kober, vice president of the company.
Plant species have been selected so just as in nature some flower in spring, some in summer, and some in winter.
The goal is to improve wildlife habitat in the former mine pit, and so far there have been sightings of a variety of native birds and insects, lizards, jackrabbits, raccoons, deer, and coyotes, Kober says.
The company brought in a former diesel tank washed clean of petroleum residues to use as a water tank for a gravity-fed drip irrigation system to help the young native plants become established.
Holland notes, "We're not just out here planting plants. We're trying to create natural cover, so in a few years people won't know we ever planted it."
That's the same technique Holland and his students have been applying at the Rocky Canyon mine in south Atascadero, where the first restoration test plot was planted 13 years ago. A healthy mosaic of native shrubs and trees is thriving, with bright orange sticky monkey flowers, soft wooly blue curls, yellow bush poppies, and mountain mahogany.
With grant funding from Union Asphalt, Cal Poly students have discovered, through trial and error, that greenhouse germination of a native chaparral shrub called chemise is improved if the tiny seeds first undergo five minutes in a turkey smoker.
"Our hope is that future generations will be able to visit this site, enjoy the wildlife, plant life, and plant communities, and not know that it was a granite mine at one time," Holland says of the rugged Rocky Canyon site.
The Santa Maria River and floodplain has been designated by California's Division of Mines and Geology as a Mineral Resource Zone "with resources of regional and/or statewide significance." Its sand and gravel deposits are considered to be high quality, suitable for Portland Cement Concrete that meets local, state, and federal requirements for quality and consistency "so the concrete ends up strong," as Kober puts it.
Thanks to what Kober calls "a million years of favorable geology," the surrounding mountains have washed into the riverbed and floodplain, where stormwaters have deposited larger-sized gravel upstream, and smaller rocks ground down during stormwater transport downstream.
By Kathy Johnston
SOMEDAY SOON : Jim Stollberg, Union Asphalts vineyard manager, is preparing the land to be ready for a spring planting of grapevines. This is just one of several local projects being carried out to put used mining pits to good use.
# The material, known in the trade as aggregates, has been used over the years to create the company's ready-mix concrete, produced at their plants in San Luis Obispo and Paso Robles as well as Santa Maria, Lompoc, and Solvang. It's also used for road base and hot asphalt, Kober says, and to build local schools, roads, commercial developments, and housing projects.
For the riverbed mining operation, Keith Miller reviewed the thick environmental report as an environmental planner with San Luis Obispo County.
"I gained respect for them," he says in a phone interview from his San Luis Obispo office.
"They're a large enough company to have the resources to say, 'Tell us what to do, and we'll do it then leave us alone and we'll mine,'" Miller notes.
He points out that a local source of these construction materials helps to reduce the traffic and air quality impacts that would be created by longer transport distances.
As the environmental report states, "The deposits will provide the long-term necessary supply of construction materials to the region. These materials are heavy and costly to transport, so an adequate local supply is important to the region."
SLO County environmental specialist Wilson says demand for construction aggregate is increasing with growth. Last November's voter approval of millions of dollars' worth of bonds for highway and other construction projects is also spurring interest.
"We've seen applications for two new in-stream mines in the Salinas River," Wilson says, from private landowners near San Miguel and Paso Robles. Those projects are currently going through environmental review, with public hearings still six months or so away.
So far, Union Asphalt's Foxen Canyon reclamation project is the only one where a vineyard is planned.
"We're planting a vineyard in our mining area because it ties into the adjacent vineyards. It's the mining area we're most proud of. We don't want anybody talking anti-mining. We're very careful how we look from the road. We want to have the public behind us," says company co-owner Will. "We make a great effort to be the best stewards of the land we can be, especially in our industry. We put a lot of effort into seeing things done the way they should be."
Union Asphalt recently purchased the former Beringer vineyard on Foxen Canyon Road next door to its new Riverbench Vineyard in the former mining pit after leasing the mineral rights for Beringer's rocky soil. Once the Beringer-planted vines need replacing, the land will be mined for its construction-grade aggregates, and then replanted with grapes, so "you'll never know we mined it," as Will says.
He adds with a smile, "This could be the new Sideways."
Freelance journalist Kathy Johnston may be reached at kjohnston@newtimesslo.com.