In one of her courses at UCLA, one of Taylor Murphy-Sinclair's professors urged her to think about the chasm between "who you are and who other people think you are."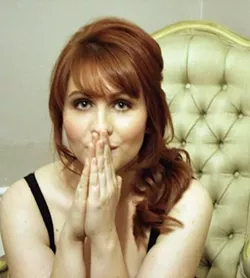 PHOTO BY CAMERON BIRD PHOTOGRAPHY
TAYLOR MURPHY-SINCLAIR: Catch this recent UCLA grad in her one-woman show I Can't Draw a Heart and Other Episodes at The Spot in AG.
Her unexpected response? A one-woman show called I Can't Draw a Heart and Other Episodes, an autobiographical piece written, directed, and performed by Murphy-Sinclair in an attempt to merge others' perceptions with the truth.
I Can't Draw a Heart, press materials read, "shakes the boundaries of what people normally say in front of other people. It chronicles the ups, downs, loves, pain, and total humiliation that 22 years on planet Earth has to offer. It's about overstepping, over speaking, overdoing and learning to love yourself anyway. It's an honest look at what it means to be who you are, where you are."
A native of San Luis Obispo County, Murphy-Sinclair graduated from Arroyo Grande High School in 2008 and UCLA's School of Theater, Film, and Television last June.
Catch the closing weekend of I Can't Draw a Heart and Other Episodes at The Spot in Arroyo Grande on Friday, July 27, and Sunday, July 28, at 8 p.m. General admission is $15; students and seniors pay $10. The Spot is at 116 Branch St., (next to Doc Burnstein's Ice Cream Lab) in the Village of Arroyo Grande. Visit thespotag.com or call 474-5711. ∆