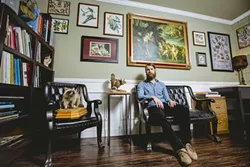 PHOTO BY HENRY BRUINGTON
ART FROM INK: Artist Danny Derrick uses color saturation and years of experience to create his tattoos.
Tucked quietly away in an unsuspecting business complex off Higuera Street, Danny Derrick's tattoo shop is a one-of-a-kind experience. The walls are adorned with framed tattoo art—both his own and that of artists he admires. A ram's head hangs above the front table, and a collection of art theory books fill his shelves.
Derrick began his career at the age of 18 as a piercer in a tattoo shop but soon realized that it was tattooing that really inspired him. He spent two years in Georgia participating in a one-on-one apprenticeship studying tattooing, and eventually he made his way back to California where he opened up his own shop.
"I was working in Grover Beach at my friend Gary's shop called Sink or Swim, and I worked there for a couple years with him," Derrick said. "I had always really wanted to work in San Luis, and I also liked the idea of working by myself and being able to focus without a lot of distractions and people walking around."
He opened his shop full time in December of last year, and insists that the privacy of tattooing alone in a studio has been crucial to not only himself, but to his customers as well.
IMAGE COURTESY OF DANNY DERRICK
"It can be uncomfortable being put on display in a shop full of people, especially if people are modest and don't like exposing themselves in front of others," he said. "This kind of gets rid of that."
The lack of distractions allows Derrick to give 100 percent of his attention to the project he is working on, he added.
As a business that relies solely on word of mouth and Instagram for advertising, Derrick takes a more intimate approach to tattooing.
"The good thing about me being appointment-only is that it gives people that two weeks or a month to think, so when they come in, they're mentally prepared," he said. "It's not a spontaneous thing or a spur-of-the-moment decision that they're going to regret. It's going to be something that they really plan for and thought through."
Derrick classifies his tattooing style as illustrative traditional, which he defined as "traditional-style tattooing, but with a slightly more modern, refined look." As an artist, he cites inspiration from other artists and art media. Derrick pushes himself to grow as an artist by constantly studying art, learning about color theory, and observing the way light behaves.
Holding true to the old-school tattoo mentality, Derrick relishes the freedom of being able to run his own shop in a town that he loves.
"It's the best job in the world," he said.
To request an appointment for your own custom tattoo by artist Danny Derrick, visit dannyderrick.com.
Fast fact
On Saturday, May 17, The Center for Health and Prevention, and French Hospital Medical Center are offering a free mammogram clinic at The Center, 705 Grande Ave. The clinic is available to women unable to qualify for state or federal programs. An appointment is required and can be arranged by calling 544-2478.
Intern Lauren Piraro compiled this week's Strokes and Plugs. Send your business and nonprofit news to strokes@newtimesslo.com.