Man, summers in San Luis Obispo are hard to beat.
Photo By Peter Johnson
SHARK WAS HERE Thankfully, this shark sighting warning "expired" on the day I decided to go to Cayucos. Very reassuring ...
That was my thought as I pulled up to the dog beach in crystal-clear, 70-degree weather in Cayucos at 4 p.m. on July 29, belly full of spicy chicken tacos from the Cayucos Gas Mini Mart (some of the best tacos on the North Coast, in my opinion) and feeling totally relaxed after some exquisite wine and spirit tasting.
You know you're lucky to live where you live when in just a half-hour, you can go from sipping world-class wine at Villicana Winery to bodysurfing in the friendly waters (well, minus the "shark sighting" sign that detracted slightly from said friendliness) of Cayucos.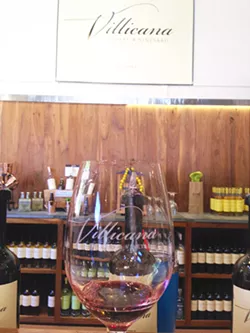 Photo By Peter Johnson
ON THE ADELAIDA Villacana Winery/Re:Find served up delightful wine and spirits on July 29. My favorites were the Syrah and the vodka.
Appreciation and gratitude for SLO were definitely the themes of my July 29 weekend. I made the conscious decision on Friday to close my laptop, forget about work, Twitter, and Netflix, and stay active for a couple days around the area. What a concept!
Saturday was jam-packed, with brunch out at Bon Temps Creole Café in SLO, then wine and spirits tasting in Paso, followed by a beach trip, and, to cap it off, dinner at Vegetable Butcher, the latest culinary addition to downtown SLO.
As a New Times reporter, I've heard and read lots about Alex and Monica Villicana's Re:Find Distillery, Paso's first distillery that paved the way for the local craft spirit scene by distilling grape juice left over from the wine-making process. I've always wanted to try their stuff, and it also seemed like a good destination for my first Paso wine tasting experience. (I know, #sad. My wine snobbery game is weak.)
Photo By Peter Johnson
ON THE M The iconic "M" on Cerro San Luis offered unimpeded views of SLO and Edna Valley.
Holy crap. Re:Find's vodka was the best I'd ever tasted. Even my girlfriend, who nearly declined to try it because she ordinarily hates vodka, was singing its praises. The gin was also excellent, as were their wines (the Syrah was my favorite)—all included in the tasting package for $15. But here was the tricky part at the end: if you buy two bottles of their wine, they refund the $15. I was so tempted, but decided to hang onto my wallet. I'm sure those with a better tasting game than me might opt for the bottles.
Overall, it was a delicious stop and we left to drive west via Highway 46 to the coast. The temperature change from inland to coast is pretty crazy right now, with mid-90s heat turning into low-70s chill basically in 10 minutes of driving. Since I was still burning up from Paso, taking an ocean dip felt awesome.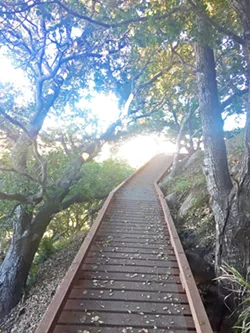 Photo By Peter Johnson
STURDY PATH Cerro San Luis' new M trail features several wooden footbridges as it winds up to steep terrain.
The nightcap at Vegetable Butcher was super fun, too. The Mexican-American fusion restaurant is clearly still getting its bearings, but the atmosphere is lively, there's a good beer and wine selection, and the food is healthy, yummy, and well priced.
On Sunday, I decided to hike off all the tacos on the new M trail, recently completed on Cerro San Luis, which has seen a lot of great improvements over the past year or so thanks to the hard work of community groups like the Central Coast Concerned Mountain Bikers, the city, and volunteers. The additions in the open space include lots of new trail signage and a brand new trail that takes you up the east side of the mountain to the iconic, blue "M."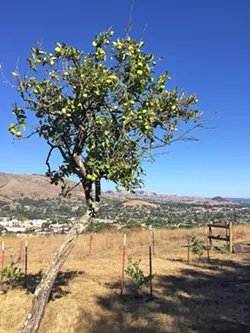 Photo By Peter Johnson
LEMON GROVE LOOP The Lemon Grove Loop on Cerro San Luis Mountain wouldn't be complete without real live citrus trees like this one.
I appreciated the route the trail takes, up through the shaded oak groves with the occasional opening for a sprawling view of the city and valley. There are some neat (and sturdy) wooden footbridges that traverse the steeper, sketchier stretches. After getting to the "M," I scrambled to the top to snap a photo of the unimpeded bird's eye view of the city.
As I approach my two-year mark of moving to SLO, I still find myself in awe of the natural beauty and serenity here. I sat on the top edge of the "M" looking out over the city, feeling deep gratitude for this place and my experiences here. And there's still so much I haven't seen or done, with no better time to keep exploring than this idyllic summer. Maybe I should shut it all down more often! Δ
Staff Writer Peter Johnson is daydreaming about an endless summer at pjohnson@newtimesslo.com.