"We don't say 'died' anymore, we say 'passed.'"
Just that one sentence shook Central Coast author Christine Bell's world a bit when her neighbor said it during the midst of a family tragedy. The Santa Barbara-based writer realized there just isn't space in our lives anymore for grief and mourning, which in turn inspired her novel, Grievance, a recent recipient of the International Thriller Writers Award. Bell's story focuses on Lily Declan, a young widow trying to move past her grief and find a place of healing for herself and her two young sons. But when an unusual sympathy letter arrives, the life Lily has rebuilt comes under attack. On her wedding anniversary, a gift from an anonymous sender is delivered to her door. Then, a bizarre home invasion shatters her sense of security, and a mysterious Facebook memorial appears. Someone is looking to claim Lily's love and loss as their own, but who?
Image Courtesy Of Christine Bell
LOSS Lily Declan looks for answers after the death of her husband leads to a series of strange events, including a mysterious gift, a home break-in, and a fake Facebook memorial, in Christine Bell's novel, Grievance.
Bell sat down with New Times to discuss grief, inspiration, and writing by hand.
New Times: How would you describe Grievance?
Christine Bell: My elevator pitch is that it's about a young widow stalked by the shadow of her dead husband, but really, it's a dance about grief. It's about what we do to keep the dead alive and what we do to keep them buried.
NT: What inspired you to write Grievance?
CB: During a period of family grief, my neighbor corrected me several times during a conversation and said, "We don't say 'died' anymore, we say 'passed.' And we don't say 'funeral' anymore, we say 'celebration of life.'" Part of me is horrified that we don't use real words anymore, but part of me is intrigued. Maybe we can pass over the bad parts.
NT: How do you get yourself into such a dark place for writing a book like Grievance and then get yourself back out of it?
CB: I'm not a method actor. This is not my first book. When I'm there, I'm there. And when I'm done, I don't have to constantly follow it up.
NT: What do you want your readers to take away from your book about grief, sorrow, and mental illness?
CB: We've done away with so many of the rituals that grief almost has no place in our society. I guess writing the book was trying to find a place for it. It's almost as if grief were no longer a natural process. It's almost as if it were an illness.
NT: How did you get into writing and what is your process like?
CB: It's what I've always done. This is my fourth book. I come from a family where story was important and books were always discussed and argued about. It was never not a part of my life. I always have a feeling of a story when I sit down to write. I write by hand. I've written entire books by hand before I've put them on the computer. I love not having a screen in front of me. When I have a screen in front of me, I correct as I go.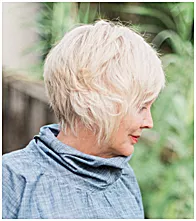 Photo Courtesy Of Christine Bell
AWARD WINNING Central Coast author Christine Bell's novel Grievance recently won the International Thriller Writers Award.
NT: What are some of your current favorite books and authors?
CB: I just finished The Song Is You by Megan Abbott. And I'm in the middle of her book Bury Me Deep. I often read a fiction and nonfiction book at the same time. I also just finished The Great Wound: Confessions of a Slaveholding Family by Kenneth Collier. I'm in a book club, and I love that because it takes me to picks I would never pick on my own.
NT: Why should readers pick up a copy of Grievance?
CB: It's a good story. It will keep them up at night. It will make them wish they smoked cigarettes and drank whiskey. It's different. When I read I want to be taken to a place I've never been to before. I hope this book does that. Δ
Shhhh! Arts Writer Ryah Cooley is reading at rcooley@newtimesslo.com.