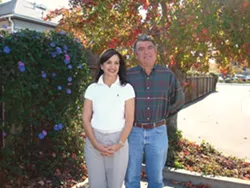 PHOTO COURTESY THE READYS
DEDICATED : Bridgette and Paul Ready established Jack's Helping Hand to aid children in medical distress, in honor of their son.
W
hen Mohandas Gandhi said, "A nation's culture resides in the hearts and in the soul of its people," he could have used Jack's Helping Hand as an example of how hearts and souls committed to giving can advance a community.
"We have helped medically fragile children, and children with special needs here on the Central Coast," said co-founder Bridgette Ready. The all-volunteer nonprofit organization has helped countless local children through fundraising and donations for the past five years, assisting with the purchase of everything from specialized medical equipment to gas cards for transportation to hospitals and doctor visits. There are no specialized pediatric treatment centers located on the Central Coast; infants who require extensive treatment often must be transported by their parents to facilities three or four hours hours away. Jack's Helping Hand pays for hotel rooms as well as transportation costs for the families who qualify for the Assistance Program.
Paul and Bridgette Ready started Jack's Helping Hand when they returned home after losing their three-and-a-half-year-old son, Jack Ready, to a rare form of brain cancer. Through their experience of having to relocate for the extensive medical treatment their son needed, the couple realized there was a lack of resources on the Central Coast for families in such situations. "They discovered there were no services, no support groups on the Central Coast for children with fragile medical needs," said Mary Illingworth, charity administrator. Aside from the assistance program, Jack's Helping Hand offers Mommy and Me classes for mothers with special needs children and yoga classes for teenagers. "We've been really trying to add to the quality of life for the children here on the Central Coast. We want to be that stop gap that allows people to live a great life," said Bridgette Ready.
Mary Illingworth said she, "runs the organization day to day, coordinates the programs, and manages the volunteers." Mary has contributed to Jack's Helping Hand since its inception. When the organization began and started fundraising for an artificial leg for a young boy named Owen Beck, they all thought, "'We are meant to do this' and we've been doing it ever since. Owen Beck is now mentoring another student in the program," Illingworth said. That student is an eight-year-old boy who also needs an artificial leg. "Owen's leg is giving back, and I think that's a neat thing."
The board of directors is comprised of local professionals who each bring a specific expertise. The board meets weekly to review cases and applications, and such community outreach programs as the Jack Ready Therapy Room, which is a pediatric occupational and physical therapy center located at San Luis Obispo Medical Therapy Unit.
Another successful program run by Jack Helping Hand is the Adaptive Toy Lending Library. Volunteers are staffed at Central Coast Gymnastics in San Luis Obispo. Parents can rent developmental toys, similar to renting a video game. They can take the toys home and return them for others. Each toy supports a particular need. Volunteers maintain the toys.
Volunteers also staff the booths at annual fundraisers held at Santa Margarita Ranch. Students can volunteer at the nonprofit and receive school credit. Jack's Helping Hand recently was lauded by the Children's Health Initiative for their community work.
A few years ago, Bridgette Ready also started a program at the Bishop's Peak Elementary School called Recycle, Renew, Reuse, and Focus. Each year a class collects recyclables and donates the earnings to a specific child's need. Kevin Hill, a sixth-grade teacher at Bishop Peak Elementary, "really spearheaded this year's program," said Bridgette. "It's not about the money, though," she said. "It's about the fact that you are educating them that we can take nothing and make it into something. By having them recycle, you are empowering the children to know it's their obligation and how good it feels that we support each other as a community."
This year, the Bishop Peak sixth-grade class and Jack's Helping Hand presented a $5000 donation to Cooper Giron, a child with life-threatening allergies. After reading an article in New Times about the boy ("Give a boy a dog," Oct. 8, 2009) attorney Neil Tardiff contacted Jack's Helping Hand regarding Giron and his mother, who was trying to raise money to purchase a service dog that would detect food containing nuts or peanuts and such byproducts.
Bridgette Ready concluded, "We don't pay huge salaries, we don't pay rent, our little office is a spare bedroom in Mary's house, and we don't put the money back into the organization. It really goes to help someone right here in your backyard." To volunteer or donate to Jack's Helping Hand, see jackshelpinghand.com.
Contributing writer Tanya Gallardo can be reached a tgallardo@newtimesslo.com.