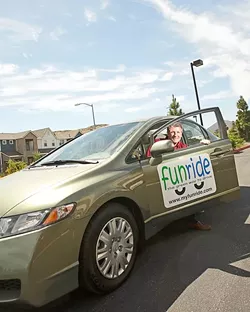 PHOTO BY STEVE E. MILLER
SAVING EARTH AND HAVING FUN : Mark Shaffer created FunRide, a "green" car-sharing service. His alternatively fueled cars are scattered throughout SLO and can be reserved through myfunride.com.
As a nation that consumes more oil than any other, we know changes are due. Mark Shaffer created FunRide as a step in the right direction.

Shaffer is the executive director and founder of the nonprofit Ride-On Transportation. Four years ago, he began to consider forming a company that could combine the economy of car sharing with the environmental benefits of alternative fuels.

FunRide is the first-ever exclusively green, car-sharing service, according to Shaffer. The program enables customers to drive alternatively fueled vehicles without buying them.

The car-sharing service is geared to commuters and tourists, but can help businesses, government offices, or entire neighborhoods.

So far there are five different types of alternative-fuel vehicles available through FunRide: a natural gas Honda Civic, a Honda Insight hybrid, a bio-diesel Volkswagen Jetta, an ethanol-powered Ford Ranger truck, and a non-highway electric car. The vehicles are located throughout San Luis Obispo in permanent parking spaces called pods.

FunRide is a web-based business, though they do have an office at 1998 Santa Barbara St., Suite 130. FunRide members can make reservations for any of the cars, for however many hours they require it, on the FunRide website, myfunride.com. The power of the Internet even allows members to schedule a car with their PDA, and hop in and go 30 seconds later.

"If we can make it in SLO, we can make it anywhere." says Shaffer, who has been communicating with other California cities, including Sacramento and Santa Barbara, and hopes to eventually expand across the country. Meanwhile, FunRide is working to plant "pods" throughout the rest of the county, with the goal of situating floating cars between airports, campgrounds, and colleges.

Shaffer says as FunRide opens for business, they will hire a full-time director of operations, and a few on-call college students to refuel and clean the cars.

FunRide members can either pay a $30 annual fee, plus $6 per hour and 40 cents per mile, or a $20 monthly fee, plus $5 per hour and 30 cents a mile. There are corporate rates for businesses of all sizes.

Shaffer has already been contacted by many local businesses, including the City and County of San Luis Obispo, RRM Designs, and Holiday Inn Express.

Shaffer plans to extend the program beyond just a car-sharing service by reaching out to other green businesses and dealerships in the community. It could help vehicle dealerships and prospective vehicle buyers because it gives drivers the chance to sample different types of alternative cars for as long as they would like.

"The mission of FunRide is to reduce our country's carbon emissions, our consumption of foreign oil, and to save people money," said Shaffer.
Fast facts

On Aug. 1, from 11 a.m.-3 p.m., San Luis Obispo County Animal Services will be hosting a Kittenpalooza to help find homes for the large number of abandoned and surrendered pets that have been recently left at the SLO shelter. The kittens will be available for adoption for a fee of $70, which includes all basic vaccinations, microchipping, and spaying or neutering. The event will be taking place on the lawn of the San Luis Obispo County shelter at 885 Oklahoma Ave. For more information call 550-7577. …

Ingredients from the jungles of Ecuador to the islands of Hawaii imbue the homemade chocolates of Tropical Chocolate Company with unique, delectable flavors. The company will offer monthly chocolate tastings beginning Aug. 4 from 5:30-7:30 p.m. An extensive sampling of single-origin chocolates will be available for $5 per person. Tropical Chocolate Company is located at 3000 Broad St., suite #111, in SLO. For more information call 540-7077. …

For the fourth consecutive year, SeaVenture Resort and Pismo Beach will welcome a group of 15 amputee surfers brought to the area by Operation Comfort, a Texas-based nonprofit group that helps rehabilitate maimed soldiers. Amputee surf champion Rodney Roller will contribute to the clinic. Roller is the lead instructor for the surf camp of Van Curaza Surf School. Two surfing clinics are scheduled; one on Saturday, Sept. 5 and one the following day, both from 8 a.m. to noon at the Pismo pier. The amputee soldiers will be welcomed by a 21-gun salute on Friday, Sept. 4. Contact Lauren McIntyre at SeaVenture Resort for more information at 773-4994. ∆

Intern Marin Kautz compiled this week's Strokes & Plugs. Send business or nonprofit news to strokes@newtimesslo.com.