A change is afoot at the Steaming Bean in Shell Beach. Ever since owner Denise Taylor-Diaz purchased the year-and-a-half-old business in August 2001, the coffee shop has become a wildly popular refreshment destination among her close-knit clientele of beachside locals.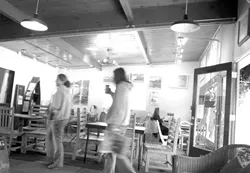 ROOM TO GROW : The Steaming Bean coffee shop recently added another 700 square feet to its Shell Beach business.
#More recently, the Steaming Bean had the opportunity to double its serving space to meet the growing demand of customers from across the Five Cities and throughout the county. When the hair-extension salon closed next door, the owner, the landlord, and Taylor-Diaz all agreed that that space should go to the beloved coffee shop. It was a real community effort all the way around, Taylor-Diaz said.
"Call me crazy, but I love working in the service industry.� And her customers seem to love the service and atmosphere that she provides.
The renovation, demolition, and electrical work have been done through volunteers and donations.
"I have the best clientele in the whole entire world,� the restaurateur boasted of her benevolent workforce. "Everyone feels like it's their coffee shop.�
And now they've got the space to hang out like it's their coffee shop. The expansion has added another 700 square feet to the previously humble 650 feet. That has created room for far more seating, as well as special community events like donation-based yoga every Monday and Wednesday evening and open-mike nights on Fridays. Every week features a different theme for the poetry, songs, and short stories, and this week's open-mike theme is unicorns. But that's just a serving suggestion, and participants are free to explore other topics besides the magically horned ungulates.
The expanded area is also equipped with gallery lighting, and Taylor-Diaz is pleased to display the work of local, amateur artists, with exhibits rotating every six weeks.
For more info on what's brewing at the Steaming Bean in Shell Beach, give them a call at 773-2222.
FAST FACTS
In recognition of Black History Month, Chef Brian Price at Twelve Fifteen in Paso Robles will be preparing traditional and innovative dishes that celebrate the many contributions of African-Americans to the national cuisine. Throughout the month of February, Twelve Fifteen will add to their regular menu such soulful delicacies as glazed ham, Southern fried chicken, collard greens, and cheese grits. As further tribute to African-American culture, Twelve Fifteen is making a generous donation to a scholarship fund in the Wine and Viticulture program at Cal Poly's College of Agriculture. Twelve Fifteen is located at 1215 Spring St. in the heart of Paso Robles. For reservations or more info, call 239-4999. …
… To further celebrate the proud heritage of our local cuisine, the San Luis Obispo Vintners Association has announced the introduction of a new "Wine Basics 101� educational seminar series to provide information, encouragement, and support for wine education at all levels. The $25 series of oenophilic seminars will be held on Feb. 19 and begins with a vineyard tour through Domaine Alfred, Edna Valley Vineyards, or Tolosa Winery, followed by a course in viticulture vocab, and culminating with a lunch seminar on pairing of wine and food. To learn more about this intoxicating program, contact the SLO Vintners Association at 541-5868. …
… A group of Cal Poly students, under the direction of journalism and marketing senior Rebecca Gehrke, has taken the old "learn by doing� adage to heart with the launch of PRspectives, the only completely student-run public relations firm in the county. Gehrke began exploring the concept two years ago as part of a project for a business class, and today she serves as firm director. To learn more about her innovative company, contact Gehrke at 801-3871. …
… French Hospital Medical Center (FHMC) has invested $4 million toward new technology for state-of-the-art imaging and improved cardiac department. In an ongoing commitment to enhance the availability of top-notch technology, FHMC has purchased three very specialized diagnostic treatment machines. For more info, call the hospital at 542-6498.
Staff Writer Jeff Hornaday compiled this week's Strokes & Plugs. E-mail him at jhornaday@newtimesslo.com.