One of SLO County's most prominent LGBTQIA organizations is considering changing its name to better represent a broader spectrum of the community it serves.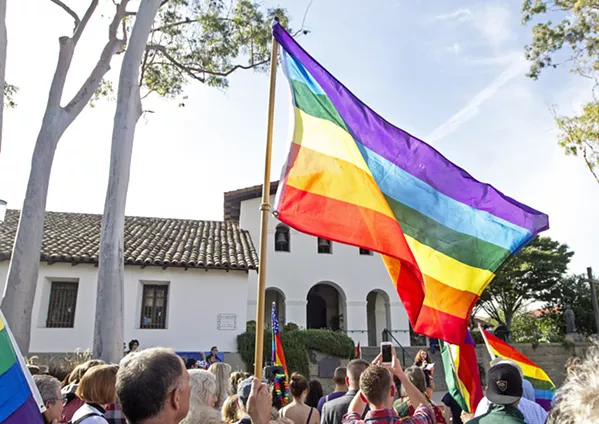 File Photo By Jayson Mellom
A NEW NAME? The Gay and Lesbian Alliance of the Central Coast (GALA) is asking its member whether they think the organization should change its name.
In a recent survey, the Gay and Lesbian Alliance of the Central Coast (GALA) asked its members whether the nonprofit advocacy organization should change its name. The surveys also asked participants to suggest names.
"The No. 1 reason for considering the name change is to provide a broader understanding of who we are," GALA President Matias Bernal said. "We have trans folks, bisexual people, and people who identify as gender fluid. We want to be more inclusive in our community."
The organization's current name appears on incorporation documents dating back to 1994. Bernal said that the question was placed on the survey because the organization's board, which is elected, wanted to ask the membership directly.
"Our decision is really tied to what our membership thinks and them letting us know where we want to go with this," he said.
GALA isn't the only LGBTQIA organization to consider changing its name to something more inclusive. In 2016, the Oakland-based Gay-Straight Alliance Network announced it was changing its name to the Gender and Sexualities Alliance Network in order to reflect a more expansive and inclusive sense of the group's mission.
Reese Galido, a member of another SLO-based LGBTQIA advocacy group, The Queer Crowd, applauded GALA for considering the name change.
"I think it's important to reflect the way people are talking about themselves," Galido said. "It's important to acknowledge that the language is changing."