For the home gardener or do-it-yourself landscaper, High Tide Nursery is the perfect resource for everything from mulches and sods to pet-friendly pesticides. Owners Joel Stern and Nanci Ott have a combined 20 years of experience in the plant business and the know-how to get you through any landscaping crisis. They specialize in plants that will flourish naturally on the Central Coast, and can offer creative landscaping solutions for any sized yard.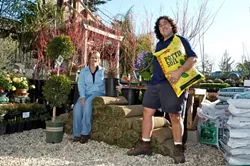 PHOTO BY JESSE ACOSTA
GREEN LIVING : Nanci Ott and Joel Stern are the owners High Tide Nursery in Shell Beach.
# Citrus lovers will find everything from calamondins to grapefruit on dwarf and full-sized plants. The nursery also carries queen and pygmy palms a hearty favorite on the Central Coast and several varieties of bamboo and fig.
High Tide is the second nursery to reside at this Shell Beach address, just a short walk up from the sand. Unlike previous tenants, they don't sell any gifts or knick-knacks, but they do sell handpainted Mexican pottery and one-of-a-kind wind vanes, made by a local metal artist.
The flawless weather and salty atmosphere that define Shell Beach make cruising the open-air nursery a treat unto itself.
Tight paths weave between different garden styles. Shade-loving plants, including ferns and fragrant gardenias, huddle around garden statuaries and modern cement fountains. Perennials, rare succulents, hanging baskets, blooming vines, and groundcovers line the walks.
"We like to think of ourselves as a full-circle nursery," Ott explained. "Anyone can come in here, and they can get mulch, they can get sod, they can get trees, they can get landscaping advice no matter what stage they're in, we can help."
Stop by High Tide Nursery in Shell Beach at 1119 Shell Beach Road, Tuesday through Saturday between 8 a.m. and 5:30 p.m. and Sunday from 10 a.m. to 4 p.m. For more information, call 773-3376.
Kylie Mendonca compiled this week's Strokes and Plugs. Send your business news to rmiller@newtimesslo.com.