This is not my typical restaurant review, but is rather an introduction to a new chef on a mission every food connoisseur will appreciate. I truly admire young chefs who are ardent about their job—a rarity, believe it or not. That's why I was impressed upon meeting Robert Trester, the new executive chef at Gardens of Avila in Sycamore Mineral Springs Resort. This 32-year-old, inspired chef so eagerly embraced his new position at Gardens of Avila, he had changed the breakfast, lunch, and dinner menus within the first month and found time to improve the lounge menu, all while introducing his cuisine and dining philosophy to the kitchen and dining room staff. I appreciated his comment that he's not finished yet. He has many more changes in mind to make this legendary resort restaurant a destination for great dining.
PHOTOS BY STEVE E. MILLER
COLLABORATION : Ralph Johnson (left) helps maintain the small farm at Sycamore Springs so that chefs like Robert Treste (right) can bring fresh produce to their tables.
That's the reason I wouldn't think of reviewing his cuisine this early in the game. One of the main attractions that lured this maverick away from the big-city restaurant world in L.A. was the one-acre flourishing garden at Sycamore. He loved the fact he could pluck ripe produce at the peak of season, choosing from 35 varieties of tomatoes, 12 varieties of peppers, colorful cranberry beans, corn, herbs, and pretty edible flowers for garnishing his contemporary dishes. I couldn't resist trying lunch the day we met, even though Trester was leaving for a chefs' meeting. But his team of cooks, whom he described as "enthusiastic and eager to learn," served him well in his absence.
I started with his recommendation: organic black kale salad ($10) with Happy Acres Farms feta goat cheese, orange segments, shallots, jalapeno, toasted pita bites, and creamy citrus vinaigrette. As tasty as it is healthy, it's a delicious juxtaposition of sweet and tart, crunchy and creamy. The slow-roasted wild king salmon with fennel, cherry tomatoes, and green garlic ($22) was outstanding. Perfectly cooked rare to order, the dish was simple yet strikingly delicious with a bubbly green garlic emulsion. Some call it foam, but Trester said he asked his waiters not to say that; he doesn't like the word.
PHOTOS BY STEVE E. MILLER
REPURPOSED : The large metal columns were supposed to support structures above them; now they're perfect for growing snap peas.
"I really like the way little bubbles look on a plate, and the mouthfeel. It imparts a green garlic flavor without being too heavy or thick, and adds body and height to a dish," Trester explained of his emulsion or froth. "People get angry about foams, and I do, too. But if a technique is used in a way that has a specific reason, I'm okay with it. It's when people do it just to do it that I really don't like it."
Trester grew up on a farm where his large Italian family from the Bronx made a big production of Sunday night dinners. He didn't like farming as a teenager, yet he and his three brothers all became chefs. He recalled, "Those Sundays are some of the best memories of my childhood. My oldest brother got me into an apprenticeship program and really pushed me to be better."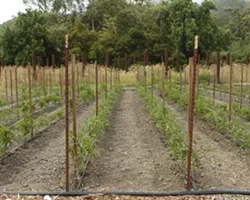 PHOTOS BY STEVE E. MILLER
BEGINNINGS : Rows of tomatoes begin growing for fantastic heirloom tomato salads and other delicious menu items.
With 15 years of professional cooking behind him, Trester came here thanks to a recommendation by the Cliffs chef de cuisine Gregg Wangard. They've been friends for 15 years, and both attended culinary arts classes at the Waukesha Technical College in Wisconsin and worked at the American Club in Kohler. Wangard moved to the Loews Hotel in Santa Monica and invited Trester to come be his sous chef. Afterward, Trester rounded out his professional cooking skills working for chefs like Norman Van Aken at Norman's in South Florida, Todd English at Olive's in Las Vegas, and Mark Gold at Eva in L.A.
Sycamore's garden was planted nearly 10 years ago by chef Evan Treadwell. He grew tomatoes, corn, and herbs in a simple, rustic patch that served him well enough. In 2011, when chef Pandee Pearson became chef at Gardens of Avila, she brought in her favorite farmer. Agrarian Ralph Johnson is a man I also consider one of the finest farmers in SLO County. With 40 years of experience tilling the earth, he grows everything organically, albeit not certified organic. He can provide nutritional information as well as details on growing your own fennel or tomatoes (the latter you can buy from him each spring in Farmers Markets).
Sycamore's garden is awesome now. Filled with raised beds and row crops, it's accessible for each of the chefs within the luxury Boutique Hotel Collection (Apple Farm, the Cliffs, SeaVenture, and Sycamore resorts). The chefs can request specific ingredients like lemon verbena, baby doll watermelon, or sugar pie pumpkins. Restaurant gardens are hardly new; in 1989 in Carmel Valley, Bernardus Lodge chef Cal Stamenov had a garden planted two steps from the kitchen's back door; and locally chef Jensen Lorenzen at Cass House in Cayucos maintains a garden behind his kitchen.
With Sycamore's garden professionally planted and managed by Johnson, it's the finest restaurant garden in the county, and convenient for Trester at a moment's notice. He also has the renowned Windrose Farms delivering produce to him. Neither can fill his every need, so Trester shops the Farmers Markets four days a week to keep his larder filled with produce at the peak of freshness. He admitted he wants to see the garden expanded to fill out the two-acre field. Although it's plentiful, Johnson admitted, "I'm still organizing, growing, and buying more plants to add to the garden."
"I want to bring Sycamore up to the level of Artisan in North County, and to have people try to keep up with us. I want this to be one of the best restaurants in the county," Trester said seriously, adding: "And I want to see Gregg coming over here to see what we're doing."
Contact New Times' Cuisine columnist Kathy Marcks Hardesty at khardesty@newtimesslo.com.