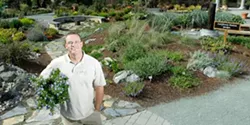 PHOTO BY STEVE E. MILLER
TENDING NATURE : Todd Davidson holds a "California Lilac," Ceanothus "Blue Cloud."
What exactly does "going green" mean? In Todd Davidson's case, it means using Mediterranean plants to achieve sustainable landscapes.
Last May, his company, Sage Ecological Landscapes, transformed the oldest nursery on the Central Coast into a showplace for beautiful native and foreign plants that thrive in coastal environments. "The great thing about the nursery is that people can see it's not cactus and gravel. People can see how beautiful the plants and flowers are that do well with far less water," Davidson said.

Customers wander within the gardening center, which is located behind Celia's Garden Café in Los Osos, along stone pathways through drought-tolerant plants of all sizes, shapes, and colors, as well as fountains created by a local artist and equipment for efficient irrigation.

Adding to the color of the garden are Coccinellidae or "ladybugs" feasting on pests. Ladybugs are an alternative to using pesticides in gardens.

The mission of Sage Ecological Landscapes is to educate people to use native and Mediterranean plants that conserve water and need little maintenance. Seminars are held at the nursery on the first Saturday of each month, when the public can learn about no-mow meadows: an alternative to turf-grass lawns that require weekly mowing and watering.

"A lot of people in California want these big lawns and trees for their homes," said Randy Carrera, a horticulturalist who works at the nursery. "Yeah, they're nice, but they're more appropriate for other regions like the South where it rains more,"

For the past two years, California has experienced severe drought conditions and the California Department of Water Resources predicts 2009 to be worse than any other year in recent history. Many cities have instituted ordinances with fines against water waste. Such laws are not the only reasons why people want sustainable lawns, Davidson said. "When you hit people in the pocketbook, they really wake up. But there are a lot of people who do care and who have the understanding that we need to conserve our resources," he explained.

Sage owner Davidson said it's important to educate people about how precious water is in California. It was his Cal Poly education that made him conscious of sustainable landscaping.

"It was my first environmental science class back in college that exposed me to how we're impacting our earth and how much responsibility we can take in the way we go about doing business," Davidson said.

"Our population is ever-growing and water is such a precious resource. Like we say in the West: 'Whiskey's for drinking, water is for fighting over.'"

For more info on Sage Ecological Landscapes call 574-0777 or visit sagelandscapes.net.

Fast facts

Benefit the Surfrider Foundation's testing of local beaches for contaminants and help fund a kindergarten field trip to the marine science institute in Avila by partying at Stoke Fest on April 25 at Old Vienna Restaurant, 1527 Shell Beach Road in Shell Beach. Dance to three kicking bands, see the works of surf artists, and maybe win a raffle with great prizes. The cover charge is only $5 before 7 p.m. and $10 thereafter. The doors open at 5 p.m. …

Help local schools develop garden projects by attending the School Garden Showcase from 4 p.m. to 7 p.m. on Wednesday, April 29, at Loma Vista Community School, 2494 Pennington Creek Road in San Luis Obispo. Garden coordinators, teachers, parents, and others will share tips and ideas to benefit their various school garden projects. Local author and school-garden advocate Sharon Lovejoy will be the keynote speaker. The event is free. Call for more information at 782-7265 or visit creec.org/region8. …

Also for the green thumbs: The San Luis Obispo Botanical Garden will kick off a two-week celebration featuring seminars, garden tours, lectures, discussions by renowned authors, book signings, and more. At Home in the Garden runs from May 3 to May 16; admission is $10 for the general public and $8 for members. Activities center on sustainability: Most events will take place in the Oak Glen Pavilion, which is constructed of straw bales. Discussions will address the Morro Bay estuary program, sustainable landscaping, and wildlife in the garden, along with landscaping demonstrations. For more information, visit slobg.org. …

The Southern California Chapter of the National Multiple Sclerosis Society will hold its annual benefit walkathon at Mission Plaza in San Luis Obispo on April 26. Pledge and walk or run to raise money to find a cure for the disease. Check in at 9 a.m. Visit walkMSsocal.org for more information. …

At 7 p.m. on Monday, April 27, parents and loved ones of children affected by cancer are invited to Parents Meeting Parents, a free forum to share ideas and discuss the challenges of parenting children with the disease. This forum will focus on "Effective Communication with the Medical Community" and will be facilitated by professional therapist Susan Updegrove. Related forums are held every fourth Monday at the Hearst Cancer Resource Center, 1941 Johnson Avenue, Suite 210A, in SLO and are sponsored by the nonprofit organization Jack's Helping Hand. RSVP by calling 542-6234 by April 24 or visit jackshelpinghand.org.

Intern Omar Sanchez compiled Strokes&Plugs this week. Send your business and nonprofit news to strokes@newtimesslo.com.