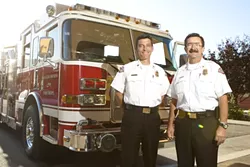 PHOTO BY STEVE E. MILLER
PASSING THE AXE: San Luis Obispo's current deputy fire chief Garret Olson (left), will take over for the outgoing Charlie Hines on Sept. 12.
Confirming a long-expected transfer of leadership, Deputy Fire Chief Garret Olson, 46, was officially named San Luis Obispo's next fire chief on Aug. 30.
"I am absolutely honored to represent this amazing fire department and amazing city," Olson told New Times. "I'm really looking forward to starting."
Both Olson and San Luis Obispo Police Department Chief Stephen Gesell hail from Scottsdale, Ariz., where they used to work together. Olson said Gesell was a good friend and colleague during the roughly five years Olson was a deputy chief of operations at the fire department, and Gesell was a police commander.
"Steve was a major factor in convincing me to take the deputy fire chief job back in 2012," Olson said. "He would definitely get the finder's fee, if there was one."
Olson, who was the fire chief in Scottsdale—with a population of approximately 220,000—for slightly less than two years, said he was initially skeptical about taking the deputy chief gig in SLO. The local job represented a demotion in pay, influence, and rank, but Olson said he and his wife fell in love with SLO during a visit in the summer of 2012.
"We didn't think taking the job was feasible at first, and we're generally conservative people," Olson said. "Coming out here was definitely the most outlandish thing we've ever done, but it has paid off."
Despite the fact that outgoing fire chief Hines was quite vocal in supporting Olson as his successor, Olson said he was still subjected to an extensive vetting process by the city over the past few weeks and months.
"To the credit of the city and [City Manager] Katie Lichtig, it was not a done deal, and they did their due diligence in reaching out to all the community stakeholders," Olson said.
Though Olson has yet to officially take over as fire chief, he already has plans for how he aims to lead and direct the department.
"I want the fire department to participate, listen, and be more relevant in the community," he explained. "I want to further all the relationships we have established."
Olson, who's served as deputy fire chief since August 2012, will have an annual base salary of $150,722 as chief. His first day on the job will be Sept. 12, and Hines will retire on Sept. 10.