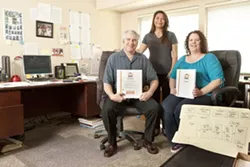 PHOTO BY STEVE E. MILLER
SUCCESS FOR YOUNG ENTREPRENEURS: With their original brainstorming map of Biz Whiz Academy in the foreground, (left to right) CEO and Founder Erik Amato, Managing Partner Isabel Amato, and Operations Manager Heather Perry are all set up to help kids and teenagers start their own businesses.
Morro Bay resident Erik Amato has created a new-kid friendly company, Biz Whiz Academy, that helps give children the tools they need to become entrepreneurs. An entrepreneur himself, Amato came up with the idea in 2005 while helping his then-teenage daughter start her own babysitting business. Along with his wife Isabel, he began developing Biz Whiz in 2011, and it officially launched in May of this year.
Biz Whiz is an online business that offers downloadable, turnkey business plans for kids and teens, each one tailored to one of three different age groups: 7 to 11, 12 to 15, and 16 to 19. This includes plans for a lemonade stand, a cookie company, a car washing business, a pet-sitting business, a tech recycling business, and more. Each plan sells for $19.99 and covers every imaginable aspect of that business—such as marketing strategies, competition overview, sales scripts, and so on. Each plan also includes a quick-start guide allowing users to choose a level of involvement that fits their needs.
In addition to business plans, Biz Whiz also offers skill building guides designed to help kids become more proficient in such areas as résumé writing, money management, and customer service. The price of the skill building guides ranges from $4.99 to $9.99.
To help cut down on costs for its customers, Biz Whiz has partnered with Office Depot, allowing those who purchase the plans to receive discounts on average of about 50 percent—but as high as 80 percent—for materials needed to start their business. They also have their own Amazon store where users can buy materials at the best market value.
Amato earned his degree in business administration and marketing from Ohio State University and then went to work for the telecommunications company MCI. After several years in the industry, he later went on to start his own telecommunications consulting firm, AVCI.
Though he created Biz Whiz to help kids become entrepreneurs, for Amato it goes beyond that: "What I really wanted to teach them was life lessons … stuff like self-reliance, confidence, independence." Amato finds that many kids who go on to college find themselves lacking crucial experience when they graduate and are looking for their first job. He believes this is in part due to the fact that many kids are so busy with school and extracurricular activities that it's difficult for them to maintain an hourly job. Amato sees Biz Whiz as an alternative for those kids, allowing them to work around their busy schedules.
Amato also believes that California's schools can play a role in teaching these sorts of life lessons, and would like entrepreneurial curricula to be introduced into the educational system as it has been in other states. Along with Generation E Institute, a Michigan-based nonprofit specializing in entrepreneurial curricula, Biz Whiz Academy is currently working with the director of the Business and Entrepreneurship Center at Cuesta College, Israel Dominguez, on the possibility of offering accredited entrepreneurial curriculum to California high schools. This includes schools in San Luis Obispo, Ventura, Santa Barbara, and northern L.A. counties.
"My goal was to create something that the majority of kids could do … and have that experience of being successful" Amato said.
To learn more about Biz Whiz Academy, visit bizwhizacademy.com.

Fast fact
A signing for Real II, the second book of portraits from author Shelley Malcom and photographer Terilee Dawn Ouimette, will be held Nov. 8 from 3:30 to 7:30 p.m. at La Perla del Mar Chapel at 205 Windward Ave. in Shell Beach.
Intern Trever Dias compiled this week's Strokes. Send your business and nonprofit news to strokes@newtimesslo.com.