If you visit photographer Jeffrey San Juan's website, you'll notice there isn't an "about me" page. There is an "about us" page, however. The "us" doesn't refer to San Juan's colleagues or collaborators. It actually refers to his family.
Rather than try to sell you on what makes him the right guy for your photography needs, whether it's family portraits, senior photos, or weddings and other events, San Juan uses this page to let visitors know he wouldn't be the man he is today without his wife and daughter.
"Family is always first and, if I could, I would spend every minute with them," San Juan told New Times. "When I'm not shooting or editing, most of my time will be spent with my family."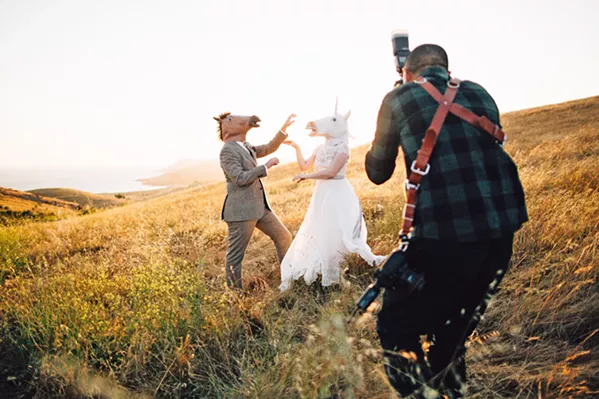 Photo Courtesy Of Danielle Honea
HORSE SENSE OF HUMOR "It's about getting to know your clients first, what makes them laugh and feel comfortable," Photographer Jeffrey San Juan said. "Then you just have to let if flow from there."
But even from a business standpoint, it's important for San Juan to share his unabashed love of food festivals, bottled root beer, the Lakers, and Pixar movies because it's integral to the energy, humor, and overall personality he strives to convey through his photography. The personality aspect is unique to each client, he explained.
"It's about getting to know your clients first, what makes them laugh and comfortable," San Juan said. "Then you just have to let if flow from there."
San Juan remembers picking up a real film camera for the first time during a high school photography class. He would go on to graduate from the Art Institute of San Diego with a degree in graphic art and didn't consider pursuing a photography career until after getting married.
"While my wife was shopping for a photographer for our wedding, there were many times I said, 'I could do that,'" San Juan said.
Today, San Juan is primarily known for his wedding photography. His goal with weddings, he explained, has always been to capture real moments as they naturally unfold and as unobtrusively as humanly possible.
"I want most of my work to show the realness of a wedding as opposed to posed shots," San Juan said. "A lot of times I'll have the groom whisper in the bride's ear or tickle her in that area, and from there, naturalness comes out."
One of the aspects San Juan appreciates the most in terms of being his own boss is controlling his schedule, setting enough time aside to spend with his family. For photographers aspiring to start their own business, and for entrepreneurs in general, San Juan's advice is to make sure you're thinking with your heart, not your wallet.
"Don't be afraid to take chances, be very patient, and remember that you're doing it for the love and not for the money," San Juan said. "Once you think it's for the money, I promise you will go nowhere."
Fast facts
• AmpSurf, in partnership with the U.S. Department of Veterans Affairs, will award $15,000 in competitive grants to disabled veterans to compete in an adaptive surf contest in 2019. AmpSurf is planning to award 10 sponsorships. For more information, contact AmpSurf at surf@ampsurf.org with the subject line "competitive adaptive surf sponsorship for disabled vets."
• Taylor & Syfan Consulting Engineers is celebrating 25 years of creating structural solutions across the state. The firm has offices in San Luis Obispo, Santa Barbara, Pasadena, and Santa Rosa with expertise in custom residential, commercial, civic, health care, school, military, industrial, and energy projects.
• Collaboration Business Consulting plans to launch a new speaker series in March called Business360°: Advanced Strategies for Leaders, an invitation-only workshop designed to educate seasoned leaders on achieving the next step in their business and establish a scalable growth model. The first talk in the series is on March 1 at 8 a.m. at Collaboration's headquarters in San Luis Obispo. Collaboration's goal is to support the local community and aid business growth, according to a press release. To learn more, visit collaboration-llc.com. Δ
Calendar Editor Caleb Wiseblood wrote this week's Strokes & Plugs. Information should be sent to strokes@newtimesslo.com.