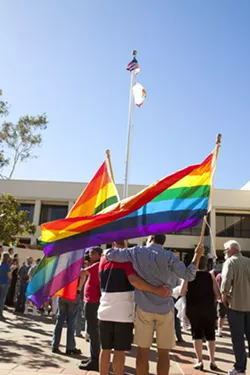 PHOTO BY STEVE E. MILLER
THE WAIT IS OVER: After a 4 1/2-year gap, San Luis Obispo County began marrying same-sex couples on July 1.
With his husband at his side, David Robinson took advantage of a June 26 gay rights rally at the San Luis Obispo County Courthouse to make an announcement.
"As of today, I am no longer David Robinson," he proclaimed. "I am David Lindemulder."
Robinson admitted after the announcement that the identity shift isn't yet legally true—the formal process for changing one's name requires a few more steps. Robinson and his husband, Jerry Lindemulder, became the first SLO County same-sex couple to get married in June 2008, but each kept his born surname out of caution.
Even before Robinson and Lindemulder tied the knot, same-sex marriage opponents were already well on their way to collecting the signatures needed to put Proposition 8 on the 2008 General Election ballot. Proposition 8 proposed to—and eventually did—amend the California Constitution to define marriage as between a woman and a man only.
"I was concerned with Prop. 8 coming up that our marriage would be invalidated," Robinson explained. "I didn't want to change it until I knew it would stick."
Robinson and Lindemulder's marriage survived. The California Supreme Court ruled in 2009 that Proposition 8's vague language prohibiting same-sex marriage couldn't apply retroactively.
However, legally wed same-sex couples in California and 12 other states still enjoyed considerably fewer rights than did male/female spouses because of the 1996 Defense of Marriage Act (DOMA). Section 3 of DOMA recognized only opposite-sex unions for the purpose of administering federal benefits under the United States Code, a body of law that includes 1,049 relevant provisions, according to a Government Accountability Office report.
On June 26 of this year, the U.S. Supreme Court struck down DOMA Section 3 on the grounds it violated the Equal Protection Clause of the Fifth Amendment. Minutes later, the court denied standing to Proposition 8 opponents trying to appeal a 2010 U.S. District Court decision invalidating the law based on a nearly identical clause in the 14th Amendment.
Although the Supreme Court opinion in the Proposition 8 case spoke hardly a word about gay rights, the fight to defend California's same-sex marriage ban hit a dead end.
"It was elation," Adaire Salome said. "I couldn't believe it was really happening."
Salome and her fiancée, Kim Keating, made plans years ago to get married this summer regardless of what action the Supreme Court took.
Although California law now says they can get married in this state, there was still the matter of getting a marriage license. The Ninth Circuit surprised nearly everyone June 28 by dissolving the stay of execution it placed on the 2010 district court order while the Proposition 8 case worked its way through the appellate courts. State Department of Justice officials reported shortly after publication of the Supreme Court opinions that it would take at least 25 days.
Same-sex marriage opponents, who wanted a chance to petition the Supreme Court to reconsider, responded angrily to the Ninth's decision to lift the stay. Judicial protocol stipulates a 25-day waiting period before Supreme Court rulings become effective, but high-ranking federal judges write their own playbook.
The surprising turn of events made good news better for engaged same-sex couples who waited until the last day of the judicial session for the Supreme Court to rule.
"People have been biting their nails for a whole month," Salome said. "Their lives are on the line."
Salome and Keating plan to get married July 20 at the Monday Club in San Luis Obispo. After the final defeat of Proposition 8, it appeared initially their best hope would see a marriage license arrive one day after the ceremony. Hours before the Ninth lifted the stay, Salome described the uncertainty as "nerve-wracking."
SLO County Clerk-Recorder Julie Rodewald told New Times the afternoon of Friday, June 28, that her office would be ready to issue licenses as soon as the 2010 district court order became effective. The stay lifted just before the close of business hours that day, but Rodewald said seven couples were waiting at the door when the county offices opened the following Monday.
"This is the first time I've sat down today," Rodewald said just before 10 a.m.
While obviously not unique, even locally, Salome and Keating's situation appears less common than one would expect. Rev. Caroline Hall of St. Benedict's Episcopal Church in Los Osos—the home congregation to many LGBT Christians on the Central Coast—knows of few couples with preexisting plans to marry in California, and none with immediate plans.
Hall explained that so few couples were waiting in the wings because of skepticism surrounding the activity in the Supreme Court. Even though many legal experts accurately predicted the June 26 opinions, Hall said many same-sex couples refused to hold their breath for fear of disappointment.
"I don't think anybody dared to believe that this was really going to happen," she said.
Hall also thinks many of the first same-sex weddings will come on a grand scale, and even smaller weddings take months to plan.
On June 30, Hall blessed the marriage of a couple who recently got hitched in Washington. Nothing now prevents St. Benedict's from performing full ceremonies as soon as more people step forward.
"The Episcopal Church was in kind of a betwixt and between situation—we were allowed by our bishop to do blessings, but not legal ceremonies," Hall said. "That's now changed. … We can perform marriages for same-sex couples just the same as straight couples. It's really exciting."
For those married in 2008, the waiting ended when the Supreme Court ruled.
Hall married her wife in the months before Proposition 8 passed, but, like Robinson, only received equality when the court struck down DOMA Section 3. She said the Internal Revenue Service took her to tax court for underpayment of her 2012 taxes because revenue officials didn't realize Hall properly listed part of her income on her spouse's return. With the change to DOMA, Hall and her wife can finally file jointly on future federal tax returns.
Keating serves in the Navy. With the change to DOMA, Salome can now take advantage of partner benefits and relocation reimbursement in the event her fiancée gets deployed.
"A lot of people thought with the repeal of 'Don't Ask, Don't Tell' everything had changed," Salome said. "That was not the case at all."
Robinson looks forward to receiving equal treatment in managing his Social Security payments and Lindemulder's pension as a married couple. Like most spouses, they also want each other to make the call on important medical decisions rather than allowing more distant family members to wield that authority.
"Nobody can interfere if one of us gets hospitalized," Robinson said. "It just makes us safer."
Staff Writer Patrick M. Klemz can be reached at pklemz@newtimesslo.com.