I'm so grateful it's January because there's no month I look forward to more for dining out around SLO County. Surprised? Well, this is the time of year when our restaurants offer the best deals you'll find on a menu anywhere. "Restaurant Month" was created by the SLO County Visitors & Conference Bureau (SLOVCB) to attract tourists and it has paid off for locals. It couldn't come at a better time, with our shrinking economy making all of us afraid to spend money for anything except necessities.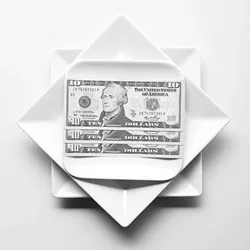 PHOTO BY STEVE E. MILLER
WHAT A DEAL!: Dozens of great local restaurants are offering a special three-course menu of locally sourced food for just $30 every day in January.
The bargains in dining out begin on Friday, January 2, with nearly 40 restaurants, including one Paso Robles winery and café, and continue every day through January 31. During those 30 days, participating eateries will serve a special three-course menu for $30 per person (tax and tip not included). What's great is you can choose an upscale restaurant you might otherwise think you couldn't afford.
The first time I enjoyed something similar to Restaurant Month was Restaurant Week in New York City. My mate Dan and I feasted on cheaply priced three-course meals in popular restaurants owned by TV celebrities Bobby Flay and Mario Batali, and at such highly respected eateries as French-born chef Jean-Georges Vongerichten's restaurant Vong. Vong, I just learned, now serves a three-course $20 lunch and $35 dinner prix fixe, year round.
Even when you make reservations at a participating restaurant, if you don't like the choice du jour (selection of the day) you can always request the regular menu. Dan will often order the prix fixe selection and I'll choose from the normal menu, then we share the array of fine dishes.
All of the participating SLO County restaurants offer something special, whether they're normally inexpensive or pricey: at the value-priced Big Sky, owner Charles Meyers pairs the three-course meal with a flight of three wines he offers by the glass, still $30; at Splash Café, guests pay $30 for four courses; and at the upscale Hoppe's you're offered a choice of two items for the first and the main course, and you can choose any dessert on the menu, for only $30. Most of the restaurants offer pairing their wines-by-the-glass for a nominal extra fee.
New this year is the "Restaurant Month Wine Passport." Participating restaurants will give diners a passport to SLO County wineries that provides more deals: complimentary tasting, discounted tasting fees, or two-for-one tasting fees; some wineries will offer discounts on merchandise.
Steve Cass, owner of Cass Winery & Café, joined the event for the first time this year. Cass is one of the few wineries in SLO County with a café that's open daily. "We decided to experiment to see if people would be interested since we are quite a ways out on the wine country trail," Cass explained. They're not open for dinner but you can stop in for the three-course meal with wine prepared by their house chef Brandon McPartland anytime from noon to 6 p.m.
Cass' three-course meal, offered daily during restaurant month, includes: artisan goat cheese spinach salad with Cass 2006 Grenache; venison chili with Windrose Farm's smoked tomatoes and chilies with Cass 2006 Rockin' One (a red Rhone blend), and a fresh fruit crisp with Grand Marnier whipped cream with Cass late harvest Cabernet Franc.
"January is typically a slow month for restaurants so we formed a culinary committee and created an event to help our local restaurants through the slow season," said Carrie Head, Community Relations Manager for the SLOVCB. "We had several new restaurants and quite a few new wineries that have come onboard."
Visit the SLOVCB website sanluisobispo county.com and click on the Restaurant Month heading on the left side of the page to find restaurant addresses, phone numbers, and to read the restrictions by some participants, which may limit the $30 menu to either lunch or dinner. And don't bypass the additional values at the site for deals on accommodations, gas, shopping, touring services, and adventure packages. You're sure to find me taking advantage of these restaurant deals, so say hello.

You can reach New Times' Cuisine columnist at khardesty@newtimesslo.com.
Participating restaurants by city:
Atascadero - Hoover's 101 Family Restaurant & Brewery**

Avila Beach - Custom House, Gardens of Avila at Sycamore Mineral Springs

Cambria - Black Cat Bistro, Linn's Main Bin, Madeline's , Robin's

Cayucos - Cass House Restaurant*, Hoppe's Garden Bistro

Morro Bay - Ciao Bella, Orchid at Inn at Morro Bay, Windows on the Water*

Paso Robles - Artisan*, Bistro Laurent, Cass Winery & Café*, Enoteca, Level Four, Lombardi's Pasta Familia, Matthews (downtown only), Paso Robles Inn Steakhouse

Pismo Beach - Pelican Point, SeaVenture, Steamers of Pismo

San Luis Obispo - Apple Farm, Big Sky**, Café Roma, Corner View*, Courtyard Café by Marriott, Mama's Meatball, Novo, Palazzo Giuseppe, The Park*, Splash Café**, Upper Crust Trattoria

Shell Beach - Lido at Dolphin Bay, Marisol, Spyglass Inn Restaurant

Templeton - McPhee's Grill
*Some restrictions apply **Special offer
Plan your culinary adventure by visiting sanluisobispocounty.com, click on restaurant month, or call the SLOCVCB at 1-800-634-1414