A great big world exists beyond the confines of Higuera, Monterey, and Marsh streets. There's even more to SLO County than its South County beach towns and Bishop and Cerro San Luis (Mount Madonna) peaks. Crazy, right?
OK, we won't get too nuts here, but I'm going to let you in on a little secret. Your precious little free time is for more than booze, pizza, and playing video games. It's for more than cellphones and social media. And without getting too hippy, a little exploration can expand your vision of what's out there. Isn't that what college is all about anyway?
It's time to break out of your box, and it doesn't have to cost that much, either.
North County
PHOTO BY HAYLEY THOMAS
SWEET TOWN: Rainbow Hut Studios is an eclectic art studio in the dusty little town of Santa Margarita.
Your first stop as you head north on Highway 101 is Santa Margarita. And you should always stop in Santa Margarita, because this little strip of a town is pretty quaint and lovely. There's Margarita Adventures, where you can do some zip lining among other things; Ancient Peaks, for wine drinking; The Range for some delicious steak; and my personal favorite, Dunbar.
It's the best little beer bar on the way out of town you'll ever hit, especially if you're heading east on Highway 58 during the springtime.
Here's a pretty big secret: When the wildflowers are in bloom along that particular stretch of road, there's no point in going anywhere else in the county other than Shell Creek Road. And after you see that palette of color, you might as well continue an eastward march to a desolate corner of the county that starts with Soda Lake Road and continues into the Carrizo Plain National Monument. It's a hell of a drive, but when you see the meadows coated in purple and yellow from valley to mountainside, you'll thank yourself for spending the gas money.
PHOTO BY CAMILLIA LANHAM
FLOWERS FOR DAYS: The Carrizo Plain National Monument is accessible via Soda Lake Road, and during the springtime there seems to be flowers for miles. It's not in North County, but you do need to drive over the grade before you head east.
If you want to travel a different route, then don't turn off at Santa Margarita—keep going. There's Atascadero, Templeton, and Paso Robles still to go. Yes, wine country, but there's so much more to it than that. Atascadero does have an In-N-Out Burger (we've got two in this county!), but it's also got a Sylvester's Burgers—way better, in my opinion. Templeton's got a downtown street lined with mom-and-pop shops and restaurants, and Atascadero has a bigger one. But the primo spot is Tin City—where a little commune made up of wine (yes, wine!), beer, and spirits lives, off Ramada Drive.
You can find live music and a stellar food truck at Barrelhouse Brewery and Beer Gardens (beer, too) on Limestone Way. But if you're not into booze, or you're not old enough to drink, you should just head up to San Miguel. There, you'll find a piece of history known as Mission San Miguel. It's not as sparklingly restored as the one in downtown SLO, and that's part of its charm. Crumbling adobe, exposed beams, and walls that don't gleam with fresh white paint. It's currently under renovation, though, so you'd better get to it before all the wear and tear of two centuries disappears.
And if you don't feel like going so far, but still need a little SLO bubble break, one of the first stops on your way north is Reservoir Canyon. It's at the base of the grade, and the hike isn't a leisurely one (5.3 miles with 1,300 feet of elevation gain), but yields great views of the city and a eucalyptus tree with a swing.
North Coast
Yes, North Coast and North County are two separate places. And there's a stretch of mountains (OK, glorified hills) to separate them. Head out from SLO on Santa Rosa Street, and it'll turn into Highway 1 at some point, leading you to a sandy little fog-soaked paradise known as Morro Bay. Eventually, the coastal drag delivers you through Cayucos, Harmony, Cambria, and San Simeon.
PHOTO BY CAMILLIA LANHAM
BIG ROCK: San Carpoforo Creek Beach is one of my favorite places along Highway 1, and it's a great stop after a hike along the Big Sur coast.
You actually stay in SLO County until you breeze by Rocky Point on your way to Big Sur, where large swaths of wilderness await you and you can be envious of those who are lucky or rich enough to have a secluded house on a coastal cliff. Just a few miles past the county line, you can hit your first big or little hike at Salmon Creek Falls. It's a pretty popular spot to park and gander at a big-ass waterfall, but head up and away from the get-go and you'll find the hike less traveled and more falling water.
But before you even start the long drive past Hearst Castle, San Simeon State Beach, the Piedras Blancas State Reserve elephant seal rookery, and the historic Piedras Blancas Light Station, don't forget about those beach towns. They've got delicious food stops.
In Morro Bay, there's Taco Temple with the most gigantic, tasty tacos ever and the Libertine Pub, where you can grab a sour beer on the Embarcadero. In Cayucos, there's the Brown Butter Cookie Company with moist little delicacies that come in packs of six and Ruddell's Smokehouse with its beautifully smoked fish that come out of a little shack by the beach. In Cambria, there's Linn's Restaurant with its beautiful berry pies and the happy hour prices of Robin's Restaurant. Of course, there are way more places to eat and way too many to list.
PHOTO BY CAMILLIA LANHAM
PIRATES?: Occasionally pirate ships—it's not really a pirate ship—show up in the Morro Bay harbor. You can also kayak and paddle board in the harbor.
And there's miles more coastline to explore. The Estero Bluffs outside of Cayucos run a rocky, grassy stretch of pelicans, cormorants, herons, and egrets. To the south is a spot for pooches, to the north, not so much, but you can walk casually for miles in either direction, with tidepools and views of Morro Rock to guide you.
But before you even hit Cuesta College, there's El Chorro Regional Park. In addition to a dog park, there are barbecue pits, softball fields, and the SLO Botanical Garden—which has tons of native plants growing into the hills, and a path to go with it. If you're feeling like a little after-school jaunt into oak-studded hills, hit up the short hike to Eagle Rock. Cows will show you the way and maybe a wild turkey or two.
And let's please not forget Montaña De Oro. Enough said.
South County
Heading south on Highway 101, don't be blinded by the sight of the ocean or the sight of three lanes becoming two. Don't forget how to merge, people. If I can teach you anything, it's not to be one of those jerks who cuts off a bunch of people, zooms over to the third lane to try to beat a bunch of cars, only to swerve back over at the last minute and add to the traffic that already exists at the first glimpse of Shell Beach.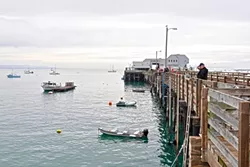 PHOTO BY CAMILLIA LANHAM
LONG DRAW: The Port San Luis Pier is a place for pondering life, buying fresh oysters, and taking a long walk above the ocean near Avila Beach.
Before you get to that point anyway, you should try the Avila Ridge Trail or the Bluffs Coastal Trail. And, of course, before you get to that point, there's always the Bob Jones Trail, where you can bike or walk beneath a canopy of trees from Avila Hot Springs into Avila Beach.
If you feel like a dip, there's that hot springs or Sycamore Hot Springs. At Avila Hot Springs, you can do a sundowner swim for $8 every day after 5 p.m., and hey, if you feel like watching a movie with that soak, you can do that on Sundays. Visit avilahotsprings.com for hours. Sycamore is a little more private than that, and you can rent a mineral tub by the hour. Check out sycamoresprings.com for prices.
Of course, Avila has much more than that, and if you take Avila Beach Drive to its bitter end, which is really not that far, you can hit up the Port San Luis Pier. You can fish off the dock or buy some fresh plucked-from-the-sea oysters, crabs, clams, or well, any other seafood you want from one of several markets.
FILE PHOTO BY STEVE E. MILLER
CASA DEL SABOR: Tortas are a specialty of Fruitiland in Arroyo Grande, and although they cost more than $10, it's definitely enough food for more than one meal.
If you decide to go farther south than the Avila turn off, Shell Beach, Pismo Beach, Grover Beach, and Oceano take the coastline, and Arroyo Grande skirts up into the hills. You can hop on the beach in Pismo and walk your way almost all the way to Guadalupe if you want, or you can wait until you hit Grover and take your vehicle out on the sand and into the Oceano Dunes State Vehicle Recreational Area.
Need food? Head up Grand Avenue for a little yellow stand on the side of the road called Fruitiland La Casa del Sabor. They've got fabulous tortas the size of your head and a good fruit smoothie to boot.
Want to stay on Highway 1? Outside of Oceano, you can find the Hiyashi Vegetable Stand for strawberries so good, you will know why they call the Central Coast the world's fruit (berry) basket. Keep going, and one of the last stops before you get to Guadalupe is Oso Flaco Lake: A body of fresh water in the middle of sand dunes and a boardwalk that leads you to the beach.
Editor Camillia Lanham knows there's so much to explore in this county. Let her know what you find at clanham@newtimesslo.com.