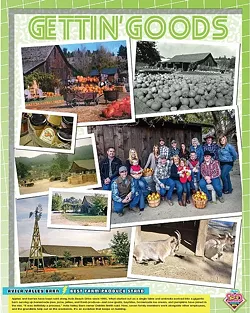 DESIGN BY ALEX ZUNIGA
BEST FARM/PRODUCE STAND: AVILA VALLEY BARN: Apples and berries have been sold along Avila Beach Drive since 1985. What started out as a single table and umbrella evolved into a gigantic barn serving up homemade pies, jams, jellies, and fresh produce—and now goats, hayrides, homemade ice cream, and pumpkins have joined in the mix. "It was definitely a process," Avila Valley Barn owner Debbie Smith said. Now, seven family members work alongside other employees, and the grandkids help out on the weekends. It's an evolution that keeps on building.
BEST BOOKSTORE
Phoenix Books
986 Monterey St., SLO
Longtime Phoenix Books Owner Bruce Miller is turning the store over to his son, Evan Miller-Donnelly, after 35 years. "It will be a great challenge but I'm up for it!" Evan said. They source many of their volumes through purchase and trade with the local community. The store offers first editions, rare books, and signed copies. "Why do people go to Yosemite when they can look at pictures? Holding a book in your hand has a very tactile and immediate appeal, like seeing an historic place," Bruce said. "We thank our customers and I'll still be around enjoying the new energy Evan brings to the store!"
—Ariel
Runner up: Coalesce Bookstore & Garden Wedding Chapel
BEST PLACE TO BUY MUSIC
Boo Boo Records
978 Monterey St., SLO
There's nothing like an afternoon spent flipping through records at the record store. Having been in business for more than 40 years, Boo Boo Records has taken this honor for the past 13 years in a row. They carry a wide range of vinyl and CDs, and also sell concert tickets for most shows happening on the Central Coast. Boo Boo Records is active in locating hard-to-find vinyl and CDs; they helped me get my now-coveted Purple Rain album. Woot woot!
—Giselle
Runner up: Cheap Thrills
BEST PLACE TO BUY MUSICAL INSTRUMENTS
Central Coast Music
365 Morro Bay Blvd., Morro Bay
After 26 years in business, Eddie Frawley has finally hit the big time by winning this Best Of category two years in a row. We're only kidding, Eddie. The truth is, Central Coast Music has devotedly served SLO County musicians for years, selling guitars, mandolins, trumpets, woodwinds, harmonicas—pretty much anything that makes noise. "Anything musical, wacky, and off the wall, I try to get in here," he told us. What's the secret to Frawley's popularity in the community? It's simple: "I love music, I love people, and I love the Central Coast." Frawley graciously thanked New Times readers for the honor, calling it "a big deal." No Eddie, thank you.
—Peter
Runner up: Lightning Joe's Guitar Heaven
BEST MEN'S CLOTHING STORE
Patrick James
641 Higuera St., suite 100, SLO
When asked for something fresh to describe why Patrick James keeps winning this category, Manager Eric Danilewicz said that they continue to offer "casual elegance," whether it's the button-up shirt, tailored suit, or the Common Fibers carbon fiber wallets that they recently began carrying, designed by a group of Cal Poly grads. The SLO store recently brought on tuxedo rentals as part of its offerings for all your sharply dressed and super classy needs.
—Jono
Runner up: Jules D
BEST WOMEN'S CLOTHING STORE
Coverings
760 Higuera St., SLO
Style is hard to come by. Luckily for SLO we had Coverings, located in the heart of downtown San Luis Obispo. "From almost the beginning, we tried to create a store that could exist in NYC or Los Angeles. Bringing that approach to SLO is something our customers gravitated toward," said Marketing Director Barry Goyette. Sadly Coverings is no more and closed its doors on April 27, 2016, a sad day for the stylish ladies of San Luis Obispo. "It's been such an honor receiving this award four out of the last nine years; it's says a lot about our customers and the great support they've given us," Goyette said.
—Giselle
Runner up: Ambiance
BEST INTIMATE APPAREL
Fanny Wrappers
799 Higuera St., SLO
The allure of pink neon lights recently beckoned a new owner into the sexy arms of Fanny Wrappers in downtown SLO. Samantha Phelps took the lace and satin embellished reins from longtime owner Terry Trevis this spring. Why? Trevis was ready to retire, and Phelps was ready to build on a great business. Starting with men's loungewear and a website (think of the toys!). Bottom line though: An experienced staff is priceless. "The staff is so knowledgeable," Phelps said. "The girls will get right in there and help. They will help pick the right fit for the right body type."
—Camillia
Runner up: Diamond Adult World
BEST THRIFT STORE
Goodwill Industries
15 South Higuera St., SLO
Thrift store shopping is not for everyone. It's for the adventurous spirits, the environmentalists, the low budget fashionistas, the high fashion homeless people, and, yes, the penny pinchers. It's basically the public bus of shopping experiences—curtain rods mingling with kimonos and some slightly used sneakers, while needs are met and the planet is saved. Goodwill is your bus driver, bringing the goods together with the diverse public for a mutually beneficial experience. At Goodwill, thrifters get low prices and the thrill of the hunt, while Goodwill creates jobs, job training, and diverts everyday items from the landfill.
—Kylie
Runner up: Fred & Betty's
BEST ANTIQUE SHOP
Ruby Rose
1235 Monterey St., SLO
Ruby Rose Owner Stephanie Henry has been fascinated by antiques for more than 20 years. "I was a road-trip girl and scoured souvenir shops," she said. "Dad threw us in the Range Rover and we traveled all over the Western United States." Ruby Rose reflects her passion for collectibles with its travel theme. Henry loves the 1970s, and customers love vintage clothing—especially the fringe jackets. "People come in for things that give them that feeling they had when they first owned these items," Henry commented. "Everybody brings a story to share, and Ruby Rose is as much a community place as a business."
—Ariel
Runner up: Brooks Woodcraft
BEST CONSIGNMENT BUSINESS
Zoey's Home Consignment
3583 S. Higuera St., SLO
Zoey's recently moved across South Higuera to its new location. "We offer upscale, beautiful furniture at great deals," Owner Marie Moore said. "We take pride in carrying quality items." Zoey's also provides excellent consignment service and makes furniture shopping satisfying and fun. The Moores also give back to the community and helped replace furnishings for a woman who lost her home in the Cuesta fire last year. "We love our local community," Moore said. "Come check out what's 'old' at Zoey's. … From retro to recycled and modern to vintage, we're never the same store twice!"
—Ariel
Runner up: Finders Keepers
BEST PLACE TO PAMPER YOUR PET
The Golden Paw
2314 Broad St., SLO
Pets. They're fuzzy little bundles of joy that we love and would do almost anything for. But, as any pet owner will tell you, our dear fur babies don't care much for staying clean. Thankfully, there's the The Golden Paw, something of an institution when it comes to pet grooming in SLO. The business's current owner, John Salmeron, has a degree in animal science and has been in the grooming business for more than 16 years.
From the smallest chihuahua to the largest lumbering, slobbery Great Dane, The Golden Paw will take in your shaggy buddy and deliver them back in style.
—Chris McGuinness
Runner up: Tails
BEST HARDWARE STORE
Miner's Ace Hardware
1056 W. Grand Ave., Grover Beach; locations county-wide
Our readers' favorite spot for spotting great deals on home and garden supplies is Miner's Ace Hardware in Grover Beach. Once a small hardware store owned by brothers Lee and Glenn Miner in 1964, Miner's has long been a community fixture for fixer-uppers and do-it-yourselfers. Store manager Kurtis Carnes said, "We aim to provide great customer service to our locals and people who come over from the Valley." The helpful, friendly, and knowledgeable staff will help you find everything you need for your home project, from lumber to paint, tools to plumbing supplies, and more.
—Ariel
Runner up: Hewitt Hardware
BEST FARM/PRODUCE STAND
Avila Valley Barn
560 Avila Beach Drive, SLO
It's a great spot to buy the fresh, locally grown fruit and vegetables, and it's so much more. You can pick your own fresh berries and fruit or harvest the perfect pumpkin. Owned by Bruce and Debbie Smith, the Avila Valley Barn is a family affair that's is 30 years old. "Our team of bakers, orchard workers, animal caretakers, and employees are wonderful," Debbie said. "Jake and Raven Smith maintain our orchards and Jesse Smith runs our deli and sweet shop!" Go for the healthy produce, but pick up a fresh baked pie for dessert. "Every person who walks in our door
is a blessing!" she said.
—Ariel
Runner up: Rutiz Family Farms
BEST GROCERY STORE
California Fresh Market
555 5 Cities Drive, Pismo Beach
You know the jingle. "California Fresh is best. Your Five Cities grocery store." It's too damn catchy. But it's also pretty damn accurate. "If you take the top 150 items in the store, 50 of them are items we make," said one of the owners, Greg King. They prepare food like fresh sushi, potato salad, and sourdough—and none of it tastes like it's from the grocery store. They even roast their own coffee, and if you ask King, that's as close to heavenly as you can get. The trio of partners is taking their duo of stores to the next level and opening a new one in SLO. Get excited!
—Camillia
Runner up: Trader Joe's
BEST FLOWER SHOP
Open Air Flowers
1055 Osos St., SLO
Vance and Leslie Weber have been running their flower shop for more than 30 years, 10 at their current location. They offer premium fresh-cut flowers for all occasions at their fragrant open-air stand. "We are involved in the day-to-day life events of our customers," Leslie said. "We have really lovely flowers, long-lasting flowers and are proud of what we do." She said employees are a big part of that. Open Air Flowers offers small nosegays to large bouquets to suit each customer's needs and budget. "I feel very honored to have such lovely customers and such a nice reputation."
—Ariel
Runner up: Wilder Floral Co.
BEST PLACE TO GEEK OUT
Captain Nemo Games & Comics
563 Higuera St., SLO
The store was once part of the now lost Sub. Branching off in 1980, it took the name of the first submarine commander, Capt. Nemo of the Nautilus. "The best thing about my job is the long-term relationship I have with regulars," Manager Ray Hanson said. "I get to see people over long periods of time and now I'm selling comics to the grandkids of people I sold comics to in the 1980s!" Captain Nemo has comics for everyone, from crime noir to history comics, and every superhero imagined. Plus, there are board games and card games, including for Magic the Gathering, Yu-Gi-Oh, and Pokemon.
—Ariel
Runner up: MacSuperstore
BEST EYEWEAR STORE
Urban Optics
1001 Higuera St., SLO
You won't find Ray Bans at Urban Optics, but you can definitely find Vinylize: a maker out of Budapest, Hungary, handcrafting vinyl records into glasses frames. Each pair is a one-of-a-kind. It's pretty niche, and that's exactly what optometrist Dr. David Schultz is going for—glasses you can't find anywhere near SLO. "I'm always seeking out different lines," Schultz said. And the benefit of working with small independent frame makers and distributors is that he knows how and why the glasses are made. "We pretty much know the owners and the designers of every product we bring in," Schultz said.
—Camillia
Runner up: Michael's Optical
BEST JEWELRY STORE
Kevin Main Jewelry Design & Studio
720 Higuera St., SLO
Since 1973, Kevin Main Jewelry has been a gem on the Central Coast. "We make sure our customers have the best experience and make the best choice," Manager Jennifer White said. Kevin Main specializes in design and custom work as well as international designers and pieces. "We shop for jewelry and gemstones that meet our quality standards, including Forevermark's beautiful, rare, and responsibly sourced diamonds," White said. "We are so honored to have been voted best of SLO for 13 years running and thank all of our wonderful supporters and friends!"
—Ariel
Runner up: The Gold Concept
BEST TOY STORE
Tom's Toys
682 Higuera St., SLO
Having toys to play with is really for everybody, but especially for the little ones. Tom's Toys has provided them with fun for the last 50 years. With every toy comes joy and free gift-wrapping. It's a real-life independent toy store, not like all that box store mumbo jumbo—and that's something SLO County residents seem to appreciate. Get your train tooting or your scooter scooting, and head in for something furry, colorful, or made of real wood! It'll add a little pep in your step that Toys"R"Us can only dream about.
—Olivia
Runner up: Whiz Kids
BEST SHOE STORE
Charles Shoes
867 Higuera St., SLO
In February of this year, the current owners of Charles Shoes celebrated 50 years of ownership. Asked how things have been during that time, and how they've survived in an era where even strip malls struggle and commerce has moved to the internet, Jason Ashley, who manages his family's business, said that it is all about the personal, custom service that helps people find the right fit. "So much has changed, the customers have appreciated the continued level of service that they don't get anymore."
—Jono
Runner up: Mike's Shoes
BEST TIRE STORE
The Tire Store (SLO)
252 Higuera St., SLO
The guys at The Tire Store stock tires from Goodyear to Firestone and more. They also do brakes and front end alignments to keep your vehicle running safe and smooth. Manager Joe Beckwith has been with The Tire Store for 20 years. "We're seeing second- and third-generation customers now," he laughed. "It makes me feel good and old!" The store is a local independent business that offers quality products and fast service. "We are reliable and honest with our customers because we value their trust," he said. "This is always a fun award because the recognition comes from our customers and we appreciate it!"
—Ariel
Runner up: Wayne's Tire & Auto Repair
indicates a category created by reader request!
Dining Out | After Hours | Arts Scene | Gettin' Goods | Lifestyle | About Town | Get Out | Community Watch | Main