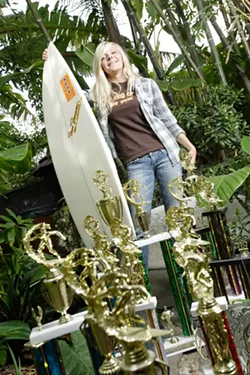 PHOTO BY STEVE E. MILLER
SHE'S KIND OF A BIG DEAL : SLO High School junior Keenan Reeser, 17, recently won the Western Surfing Association's Open Women's Championship.
After a grueling season of ten Western Surfing Association contests from San Diego to Morro Bay, local 17-year-old SLO High junior Keenan Reeser has won the Open Women's Championship, an all-ages competition that saw Reeser facing off against the state's best amateur women surfers … and even a few chagrined boys in a local contest.

Reeser began her journey to champion last August with the season's first contest at San Onofre, and it didn't start well.

"At the beginning of the season, I got, like sixth place, and I thought, well, I guess I'm not going to do very good, but then after a couple more contests I won five in a row," said the pixie-like Reeser.

She followed San Onofre with a second place in Ventura, skipped one contest, came back with a win on her home turf of Pismo Beach, scored another second, then won the next five contests in a row, culminating with a second in the season's final face-off. Her season's point total came to 13,063, which was 735 more points than second place finisher Dresden Rowlett, who attended all ten competitions.

It's an impressive showing for Reeser, who only started surfing three years ago.

"I learned how to surf after the summer of 8th grade," she explained in her bamboo-filled garden. "I took Moondoggies' three-day surf camp in Pismo, but I really don't count that first year. I've really only been 'surfing' surfing for two years, and this last year was the first full year of competition. Last year I only surfed about half the contests."

In addition to the regular WSA competitions, Reeser also got invited to some of the WSA Prime contests, reserved for the top of the top.

"I think that improved my surfing because I was surfing against the best girls in the state."

She also credits part of her growth as a surfer to a trip to Kauai, Hawaii, which enabled her to tackle bigger surf in warmer waters. She also believes working with her father and coach Dan Reeser helped improve her style.

"My dad started videotaping me, and we watched the tapes and talked about things to change. There are things that girls do when they turn, like flail their arms too much, so we worked on that. My dad kept telling me, 'Start thinking about what you're doing with your arms.' It took a lot of concentration to focus on that while I was riding a wave."

She also worked on perfecting a few big moves, most importantly the roundhouse cutback and off the lip.

"Judges really, really like those big moves," she said.

But what's she best at?

"The face plant," she quipped sarcastically. Despite her boatload of trophies, Reeser obviously doesn't take herself too seriously.

Her favorite memory of the season didn't even occur during a WSA event. It was at a local contest sponsored by the Morro Bay Surf Company.

"When I showed up, I was the only girl entered, so they decided to put me in with the junior boys."

After making her way through a few heats, she found herself in the final … where she won second place.

"Afterwards we were standing around, and this kid came up and asked a couple of the other finalists how they did, and when he found out, he said, 'You got beat by a girl!'"

Reeser hopes to one day turn pro.

"If I could go pro, that'd be the coolest job on earth."

As the quintessential California blonde, she'd certainly be a good representative for her sponsors. She's already got a few backers. Local surf guru Shane Stoneman is making custom boards for Reeser, who's also sponsored by Central Coast Fiberglass, a company that glasses surfboards, and Creo Haircare Products.

While being photographed for this article, she showed her savvy by making sure Stoneman's logo and a Creo sticker were clearly visible on her surfboard. But does she believe in her products?

"Creo actually made my hair a lot nicer," gushed Reeser, preening ever so slightly. "I had that crispy, gross swimmer's hair, but now it's a lot softer."

Yeah, you can pretty much count on this one to conquer the world.

Glen Starkey surfs an aircraft carrier. Drop in on him at gstarkey@newtimesslo.com.