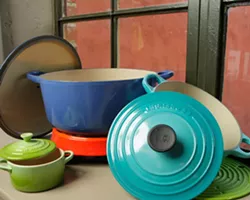 PHOTO BY STEVE E. MILLER
COLORS OF THE SEASON : Le Creuset cookware, available at Fordens in downtown San Luis Obispo, makes for a stylish and practical gift for the kitchen wizard in your life. And you may get to reap the culinary benefits of just such a present.
T
hank goodness for the home "chef" who enjoys cooking for family and friends. They spend the long hours chopping and slicing, sautéing and baking, giving little thought to rest—they're having fun. And whether it's Grandma Mary, Dad, or Uncle Norman, every dish is made from the heart. As we gather with family and friends around a bountiful table of delicious foods and great wines, isn't it surprising that we often forget to salute the person who worked so hard to make that awesome holiday meal? So raise a toast to that selfless cook and think about bringing her or him something special. What would be better than a present for the kitchen that makes their prepping and cooking easier?
Every great cook, professional or novice, loves spending time at the stove. The also enjoy everything associated with it: cookware by television chef Emeril Lagasse or Rachel Ray, cookbooks by Martha Stewart, colorful linens that evoke the warmth of the Mediterranean, precision cooking tools, fine dinnerware, Riedel crystal, and, of course, exotic olive oils and vinegars. Many of the products are quite reasonably priced and sure to please the cook in your life. At specialty shops like Forden's Gifts for Home and Kitchen in SLO or Verena's Go Gourmet in Arroyo Grande, you'll discover it's a gourmet's dream. These shops are a virtual wonderland of treats for the chefs and aspiring cooks where you can buy someone on your list the finest quality merchandise. Even for those burdened with a tight budget, read on, we've got some great tips for you, too.
At Forden's Gifts for Home and Kitchen in downtown San Luis Obispo, manager Cheryl Brady offers expert advice in the gourmet kitchen shop. Located on Monterey Street since 1939, Forden's supplies San Luis Obispo gourmets with everything they need in the kitchen: cookware from All-Clad, Joyce Chen, Kuhn Rikon, Le Creuset, and Lodge Cast Iron; professional quality tools from Microplane, Olde Thompson, OXO Good Grips, and Zyliss. Despite slower sales in many retail stores this year, Cheryl said Forden's is doing well: "We have some pretty loyal customers who always come back to us." As for popular cooking tools, like the ones you see in online ads from Williams-Sonoma and Sur La Table, she noted that silicone is popular, affordable, and practical. "We have iSi Flex-it mixing bowl sets ($39.99) in three sizes that are heat resistant to 490 F. They're great for adding liquids to a mixing bowl or blender." Their best selling items don't come cheaply, but it's a great gift that will last any cook a lifetime. Le Creuset cookware, a brightly colored line of enameled cast iron and steel pieces made in France since 1925, comes in many sizes and shapes (prices range from $134.99 to $269.99). "We can't keep it on the shelf, it's just so wonderful. It can go from the oven or stovetop to the table and it still looks pretty after you've cooked in it." Check out Fordens.com for more.
Verena Maier, owner of Verena's Go Gourmet in the Village of Arroyo Grande, offers an array of colorful crockery, cookware, hand tools, and beautiful French linens, any of which would make a stunning gift. Her shop is filled with toaster ovens, waffle makers, bakeware, and all kinds of useful gadgets, such as a mandoline ($50) for precise slicing. Verena's coffee and tea accessories are quite popular, like the Capresso coffeemaker with built in burr grinder. I have the Capresso myself, and I'm really spoiled by the great coffee it produces. But did you know she carries a lovely selection of artisan foods and beverages? Find teas, coffees, extra virgin olive oils, and vinegars. "We have some wonderful Aztec hot chocolate this year from MarieBelle, which is a rich, single-origin cacao from Columbia ($20). We carry both black and white truffle oils—it's very versatile for cooking—and we have roasted hazelnut and walnut oils (prices range from $8 to $20). And our holiday teas are white Christmas and black Christmas ($11). They make cute little gifts." Verena has her website under construction, but soon you'll be able to order products online at Verenagogourmet.com. Or check it out on Facebook under Verenasgogourmet.
The budget shopper
There's one chain store I always go to. Whether I'm making hors d'oeuvres for a party, preparing an elaborate holiday meal for family and friends, or cooking dinner on a Monday night, it's Trader Joe's. Judging from the friends and neighbors I run into every time I shop there, we're all there for same reason: good quality foods and value prices. I shop in Arroyo Grande several times weekly, and recently stopped to talk to store captain Heidi Vorwick. I asked which products were hot sellers among those looking for inexpensive Christmas presents and hostess gifts during the holiday season. I expected to hear about the darling topiaries ($8.99), pots of flowers and bouquets, or the pinecone wreaths found around the busy store. Heidi's answer surprised me when she reported: "It's all about dark chocolate. It's healthier, it has antioxidants, and the darker the chocolate, the better!" Like Willie Wonka with a bag overflowing with delicious goodies, she showed off a dazzling array of packaged candies and cookies, all less than $10, that make perfect gifts, even if you have the budget of an oompa-loompa.
She pointed out the best of the dark chocolate treats: dark chocolate-covered shortbread stars ($3.99), peppermint bark—white chocolate covering a dark chocolate bar with peppermint bits ($3.99), imported French truffles ($2.99), dark chocolate almond bark ($4.99), and the coolest of all was an exotic stack of eight chocolate bars, each from a single plantation in South America or Africa ($9.99). Heidi's personal favorite is nutty bits with 60 percent cacao dark chocolate and a crunchy mix of nuts ($3.99). I shrugged off the salty, chocolate caramels, although I know people love this trend. She pointed out the candy cane Joe-Joe's, ($2.69), noting: "We mix them with ice cream to make milkshakes for the staff."
"The popular desserts don't stop with chocolate. There's decaffeinated candy cane tea ($1.99), very comforting at night, and sipping chocolate ($3.99), which is made very thick and decadent, like drinking a chocolate bar." The buttery almond toffee ($4.99) was quite buttery tasting and crunchy with a milk chocolate coat. There's also Italian Panettone ($4.99), pfeffernusse, a German spice cookie, ($2.99), and Virginia peanut brittle ($2.99). There's a food for every taste and appetite, and if you're gift shopping you can buy a pretty basket here, too, to present the gift. No matter what the holiday, you'll find plenty of sweet treats here. You can check them out online at TraderJoes.com or just have fun by visiting the stores in Templeton, SLO, Arroyo Grande, and Santa Maria. They're always providing tastes of something delicious for the holiday table.
Kathy Marcks Hardesty has great taste. Send comments to the editor at econnolly@newtimesslo.com.