It's 9 a.m. on Sunday, July 17, and I've got a spicy hot Bloody Mary sitting in front of me at McCarthy's Irish Pub. It's day two of the "Women of McCarthy's" calendar shoot, and the place is jumping! Except for the early morning sun beating down on the patio, it feels like a Saturday night: The drinks are flowing, the girls are flirting, and the guys' eyes are bugging out of their skulls.
PHOTO BY STEVE E. MILLER
THE GANG'S ALL HERE : More than a dozen McCarthy's regulars donated their time as models for the "Women of McCarthy's" calendar, due for release on Nov. 1.
"Who does this?" asks a grinning Ben Jordan, a former McCarthy's bartender who two years ago conceived of the idea of creating a calendar populated not by professional models, but by the real live regulars who come to this popular downtown watering hole.
"You!" I say.
Ben skipped making last year's calendar because he moved to San Jose to take a job with PG&E, where he reviews land rights documents regarding the power company's transmission lines, but the first year he donated just shy of $1,000 to Planned Parenthood of San Luis Obispo, the recipient of proceeds from this year's calendar, which Ben hopes will be even more popular than the first.
"I'd love to be able to give them three or four thousand," he said. "We're really trying to push the birthday listings this year."
PHOTO BY GLEN STARKEY
THE MAN WITH THE PLAN: Ben Jordan, a former McCarthy's bartender who now works for PG&E in San Jose, came up with the idea for the fundraising calendar, which benefits Planned Parenthood of SLO.
For just $5, people can have their name listed on their birth date in the calendar—you have until Sept. 15 to drop your money and info off at the bar—and the full-color calendars themselves will cost $15 and be available on Nov. 1.
Just like the first calendar, Ben enlisted New Times photographer Steve E. Miller to shoot the photos.
"He was great," says model Mary Helen Campbell. "It's been really playful. I think [the photo he took] represents us well."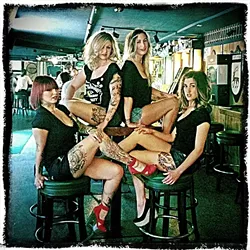 IPHONE/PHOTOTOASTER PHOTO BY GLEN STARKEY
GIRLS JUST WANNA HAVE FUN : (Left to right) Lisa Bukowski, Larella Ellsworth, Jenny Baird, and Savannah Casteel—who all work at Tigerlily Salon and Spa in SLO—vamp for the camera.
"And it's fitting that the money is going to Planned Parenthood," says model Jacqui Hunter. "When I was a teenager, it was nice to go there and get contraceptives."
Miller's shooting Jessica Ramirez, a professional makeup artist from Santa Maria, when I mosey over to Jessica's boyfriend, L.A. rock drummer Robby Wantland.
"Does it feel weird to know a bunch of guys will be ogling your girlfriend in this calendar?" I ask.
"Not at all," Robby says. "It's awesome. She's beautiful, and if guys like the way she looks, that's a compliment."
LIST YOUR BIRTHDAY!: McCarthy's Irish Pub is once again releasing its "Women of McCarthy's" calendar, and they're collecting money for people who want their birthdays listed. (That way your friends know to come down and buy you drinks!) For just $5, your name will appear on the date of your birth, and the full-color calendars themselves will be sold for just $15. All proceeds benefit Planned Parenthood of San Luis Obispo. Come down to McCarthy's and pony up your $5 to get your birthday listed—you have until Sept. 15. The calendar will be released Nov. 1, available at the bar and ideal for holiday gifts! E-mail benjaminjordanslo@hotmail.com for more info.
McCarthy's has always been a real family, a community, and Ben Jordan is proud that he's enlisted regular patrons rather than professional models: "These are the real ladies of McCarthy's, women who have been coming here for years, women who feel at home here. This calendar is our way of celebrating these beautiful ladies. I mean, again, McCarthy's is unique among bars, to have this kind of community, a real multi-generational group of people. It's the sort of place fathers bring their sons for their first drink."
First drink? It's pretty to think so, isn't it?
Glen Starkey takes a beating and keeps on bleating. Keep up with him via twitter at twitter.com/glenstarkey, friend him at Myspace.com/glenstarkey, or contact him at gstarkey@newtimesslo.com.