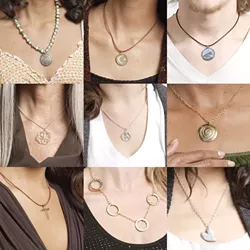 PHOTO COURTESY OF FROM WAR TO PEACE
PEACE OUT : A new local business is transforming implements of war into stylish jewelry with a positive message.
All I don't want for Christmas is another mass-produced pair of pink sweatpants, undies, a tote bag, or a T-shirt screen-printed with neon-colored peace signs. The peace symbol is everywhere, and most of us are suckers for the stuff. Slap a peace symbol on a reusable shopping bag, and I'll buy it.
Paul Ogren, founder of San Luis Obispo's new artisan jewelry company, From War to Peace, and his team of designers, dreamers, and marketing folk are reclaiming the symbol. Their bronze peace pendants and earrings are made from recycled copper, abundant after nuclear missile silos were dismantled.
"From beginning to end, it's a uniquely American product," Ogren said.
The copper was mined in the '40s, '50s, and '60s from mountains in Montana. Then, during the height of the Cold War, it was used in cables connecting the missile silos in the Midwest. After the United States agreed to dismantle many of its silos and the radioactive material was sent to a nuclear waste site in Hanford, Wash., the copper cabling was left behind, buried five feet underground.
Ogren recalled the phone call from a friend who tipped him off to the unused material: "He wanted to sell it as scrap metal on the international market."
But the copper had better plans for itself. The idea came to Ogren when his niece asked him to join her in singing a Jewish hymn that honors the scriptures Isaiah 2:4 and Micah 4:3: "They will beat their swords into plowshares and their spears into pruning hooks. 
Nation will not take up sword against nation, 
nor will they train for war anymore."
Ogren had sung the hymn many times before, but this time he saw the connection between the metal and the swords. He dedicated himself to finding a way to take the cabling that would have carried the message to launch nuclear war and turn it into beautiful symbols of peace. Or, as Ogren puts it, "to take something that stood at the gates of Hell, and turn it into something of beauty."
From War to Peace officially launched on Nov. 1. The jewelry is designed in SLO, and cast in either Paso Robles or Albuquerque. In San Luis Obispo, 18-year-old Jacob Williams is among the craftsmen who work the bronze pieces using an ancient Japanese rusting and coloring process called patina, making each piece unique.
The company has no specific religious ties or creed except to promote peace and prosperity with no boundaries. If you ask any of the 12 individuals that comprise From War to Peace what their mission is, they'll tell you, sincerely, "Our mission is to save the world." Lofty? Perhaps. But in the small warehouse in the industrial district that stretches from Orcutt to Industrial Way, you can feel that there's something big and original happening, something that would make John Lennon proud.
Each employee owns a piece of the company, so, as Ogren said, "If as a company we go, then we all go, and if we tank, well, then we tank together." The packaging is minimal and made from recycled paper and plastic. The gold and silver used in the plated pieces is recycled. At least 20 percent of the profits will be donated to one of the company's "Partners in Peace," various social justice- and peace-promoting organizations.
"For the first time in history, the peace symbol is literally a product of the very thing it symbolizes," Ogren said, pointing out that the branching lines in a circle were designed to stand for the "N" and "D" in "nuclear disarmament."
Oh, and they certify the jewelry's lack of radioactive properties.
Stop by 720 Higuera St. in San Luis Obispo or visit fromwartopeace.com.
Fast facts
Chirofeed International is hosting a celebration for SLO's homeless population on Dec. 11, 9 a.m. to 2 p.m., at the Prado Day Center. The center will be decked with holiday flair, and Santa will be there for the feast. Chirofeed provides every guest with a barbecue chicken dinner with beans, bread, green salad, and dessert. Throughout the year, Chirofeed collects new backpacks, hats, gloves, undergarments, and toiletries. Volunteers are welcome, as are desserts and tax-deductible donations. For more information, go to powersourcechiro.com/chirofeed-international. …
Got extra frequent flier miles this holiday season? Help make someone's wish come true by donating the miles to the Tri-Counties' Make-a-Wish Foundation, which uses them to send sick children and their families on wish trips. The group can accept donated miles from Airtran Airways, Continental Airlines, Delta Airlines, United Airlines, or U.S. Airways. To donate, call Janelle Boeher at 676-9474. ∆
This week's Strokes & Plugs was compiled by intern Lauren Cook. Send comments via Executive Editor Ryan Miller to rmiller@newtimesslo.com.