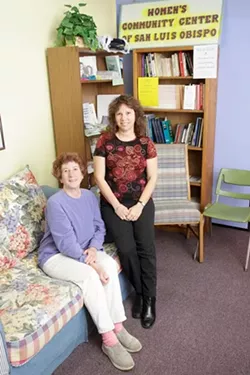 PHOTO BY STEVE E. MILLER
VOLUNTEERING FOR WOMEN : Angie King, left, and Robin Rinzler, right, are hardworking volunteers at the Women's Community Center of SLO County, which offers information and resources for women and their families.
What's a woman to do if she suddenly loses her rental housing and can't afford a new security deposit? If her son or husband is beating her? If her husband has a midlife crisis and wants a divorce? Or even if she just wants a place to sell her handmade crafts?

Her first stop to find a supportive ear—and some practical answers—is the Women's Community Center of SLO County, a nonprofit all-volunteer group that connects women and their families with the information and resources they need.

"It's amazing how little the public knows about what's out there to help them," says Angie King, a retired lawyer who's the president of the Women's Community Center's board of directors.

In a bright yellow room behind a purple door tucked away in the Goodwill building on Industrial Way in San Luis Obispo, the phone rings often, with women asking, "What do I do?"

Divorces seem to be on the rise because of economic problems, according to board member Robin Rinzler, a legal mediator who helps teach a divorce class ($10 donation for those who can afford it) on the third Wednesday of the month.

People who want to represent themselves in divorce court can find out their rights and legal obligations at the Women's Community Center's divorce clinic on the fourth Tuesday of the month, when they can talk one-on-one with a family law attorney.

The $40 requested donation (although no one is turned away) helps cover the costs of a manual stuffed full of information about how to present a case in court, gather evidence, and organize paperwork.

"There's a lot of stress over finances. People getting a divorce used to fight about who gets the house. Now they fight about who has to take the house," says Rinzler.

The center is also working on a February workshop to educate women about financial literacy, from balancing a checkbook to budgeting for retirement.

From its beginnings as the Women's Resource Center during the "women's liberation" movement of the 1970s, the Women's Community Center officially incorporated as a nonprofit in 2000. Since 1974, its biggest fundraiser has been the annual A Day with Creative Women, a craft-art market and gathering place designed to give women an outlet for their creativity.

The center also publishes the Women's Press, a free bimonthly newspaper full of articles and information of interest to women, now edited by Courtney Brogno.

Volunteers with various interests and skills are always welcome to answer phones and help out in the office, or to help with the Women's Press, A Day with Creative Women (set for August 8 this year), a women's film festival called Lunafest (March 7), or the divorce classes and workshops.

"It sounds really corny, but I'm proud to be part of this because we do good work," says Rinzler, who serves on the board along with King, Sonia Paz Baron-Vine, and Charlene Huggins.

King adds, "I have a soft spot for women. Women need help because the world is still patriarchal. Women generally earn 71 cents to a man's dollar. Women need extra warmth."

To volunteer, make a tax-deductible donation, or find out more about the divorce class and clinic, call or stop by the Women's Community Center of SLO County at 544-9313, 880 Industrial Way in SLO; visit wccslo.org; or e-mail wccslo@gmail.com.

Fast facts

The 13th Annual Morro Bay Winter Bird Festival will showcase one of the top birding destinations in the nation from Jan. 16 to Jan. 19 with birding hikes, tours, field trips, workshops, guest speakers, and exhibits. More than 200 species of birds winter in Morro Bay, including snow geese, egrets, California brown pelicans, peregrine falcons, and the brant goose. Registration for the entire four-day festival costs $70, with one-day registrations available for $35 for Friday, Saturday, and Sunday, and $25 for Monday …

The Gay and Lesbian Alliance of the Central Coast (GALA) is asking community members to "open their hearts and empty their closets," by donating winter clothing, sleeping bags, tents, blankets, and pillows to Sunny Acres, an organization that provides a clean and sober environment for indigent people battling drug and alcohol addictions. Items can be dropped off at the GALA center on Thursday, Jan. 15 and Friday, Jan. 16 between 9 a.m. and 1 p.m. and from 2 to 6 p.m. The center is located at 11573 Los Osos Valley Rd., Suite B, in San Luis Obispo …

Local law firm Andre, Morris, and Buttery will hold a symposium celebrating its 60th anniversary on the Central Coast, on Monday, Jan. 26 from 3-7 p.m. at the Clark Center in Arroyo Grande. Bob Stapleton, owner of Team Columbia, the professional cycling team, will be the keynote speaker. Tickets cost $50 and are available through the Clark Center. ∆

Contributor Kathy Johnston and interns Bridget Veltri and Clinton McGue compiled Strokes&Plugs. Send business news to strokes@newtimesslo.com.