Just shy of 60,000 lights will shine across 15 scenic acres of rolling hills in Paso Robles starting May 15, all the way into the new year.
"I use lights as a medium of expression," British artist Bruce Munro said. "But my passion is defining time and place. Our experiences here are all about time and place."
Munro's latest and biggest light installation to date will be all aglow later this month at Sensorio, an immersive outdoor art venue in Paso Robles. Field of Light at Sensorio is a sculptural piece that covers the venue's undulating hills with an array of more than 58,800 stemmed spheres lit by fiber optics, gently lighting the local landscape in subtle bursts of color, all running on solar power.
Photo credit: Mark Pickthall, © 2019 Bruce Munro Ltd.
ALL IS BRIGHT Field of Light at Sensorio in Paso Robles will be artist Bruce Munro's biggest piece to date. Pictured here is Munro's Field of Light in Norfolk, Virginia.
Powering the lights with solar means Munro and the team don't have to dig up the land for cables. Munro, along with more than 15 volunteers, collaborated to make Field of Light at Sensorio a reality. Munro also works to make sure that all the material used is recycled after the exhibit ends and is torn down.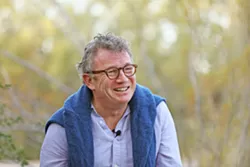 Photos Courtesy Of Mark Pickthall
LIGHT ARTIST Bruce Munro works with light to create installations around the world. Different variations of his Field of Light pieces have appeared in Scotland, Mexico, Australia, and the U.S.
"The important thing for me is to arrive and put something on the landscape that isn't scarring it," Munro said. "I'm just one of the team when it comes down to it. I spend my time developing and creating it, but you need many hands to bring it to fruition."
Munro began working with lights in his art in his early 20s. He was living in Australia at the time and walked past a shop where lights were on display in the window, and he thought, "I could make sculptures with that." His first Field of Light installation went up in London in 2004. Since then, several variations of Field of Light have appeared in Scotland, Mexico, Australia, and the U.S.
"I just thought people would get them," Munro said. "I thought they would understand."
While nighttime seems the obvious choice for viewing Munro's work, the artist argues that Field of Light has its glorious moments when the sun's up, too.
"Because the glass is frosted, some people do like it during the day because they look like poppies or flowers, and they sway in the breeze," Munro said.
Photos Courtesy Of Bruce Munro
BY DAYLIGHT While one might argue the best time to view light artist Bruce Munro's work is at night, he thinks his installations take on an almost wildflower-like look during the daytime. Pictured here is Field of Light in Albany, Australia.
The Guardian described Munro's light installations as "art you feel, rather than art you view." That's what Munro is going for.
"People have felt very joyful and connected to each other," Munro said. "You just allow it to sit in nature and it quietly does its thing. I think it's something that was given to me that I've given back out to other people." Δ
Arts Writer Ryah Cooley is staring at all the pretty lights. Contact her at rcooley@newtimesslo.com.