The holidaze are over and SLO Brew is back with a phat week full of shows. Hold onto your hats, people!
Bluesman Tommy Castro returns for an evening of his patented "soul-inflected rockers with the occasional slow blues or shuffle thrown into the mix to keep it honest." The San Jose guitarist cut his teeth with Bay Area blues bands, eventually joining Warner Brothers recording artists the Dynatones. In 1993, he formed his own band and never looked back. Soon after, icons like B.B. King were singing his praises. See him on Thursday, Jan. 12 (7 p.m.; 21-and-older; $16 presale or $18 at the door), with local blues masters Dr. Danger Band opening.
PHOTO COURTESY OF CITIZEN COPE
SOUL BROTHER : Incredible singer-songwriter Citizen Cope plays an intimate solo show at SLO Brew on Jan. 13.
Citizen Cope returns to the club for an intimate solo acoustic performance on Friday, Jan. 13 (7:30 p.m.; 21-and-older; $30 presale or $35 at the door). Compared to everyone from Bill Withers, Neil Young, and John Lee Hooker to Van Morrison, Willie Nelson, and Al Green, Cope is drenched in soul with deep roots in Americana. If you're on the fence, check him out online. You will want to see this show!
Don't worry, reggae fans and underage partiers. The Brew's got you covered this week with an all-ages three-band show on Saturday, Jan. 14, when Tomorrows Bad Seeds headlines a show with Pacific Dub and Nada Rasta (7 p.m.; all ages; $12 presale or $14 at the door).
Punk icons the Adolescents and opening act Youth Brigade (legends in their own right) play Sunday, Jan. 15 (7:30 p.m.; all ages; $15 presale or $16 at the door). Orange County punk progenitors the Adolescents helped develop the So Cal sound with acts like Agent Orange and Social Distortion. Youth Brigade, like the Adolescents, formed in So Cal in 1980 and went on to become the cutting edge of a very edgy scene indeed. Both these bands are the real deal.
The Lakes return on Tuesday, Jan. 17, with supporting acts Bryan John Appleby and the Honey Trees to deliver an evening of melodic indie rock (7 p.m.; all ages; $10 presale or $12 at the door).
PHOTO COURTESY OF ALL AMERICAN REJECTS
ANGST-DRENCHED : Emo-pop rockers All American Rejects hit SLO Brew on Jan. 18.
Finally, on Wednesday, Jan. 18, prepare yourself for the All American Rejects (7 p.m.; all ages; $23 presale or $25 at the door). This emo-pop act delivers hook-laden, angst-drenched rockers. Awesome!
People with songs
Steve Key's Songwriters at Play showcases do something amazing. The effort gathers up really good songwriters, some local and some from out of the area, bundles them into groups, and then offers them up to audiences hungry for some original sounds. It's impossible to get bored at one of these showcases, because if you don't love one performer, you might love the next.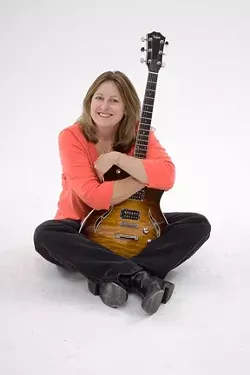 PHOTO COURTESY OF SANDII CASTLEBERRY
GENRE JUMPER: The amazing Sandii Castleberry can play all styles. See her Jan. 12 at The Porch, Jan. 14 at Laetitia, and Jan. 15 at Sculpterra.
The weekly series kicks off at the Porch on Thursday, Jan. 12, with featured artist Sandii Castleberry (6:30 p.m.; all ages; pass the hat), who will also play the Sculpterra Winery showcase on Sunday, Jan. 15 (1 p.m.; all ages; pass the hat). Plus, she'll be co-featured at Key's newest venue at Laetitia Winery on Saturday, Jan. 14 (1 p.m.; all ages; pass the hat)! When performing solo, Castleberry adds harmonica into her guitar and voice sound, but she's also a member of nine other bands ranging from bluegrass to blues and swing. This gal's got versatility! Dorian Michael and Kat Devlin are the co-featured players on Jan. 14.
The showcases wrap up on Tuesday, Jan. 17 at Kreuzberg (6:30 p.m.; all ages; free) when Steve Meckfessel headlines. His newest CD, Under Beautiful Skies, received extensive airplay in the United States, Canada, and Australia. He'll also play the Porch on Thursday, Jan. 18 (6:30 p.m.; all ages; pass the hat).
The showcases include featured acts and five or six others playing four-song sets! Now get out there and support live music!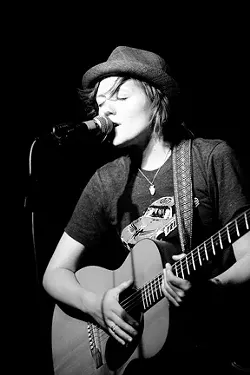 PHOTO BY LAUREN DEBELL
DEVLIN!: Singer-songwriter Kat Devlin returns to the area with a set at Laetitia on Jan. 14.
More music...
Portland-based roots-rock duo Hopeless Jack & the Handsome Devil bring their raucous and raw guitar and drum-driven rock'n'roll, soul, and blues to what is becoming another great live music venue in SLO Town … the Z Club! Seriously, the neighborhood bar with the stripper pole has been slowly but surely transforming itself into a legitimate live music venue, and for you smokers, they have a dedicated inside room for you to slowly kill yourselves one 25-cent coffin nail at a time. Check 'em out this Thursday, Jan. 12.
Grammy-winning concert organist Jonathan Dimmock will let his fingers do the talking on Friday, Jan. 13, when he performs on the PAC's incredible Forbes Pipe Organ (8 p.m.; $13 to $26; call 756-2787 for tickets). The concert is titled "Dance Through Time: Six Centuries of Dance-Inspired Organ Music." It will feature the work of composers Tyler Susato, Jan Pieterszoon Sweelinck, Heinrich Scheidemann, Dietrich Buxtehude, Felix Mendelssohn, and J.S. Bach.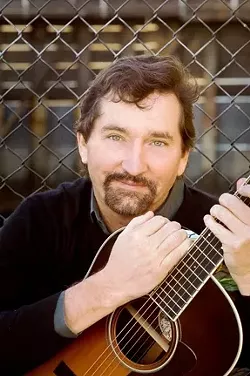 PHOTO COURTESY OF STEVE MECKFESSEL
RADIO READY : Steve Meckfessel hits Kreuzberg on Jan. 17 and The Porch on Jan. 18 in support of Under Beautiful Skies, which has been getting lots of radio play.
D'Anbino is at it again with another great show at its Paso tasting room on Friday, Jan. 13, from 8 to 10 p.m., when the Royal Garden Swing Orchestra, a nine-piece act that sounds like an even bigger big band, will deliver hits of the big band era. Swing dancing is encouraged! Admission is $10 ($5 for Record Club members). The very next night, on Saturday, Jan. 14, check out the Strata-Tones when they deliver '50s style R&B (8 p.m.; $10 admission or $5 for record Club members). "Having [drummer] Rick [Pittman] driving the fat back beat was a great way to start this project," said lead guitarist Bruce Krupnik, "since he's been on stage with some of the biggest stars in the blues and R&B scene, including Milton Hopkins, Ike Turner, and Roger Collins, just for starters." The band also includes Kevin McCracken, Ken Burton, Wil Anderson, and Valerie Johnson. This band is smokin' hot!
Guitar Wiz Billy Foppiano wrote to tell me about his next gig: "Hey mannn, the Mighty Croon Dogs are set to 'Occupy' Morro Bay for 48 hours, full on. First, catch cha at the Otter Rock, from 7:30 p.m. to whenever on Friday, Jan. 13, for audio hi-jinks, and then, the next day Saturday, Jan. 14, from 3 to 6 p.m. at the Fuel Dock, and then again from 9 p.m. to 12:30 a.m. at the Fuel Dock. Ya mighta thought we own the place. All performances as different as their bi-polar musical identities. No repeats, and throw in a change of costume, jes like Dianna Ross, baybe!"
Metal fans, prepare to have your clothes blown off! Clean off! This week, Central Coast metal heads will have several shows to choose from when Facinorous delivers three shows with a revolving cadre of fellow rockers. On Friday, Jan. 13, they'll appear at Rippin Rehearsal in Nipomo with Warbringer, Altercation, Militant Civilian, and Eating Fear. Then on Wednesday, Jan. 18, they'll play O'Sullivan's in Santa Maria with Pathology, Halo of Gunfire, Depths of Chaos, and Full Metal Facemelt. Finally on Saturday, Feb. 11, they'll be at Camozzi's in Atascadero with Eviscerate and Depths of Chaos. If you feel the need for speed metal and thrash, these shows will deliver!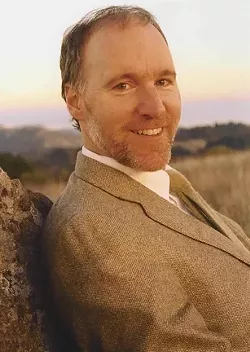 PHOTO COURTESY OF JONATHAN DIMMOCK
ORGAN MASTER : Jonathan Dimmock will perform on the PAC's Forbes Organ on Jan. 13.
On Sunday, Jan. 15, one of America's premier jazz pianists, Tom Ranier, and his trio return to the Famous Jazz Artist Series at the Hamlet. According to series organizer Charlie Shoemake, "Ranier, besides his award-winning jazz recordings, is also one of the all-time busiest Hollywood studio pianist/arrangers and is currently in charge of the music for the mega hit television series Dancing With the Stars. He will feature, in his trio, other Hollywood jazz/studio greats Trey Henry and Ralph Humphrey (bass and drums)." Series co-producers Charlie and his wife Sandi (vibraphone and vocals) will join the fray. There's a 4 p.m. set for $15, a 7:15 p.m. set for $12, or see both for $20. Call 927-0567 for reservations.
Cuesta College and its new Cultural and Performing Arts Center have something special in store for fingerstyle guitar fans on Tuesday, Jan. 17, when guitar masters Larry Pattis and Peter Janson appear in concert with a special opening set with special guest Jennifer Martin (7:30 p.m.; all ages; $10 general admission; $7 students and seniors; call 546-3195 to reserve). In 2010, Pattis was named one of the "Ten Best Acoustic Artists of the Decade" by the International Acoustic Music Awards. Janson was awarded "Best Contemporary Instrumental Album" by the 2006 NAR Lifestyle Music Awards. Martin is an acclaimed conductor, trombonist, and guitarist making a name for herself in the solo American fingerstyle guitar community. Come and get 'em!
PHOTO BY MARK COFFIN
IT'S ALL ABOUT THE BEARD! : On Jan. 17, McDougall will bring his incredible beard and incredible talent to the Frog and Peach.
Also on Tuesday, Jan. 17, McDougall will bring his incredible beard and incredible talent to the Frog and Peach. According to press materials, "McDougall is a noble little grizzly out of the Pacific Northwest, with precious old-timey wisdom. His songs of travel, discovery, and perseverance will purify your everyday lifestyle and ring adventure when driving home from another day at the office. As the bush-bearded, road-wrenched McDougall quietly sits down at his humble set up of kick drum, high hat, harmonica, and simple stringed instruments, the fans making up his growing national following begin taking turns shouting, 'McDougall!' His toe tapping, punk-infused, old-time songs bring fury to the dance floor, and poetry to your record player." The show starts at 9 p.m. and the Ghosts of Guadalupe will open.
Calling all awesome bands!
The SLO Downtown Association is looking for bands for this summer's Concerts in the Plaza series in Mission Plaza, which runs between June 1 and Aug. 31. Now in its 17th year, the concerts draw upward of 2,000 people every Friday night.
Participation is open to bands that live and play in San Luis Obispo or Santa Barbara counties. To apply, visit downtownslo.com or call 541-0286 to obtain an application. Bands must submit a demo CD and band information packet along with the application by Tuesday, Jan. 31, at 4 p.m. No applications will be accepted after! Seriously!
The Downtown Association Promotions Committee will review submitted materials and select 14 bands and two alternates in mid-February.
Attention Live Oakies!
This year's Live Oak Music Festival, which is the funnest. Damn. Thing. Ever! happens June 15 through 17 at Live Oak Camp near Santa Barbara, and if you order your tickets before March 11, you'll save yourself $10.
Some of the acts have already been booked: James McMurtry, the legendary Austin-based singer-songwriter and son of acclaimed author Larry McMurtry; Carolyn Wonderland, a Texas blues powerhouse; ex-X front man John Doe, whose latest record, Keeper, is a collection of '60s-inspired rock with a singer-songwriter twist; Oscar Hernandez, a Latin jazz hero; Quinn DeVeaux and the Blue Beat Review, purveyors of New Orleans soul, gospel, and early blues; Melody of China, a traditional Chinese ensemble; Andre Thierry & Zydeco Magic, a great … you guessed it … zydeco band; and many more to come!
For a complete listing of ticket prices, to purchase tickets, and for more information, visit liveoakfest.org.
New Times loves you, Live Oak!

Keep up with Glen Starkey via twitter at twitter.com/glenstarkey, friend him at Myspace.com/glenstarkey, or contact him at gstarkey@newtimesslo.com.