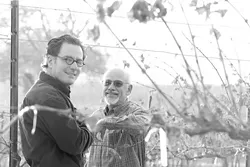 PHOTO BY STEVE E. MILLER
WHAT'S NEW? : Vance Rose (left) shifted his focus from Sonoma to the Central Coast, where he manages and makes wine for 5 Mile Bridge. Tom Habbick (right), a Cal Poly alumnus with a degree in agriculture, has worked for the 5 Mile Bridge owners for more than 20 years.
# What would make a winemaker who spent more than two decades in Napa and Sonoma leave California's most acclaimed wine growing regions behind to make wine in Paso Robles? A special place five miles west of the town of Santa Margarita where they're growing extraordinary winegrapes, according to Vance Rose, winemaker and general manager for 5 Mile Bridge. He explained: "There are many attractions here--this was something interesting and fun connected with a vineyard that could produce wines with great personality."
Although Rose still owns his home in Sonoma, he spends most of his time in Templeton making wine.
"Napa and Sonoma are great--the Cabernet Sauvignons in Napa, the Chardonnays and Pinot Noirs in Sonoma--but they're not new to anybody. The Central Coast in many parts of the country is still new to them [as a premium winegrowing area]," Rose enthused. "New is fun. New is exciting."
One of Paso Robles' newest brands, 5 Mile Bridge, sources most of its winegrapes from Margarita Vineyard.
"We aim to bring you wines with a provenance, having a quality origin or source," Rose explained in his newsletter. "We're about the place, and a place name is more important than an ego-driven name."
Margarita Vineyard is located within the boundaries of the Paso Robles American Viticultural Area (AVA, which winemakers usually refer to by the French word "appellation"), but Santa Margarita Ranch has been petitioned to stand as its own unique AVA. Currently, Margarita Vineyard is the only commercial vineyard in the proposed AVA. The historic Santa Margarita Ranch borders the Cuesta Grade on its westernmost edge. In fact, the first grapevines were planted at Santa Margarita Ranch by Father Junipero Sera and the Franciscan missionaries in 1774. The ranch was an aisistencia, a branch or extension of the California missions, according to Santa Margarita de Cortona Asistencia, A Forgotten Missionary Foundation Along California's El Camino Real by Msgr. Francis J. Weber.
Of course, Rose isn't alone in his belief that this new AVA for San Luis Obispo County is a perfect site for growing winegrapes. The 14,500-acre Santa Margarita Ranch, owned by Rob Rossi, is also the source of grapes for a special project started in 2005. Named Ancient Peaks in tribute to the geological heritage of SLO County, these wines are made by winemaker Mike Sinor. The brand is a joint venture owned by three local wine growing families: the Filipponis, Rossis, and Wittstroms. Two generations from each family are dedicated to a mutual dream: specializing in premium wines from their family-owned vineyards that express the "singular taste of Paso Robles."
The two principal owners behind 5 Mile Bridge--whom Rose said do not want to be named--prefer that their new brand stands in the limelight. Formerly partners with Rossi, Rose explained that his employers sold their share back to Rossi in 2006 and signed a 20-year lease to get half of the red grapes grown on the ranch. Rose works with Tom Habbick, a Cal Poly alumnus with a degree in agriculture who's worked for the family who owns 5 Mile Bridge more than 20 years. Now he's devoting his time to the wine project. Laurie Smith, a talented graphic artist who's worked with various wineries and the Hospice du Rhone organization, recently joined Rose and Habbick, doing everything from production to marketing and sales. Rose noted: "The three of us do everything for 5 Mile Bridge."
Rose candidly reported that throughout his career he has worked at both family and corporately-managed wineries, but he has no intention of working for the latter ever again. He described corporate winemaking as more marketing driven than product driven. He dislikes the fact that commercial growers don't manage the vineyards where they buy their grapes.
"We don't want to make that corporately delegated, homogenized, amalgamated plonk, wines that could be from anywhere. You have no idea who made it," Rose said with distaste. Describing his wines, he noted: "These wines can be traced back to one specific vineyard five miles east of Santa Margarita. These wines shouldn't say Vance. They should have the vineyard stamp on them."
Rose pointed out the key to growing grapes in a cool climate to achieve balance in ripeness and acidity, which they get in Santa Margarita Ranch where the vineyard was planted at the 1,000-foot elevation: Just above the fog level, the grapes get the sunshine needed to ripen, and then are cooled by night-time temperatures from marine breezes that blow in from Morro Bay, just 14 miles west.
"Santa Margarita Ranch is our chance to create the future of what an AVA is all about," the loquacious Rose stated. "I don't like the trend toward riper wines, which always requires adding acidity. We try to get the vineyard to give what we want: added ripeness and added acidity.
"Commercial growers don't have that control," he reiterated.
The vineyard site's warm, sunny days and cool nights, Rose explained, provide an ideal environment for growing grapes that result in wines that have balanced acidity, tannin, and alcohol.
"Sometimes people don't get that because our label carries the Paso Robles appellation," Rose said. "They think we're warm climate."
Rose aptly noted the differences between warm- and cool-climate grown Syrah: "With warm-climate wine, you get roasted meat, leather, and bacon fat. Cool climate provides notes of white pepper, thyme, sage, red plum, and complexity."
Explaining his winemaking preferences, he added: "We try to closely control the elements so we get ripeness and acidity. The five base elements are fruit, acid, alcohol, oak, and tannin. It all has to be in there, but balance is very important."
Rose said that he believes wines that don't have balance early on won't have more balance five years later. The 2005 vintage of Syrah and Zinfandel were released in early fall. His first Pinot Noir, 2006 vintage still aging in barrel, is his only wine not entirely grown in Margarita Vineyard. There was so little in its first year of production that Rose purchased additional Pinot Noir from Sonoma Coast to blend with it. The result was a pretty, luscious wine with red and black fruit flavors touched with blueberry notes that will be released in spring 2008.
"I'm a minimalist and a naturalist. I do as little as I can to nurture these grapes into wine," Rose concluded. "When you've got great grapes, you don't have to do much to it."
Contact New Times' Cuisine columnist at khardesty@newtimesslo.com.