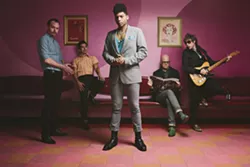 PHOTO BY CLAYTON HAUCK
JUMPIN'! : JC Brooks & The Uptown Sound plays June 9 at SLO Brew.
JC Brooks and The Uptown Sounds throw the kind of '60s swinger parties that only happen in nostalgic fantasies or at the Chicago Playboy mansion five decades ago. The tight band delivers bright, soulful R&B filled with urban swagger, all delivered by a 6 1/2-foot-tall front man.
Brooks is the son of a Jersey funk diva. His bouncing voice is perfectly accompanied by the brilliant guitar work of Billy Bungeroth. Add in the clean drumming of Kevin Marks, funky fills of keyboardist Andy Rosenstein, and solid rhythm of bassist Ben Taylor, and you've got a tight quintet with vocal harmonies and an infectious sound!
Their newest album, Howl, which came out in May, has been garnering plenty of gushing praise. Rolling Stone had this to say: "hair-raising guitar chords and piano flourishes over a bubbling bass groove, while front man Brooks sings of dissolved love in a voice that's as seductive as it is foreboding."
The group describes themselves as a post-punk soul band, but they stay remarkably true to the raw sounds of early R&B. This is retro music presented in an up-to-the-minute way.
For their third album, the band holed up at Hotel2Tango Studio in Montreal to work with producer Howard Bilerman (Arcade Fire, Wolf Parade, Godspeed You! Black Emperor). Together, the band explored "the dark side of love and longing."
See JC Brooks and The Uptown Sound on Sunday, June 9, at SLO Brew (doors at 7 p.m.; all ages; $10) with Funk N Public opening.
Before then at SLO Brew—on Thursday, June 6 (doors at 8 p.m.; all ages; $12 presale or $15 at the door)—Stick Figure with opening act Louder Spaces kicks off the week. Stick Figure plays what they call "a unique style of music that combines a creative blend of upbeat roots reggae with the reverberating echoes of dub," all from the mind of Scott Woodruff, who plays all instruments in the studio but will get help from KBong (keys and vocals), Tommy Sulliman (bass), and Kevin Offitzer (drums) while on tour. Local act Louder Spaces bases its sound on the Red Hot Chili Peppers, Sublime, and Incubus.
Forrest Day returns to the Brew on Saturday, June 8 (doors at 7 p.m.; all ages; $8 presale or $10 at the door). He's taken down his self-proclaimed "cheesy bio" and now explains himself like this: "I'm Forrest Day. But my name also represents the illest 8-piece band you ever heard. I'm a beatmaker, songwriter, sax-player, and singer. SINGER!!! Now, however, I am going to record this beautiful band. If you have not been to a show then you are missing out; it is ridiculous! We are at our best now, a year and a half old, and beginning to reach other cities and states. My style is free, and I will continue to do whatever I want. Even if it costs me your affection and attention. I am going city by city and showing people what we do. So come see us, and support real music." Hip-hop opening act Vocab Kompany mixes in electro and soul and often incorporates stilt walkers, burlesque dancers, clowns, and hula-hoopers in their San Diego shows—though I don't know about when they're on tour.
Finally, the exceptionally gifted singer-songwriter James McMurtry returns to SLO Brew on Wednesday, June 12 (doors at 6 p.m.; 21-and-older; $18 presale or $20 at the door). Novelist Larry McMurtry's son is known for his hard-edged character sketches and his work with John Mellancamp, John Prine, Joe Ely, and Dwight Yoakum—all fine songwriters in their own right. Jonny Burke will open the show.
Catch the World Wind!
Get your ecstatic dance on this Friday, June 7, from 7:30 to 9:30 p.m. at Inner Rhythms in the Joslyn Center (950 Main St., Cambria) when World Wind performs. Then show up to gather on Sunday, June 9, at the SLO Monday Club for round two of World Wind from 10:45 a.m. to 1 p.m. ($10 at the door).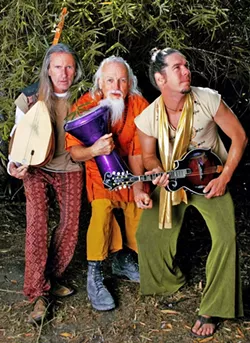 PHOTO COURTESY OF WORLD WIND AND VIKING BURKHISER
REAP IT! : World Wind and bassist Viking Burkhiser will join forces to play two ecstatic dance events: June 7 at Inner Rhythms and June 9 at the SLO Monday Club.
"The Central Coast is becoming a fantastic place for people who love to dance as wild and free as they want to be, in a drug and alcohol free space that is about as far from stodgy as you can get," explained event organizers. "This is generally referred to as ecstatic dance, and it's been percolating here in our community for at least nine years. Some of its early roots were at the old Yoga Center, where 30 to 40 people would gather every Sunday night at Dance Church to let their bodies move without judgment or dogma, in a safe non-verbal space. Today there are more venues for ecstatic dance on the Central Coast than ever before. This weekend is going to be a fantastic time to show up for an ecstatic dance experience with live music by the premier West Coast ecstatic dance band World Wind. Every dance they play is a unique experience, just like every day of your life. The dance community here is very inclusive and accepting of all ages, genders, and ethnicities. There is no dance ability required, but it's not a space for watchers, it's a place for participation and connection with your self and your community."
As for World Wind, they "deliver a soulful blend of exotic improvisational world grooves from slow trance to hot and thumpin', creating an interactive, expressive exchange with the dancers that is a unique experience every time they play."
Timo Beckwith, Ryan Herr, Andrew Wise, and friends create the unique sounds of World Wind with "exotic trance vocals, African harp, shruti box, flutes, world percussion, Middle Eastern saz, guitar, bass, kalimba, mandolin, Chinese cornet, banjo and synthesizer. These seasoned performers have played specifically for ecstatic dance for nine years at diverse venues, including the Esalen Institute, the Ojai Foundation, Dance Church in SLO, Dance Church in Santa Cruz, Sacred Spaces in Santa Monica, Dance Home in Santa Monica, Dance Jam Ventura, Dance Tribe in Santa Barbara, Freestyle Dancejam in Pacific Grove, the Mystic Garden Party for Conscious Dancer Magazine, and the Lucidity and Lunacy Festivals in Santa Barbara."
"We never rehearse this music," Timo explained. "It is created on the spot, and the energy and presence of the people is as much a part of it as we are. So no two times are ever the same. We are excited to be playing again with Viking Burkhiser, who has joined us on bass for the last two years at the Lunacy Festival. He is an awesome player who has toured over a quarter million miles with the Long Beach funk ensemble Delta Nove, as well as performing in many other projects and countless jam sessions from Burning Man to High Sierra and Lightning in a Bottle."
OK, people, get groovy!
More music …
PHOTO COURTESY OF LOREN RADIS
IS RAD! : On June 6, Loren Radis will bring his award-winning original music to Shell Café.
On Thursday, June 6, Loren Radis will bring his award-winning original music to Shell Café (6:30 p.m.; all ages; free). The Arroyo Grande resident's music frequently plays on The Krush 92.5FM. James Statler, Chris Gaul, Gary Garrett, Amber Lynn Nicol, Anita Coats, and Adam Phillips will also perform.
Santa Barbara indie folk rock act Erland plays Frog and Peach on Thursday, June 6, touring in support of On Our Side, their debut album.
Luna Red continues its late night live music series on Sunday, June 6, with Candle playing from 10 p.m. to midnight. Then on Sunday, June 9, Jill Knight plays the restaurant's 3 to 6 p.m. Sunday afternoon music series. As usual, there'll be great food and drink specials.
Rock reggae band Sanity Capsoul plays the Barrel House Brewery in Paso on Friday, June 7 (5:30 p.m.; all ages; free).
SLO-based quartet Red Willows plays Bliss Café on Friday, June 7, in support of their debut album Alligator Man (6:30 p.m.; all ages; free). They describe the new album as a mix of rock, funk, jazz, and psychedelia. Unfortunately, I didn't have time to listen to the whole thing, but the lead track is a jangly pop song called "Live Life," with an upbeat, vaguely jazzy sound. I think these guys might have listened to a lot of Hall and Oates and Steely Dan. Local artists Arman Orakcilar and The Monroe will also be performing.
Painted Sky Studios presents Ranchers for Peace on Friday, June 7, at 8 p.m. This socially conscious father-daughter duo will perform in support of their new EP. Charles and Ray Duncan's music has been dubbed "neo-hippie protest music." The editors of the venerable Sing Out! magazine selected the Ranchers' release of "Walking Around Black"—their response to the Trayvon Martin killing in Florida—to be featured in their upcoming issue and its companion compilation CD. I think Phil Ochs would be proud! Tickets cost $15, and are available at Cambria Music Box Shoppe, Boo Boo's, or by calling 927-8330.
Unfinished Business brings the great hits of the 1960s by artists ranging from The Animals to The Zombies and including The Beatles, The Beach Boys, The Rolling Stones, and various "Soul" artists to D'Anbino Tasting Room on Friday, June 7, at 8 p.m. ($10 admission; $5 for Record Club members).
Cuesta Ridge plays Saturday, June 8, at the Sea Pines Golf Course in Los Osos starting at 2 p.m. Food and beverages are available, and the free event is kid friendly.
Sax Appeal plays a free show at D'Anbino Tasting Room on Saturday, June 8, from 2 to 4:30 p.m., and later that night, you can also see contemporary jazz act Zzah return to D'Anbino for an 8 p.m. show ($10 admission or $5 for Record Club members).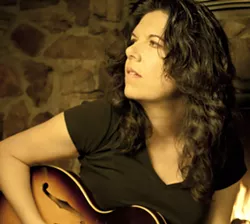 PHOTO COURTESY OF MAIA SHARP
LOOK, SHARP! : Acclaimed singer-songwriter, multi-instrumentalist, and producer Maia Sharp just finished a run of shows with Bonnie Raitt, and now she's coming to Sculpterra Winery on June 9.
Acclaimed singer-songwriter, multi-instrumentalist, and producer Maia Sharp just finished a run of shows with Bonnie Raitt, and now she's coming to Sculpterra Winery on Sunday, June 9, at 1 p.m. with fellow songwriters Garrison Starr and AG.
The Arroyo Grande Village Summer Concert Series kicks off the summer on Sunday, June 9, with a 1 p.m. show featuring Cuesta Chamber Singers and Voce, two jazz and pop vocals groups, performing from the Rotary bandstand.
The JD Project plays Sunday, June 9, for the next Sizzlin' Summer Concert Series at Ramona Garden Park from 3 to 6 p.m. This is the 10th season of the series, and a farmers market is also available.
On Sunday, June 9, the next edition of the Famous Jazz Artists Series at the D'Anbino Tasting Room will feature the students of the Central Coast Jazz Institute in a semi-annual fundraising concert. The institute, formed in the summer of 2012, will celebrate its first year anniversary and showcase the talents of many of the young Central Coast jazz musicians, all under the guidance of Charlie Shoemake, the institute's founder. There's a 4 p.m. and 7:15 p.m. showcase, each for $20. Call 927-0567 for reservations.
On Monday, June 10, Stuart Mason will be the featured performer at Bon Temps Creole Café (6:30 p.m.; all ages; free).
The New Times Music Awards return!
PHOTO COURTESY OF STEVE E. MILLER
YOUR NAME GOES HERE! : Enter the fifth annual New Times Music Awards beginning Thursday, June 6!
Songwriters, musicians, performers, and bands, it's once again your time to shine. The fifth annual New Times Music Awards are now accepting entries in six musical genre categories (including a new "open" division), a songwriting competition, and an album of the year competition. The genre winners must be available to perform during the Aug. 29 live judging competition at SLO Brew. Here's the scoop.
You can enter up to three original songs in each of the following categories: country/Americana/folk; R&B/blues; rock/alternative; reggae/worldbeat; hip-hop; and open. You may also enter up to three original songs in the songwriting competition (lyrics must be included). And you may enter one album released between Aug. 29, 2012, and Aug. 29, 2013, for the album of the year category. Each song or album entry costs $10. Entry deadline is Monday, July 8. You've got one month, people! Enter online by following the link on the New Times website at newtimesslo.com.
A Readers Choice Award will be voted on between Aug. 1 and 12.
Winners in the six genre categories will play a live-judged show at SLO Brew on Thursday, Aug. 29, with one act crowned for Best Live Performance. Winners of the songwriting and best album categories, as well as runners-up in the genre categories, will receive their awards that same evening.
Find out if you've got what it takes to bring home a bronze Newtie!
Keep up with Glen Starkey via twitter at twitter.com/glenstarkey, friend him at facebook.com/glenstarkey or myspace.com/glenstarkey, or contact him at gstarkey@newtimesslo.com.