PHOTO BY STEVE E . MILLER
FROM COAST TO CAPITOL : The nomination process for a new coastal commissioner is once again underway after newly elected Assemblyman Katcho Achadjian vacated his commission seat in November, and his replacement was snubbed by new Gov. Jerry Brown.
When former SLO County supervisor Katcho Achadjian stepped away from his long-held position with the board after being elected to the state Assembly, he not only left a vacancy with the county, he also resigned from his regional post on the California Coastal Commission, the powerful state regulatory agency tasked with preserving the aesthetically exquisite and economically essential coastline.
In the waning days of his administration, former Republican Gov. Arnold Schwarzenegger named Mary Ann Reiss, former mayor and current Pismo Beach councilwoman—and Achadjian's alternate on the commission since June 2010—to the seat.
Members of various city councils in SLO County complained that Reiss' nomination process was handled improperly, and that some interested officials weren't given a chance to apply. For reasons that can only be speculated on, that 11th hour appointment also didn't sit well with incoming Democratic Gov. Jerry Brown. In early January, Brown's office requested that tri-county officials begin their nomination process "should a vacancy actually occur" on the commission.
In late February, Reiss was notified by the governor's office that her service was no longer needed on the commission.
Now, seven city council members and county supervisors are vying for the same South Central Coast Region seat, which represents the coastal zones of SLO, Santa Barbara, and Ventura counties. Reiss is going in for Round Two, but against a governor who snubbed her once already. Many people familiar with the nomination process doubt Reiss' re-appointment, which leaves one big question: Who will be our next coastal commissioner?
After four years on the commission, Achadjian offered some advice to the next person to hold the seat, whoever that may be.
"Especially in the beginning, there's a lot of homework," Achadjian told New Times. "Then you have to make yourself available for those interests who want to meet with you to make sure their voice is heard. It can get overwhelming, but once you get accustomed, it becomes business as usual.
"My advice is to be people-oriented," he added. "And I hope they like to read."
Achadjian said he stands by his protégé and former alternate, Reiss, but he acknowledged the politics of the appointment might make that difficult. He emphasized, however, his hope that the seat goes to a SLO County official.
Some environmentalists hope Achadjian's successor doesn't follow his advice too closely. According to the California Coastal Commission Conservation Voting Chart, an annual publication prepared by environmental groups such as the Surfrider Foundation, the Sierra Club, the Coastal Protection Network, and the California Coastkeeper Alliance, Achadjian ranked 11th out of the 12 commissioners in terms of conservation-friendly votes in 2008.
"When Achadjian went to Sacramento, he gave up his seat on the Coastal Commission, much to the relief of the California coast," said Andrew Christie of the Sierra Club.
But amid the political jockeying, what's truly at stake with this seat?
To protect and conserve
The California Coastal Commission was created after voters passed Proposition 20, also known as the Coastal Initiative, in 1972. The agency's authority was cemented with the California Coastal Act of 1976, which established policies to regulate development, public access, environmental protection—among a long list of other concerns—within coastal zones.
The 12-member commission (not counting the three non-voting advisory members) is a quasi-judicial agency, capable of issuing permits and orders typically reserved for the judicial branch.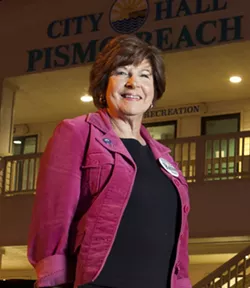 PHOTO BY STEVE E . MILLER
ROUND TWO : Pismo Beach Councilwoman Mary Ann Reiss, who served briefly as the South Central Coast Region's coastal commissioner after being appointed by lame-duck Gov. Arnold Schwarzenegger, was politely told her services were no longer needed by new Gov. Jerry Brown.
Commissioners are appointed by the governor, the Senate Rules Committee, and the speaker of the Assembly. For the South Central Coast Region seat, the governor will select one commissioner and an alternate.
According to Brown spokesman Evan Westrup, should the governor choose one of the seven applicants, a decision could come by mid-April. However, the governor could reject all seven and begin the nomination process anew, hypothetically leaving the region unrepresented until late May.
Westrup wouldn't verify who had applied for the seat, stating that it's administration policy not to disclose the names of, or comment on, applicants "across the board."
In SLO County—which stands to lose its voice on the commission—four nominees have clearly emerged. On Feb. 24, the City Selection Committee, which consists of the county's mayors, endorsed both Reiss and County Supervisor Bruce Gibson, but snubbed SLO Mayor Jan Marx and Arroyo Grande City Councilman Joe Costello, both of whom asked that their names be added to that list.
Grover Beach Mayor John Shoals—a PG&E employee who deals with the local government outreach effort regarding Diablo Canyon power plant's license extension—explained the decision as not wanting to "dilute" the list of candidates being sent to the governor. Morro Bay Mayor Bill Yates later told New Times the decision was not a reflection on Marx or Costello, but that the committee felt the nominees should come from coastal cities. Morro Bay endorsed Reiss at a council meeting Feb. 22.
A few people contacted by New Times questioned why the committee would use a nomination of Reiss as reason to pass over Marx and Costello, when the governor already asked Reiss to step down from the seat, and the committee was not restricted in the number of nominations it could make.
Ventura County Board of Supervisors Chair Linda Parks told New Times their city selection committee looked to nominate "every qualified official possible" to increase their county's chances of having a local representative fill the seat.
In the end, the SLO City Selection Committee diss on Marx and Costello didn't matter. On March 8, the county Board of Supervisors added Marx and Costello to the list of nominees.
Undoubtedly, whoever is selected to serve as the region's commissioner and alternate will make decisions concerning several major local projects.
In SLO County, watchful eyes are on Diablo Canyon nuclear power plant, which is currently undergoing a relicensing process; a particulate matter reduction plan in the Oceano Dunes; the Morro Bay/Cayucos Wastewater Treatment Plant; and the Cambria Desalination Plant; as well as the ongoing effort to battle bluff erosion.
"There are a lot of things going on locally, and it helps to have someone in the commission who is already familiar and could represent the county best," Reiss said. "It's important that whoever fills that seat is diligent and knows what projects are going on—not just in this county but throughout the state."
There are a number of issues facing the Santa Barbara coast as well, including the county's proposal to replenish the eroding beach and build additional pilings near the Goleta Pier and the ongoing dispute between the commission and the county over the latter's effort to update land use codes to make them Coastal Act compliant.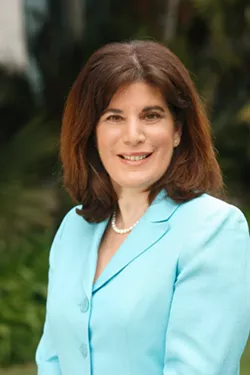 PHOTO BY PHILIP CHANNING
LONE WOLF : Santa Barbara County 2nd District Supervisor Janet Wolf is the sole nominee from Santa Barbara County for the South Central Coast Regional seat on the California Coastal Commission. Wolf was also endorsed by Ventura County.
Yet the Coastal Commission is as tumultuous as any regulatory agency—sometimes more so.
Take, for example, a recent lawsuit filed against the commission over a 400-acre property in the coastal zone of Harmony, a small town north of Cayucos.
Denise McLaughlan is one of three sisters who filed suit in SLO County Superior Court on Oct. 8, 2010, over a dispute regarding a required easement on their property in order to renovate an existing house and reconstruct a barn, which has deteriorated on the bluff-top property. The Coastal Commission required the family to provide public access to the beach from their property in order to receive a use permit. But McLaughlan contends the work her family requested permission for would have no impact on the coastline.
"It's as if you want to fix a faucet in your bathroom and you're told you have to give up your living room," McLaughlan told New Times. "It's so unbelievable for them to request something so outlandish for something so minor."
According to a commission staff report, the property's easement was already in place from an existing permit application. The SLO County Board of Supervisors' decision to remove the easement requirement in 2006 led to an appeal to the Coastal Commission by environmental groups, including the Sierra Club. The commission favored the appellants.
"The essence of the issue is: Can the government impose conditions that have no bearing whatsoever with the original permit?" said Paul Beard, attorney for the Pacific Legal Foundation, a nonprofit organization that represents individuals in cases against regulatory agencies—and who is representing the family trust. "It's a way around eminent domain—a way around paying for what they want. … [The Coastal Commission is] one of the most infamous abusers of property rights, and they have an agenda to basically socialize the coast."
Beard said the Foundation would like to see a new commissioner as sensitive to the needs of property owners as he or she is to conservation and public access.
The Sierra Club's Christie said that in the McLaughlan case, the easement requirement meets the definition of the local coastal plan.
"Nobody likes to be regulated, but whenever anybody's ox is gored, they will say unflattering things about the regulators," Christie said. "The [Pacific Legal Foundation] is a good example of people who are ideologically inclined to line up in favor of zealous property rights."
And the nominees are …
Reiss, who is a Republican, holds a bachelor's degree in public administration and, prior to moving to Pismo Beach in 1994, was human resources director for the city of Upland. She's served on the Pismo Beach Recreation Commission as well as consecutive terms on the Pismo Beach City Council since first being elected in 1996. She's represented the city as a board member of the SLO Council of Governments, the Regional Transit Authority, and the Air Pollution Control District. She's also a licensed real estate agent.
"It was one of the reasons I didn't run for mayor again," Reiss told New Times. "I wanted to free up commitments because [acting as commissioner] takes a lot of work. There's a lot of homework, a lot of materials to read."
Reiss was disappointed that her ouster from the commission appeared politically motivated, and noted that the call came just prior to the March 8 commission meeting, which carried an agenda item regarding Pismo Beach. She further noted that two commission meetings—and possibly more—may pass by before a new commissioner is selected.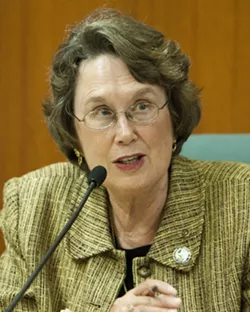 PHOTO BY STEVE E . MILLER
DILUTION? : San Luis Obispo Mayor Jan Marx and Arroyo Grande Councilman Joe Costello tried to throw their hats into the ring, but were passed over by the SLO City Selection Committee because Grover Beach Mayor John Shoals said they didn't want to "dilute" the nominee list. On March 8, county supervisors disagreed.
"It's disappointing because it should be about balance," Reiss said. "What are the applicant's qualifications and what do they bring to the table? It shouldn't be about Republican or Democrat."
Gibson, a Democrat, is pursuing the seat again after being passed over by Schwarzenegger in December. In addition to his role as SLO County supervisor, Gibson serves on a number of local boards, including the Air Pollution Control District and the Integrated Waste Management Authority. He's chairman of the Government Finance and Operations Committee for the California State Association of Counties.
Gibson noted that he's spent many years on coastal land use and conservation activities, including as planning commissioner and a board member for the Cayucos Land Conservancy, and has appeared before the Coastal Commission several times, both as a volunteer and as an elected official.
Costello is currently serving his third term on the Arroyo Grande City Council and formerly served as chair on the city Planning Commission, as well as eight years with the Air Pollution Control District. Costello, also a Democrat, has been with the California Emergency Management Agency since 1990 and worked as a coordinator and instructor at the California specialized Training Institute in SLO for more than 15 years.
"I'm willing to listen to what people have to say on all sides, and I'd say I'm a very fair person—and not beholden to special interests," Costello said.
SLO Mayor Marx is a retired attorney who ran her own law firm until 2010. She previously served on the Second Appellate District's Court of Appeals and as a deputy district attorney for SLO County. She's served on a number of advisory bodies, including the County Parks and Recreation Commission and the County Water Advisory Council. She's a member of environmentalist organizations such as the Sierra Club and the Surfrider Foundation.
Marx, also a Democrat, said she's followed the Coastal Commission closely for more than 20 years as an advocate for the Coastal Act, which she called a "brilliantly done piece of legislation."
"Access is a public treasure that we need to protect," Marx said. "It seems so natural to us here, to be able to just walk down to the beach whenever we want, but if the commission had not been created, that would not be the case."
In Santa Barbara County, the city selection committee nominated two-term 2nd District Supervisor Janet Wolf, a Democrat, whose district includes the Channel Islands, the Santa Barbara city coast, and Goleta Beach. Wolf has also served in a number of roles in the public and private sector, has led the county in efforts to restrict new offshore oil facilities, monitored and voted on significant coastal projects such as the Miramar Hotel project near Montecito and the Santa Barbara Ranch at Gaviota State Beach. Wolf also spoke before the Coastal Commission about Goleta Beach and land-use and development code.
"As a twice-elected official of a coastal county, and someone who has been a liaison with [California State Association of Counties] and other state and national associations, I believe I have a valuable perspective and base of knowledge that would be an asset, not just to this region, but to the Coastal Commission as a whole," Wolf told New Times.
On Feb. 15, the Ventura County Board of Supervisors unanimously voted to throw its support behind Wolf and Gibson. The county—which hasn't had a local official on the commission in more than 20 years—did, however, nominate two of their own city officials for the post.
Current three-term Ventura City Councilman and former mayor Brian Brennan told New Times he's a strong advocate of the Coastal Act. In fact, Brennan said he remembered helping gather signatures to get the original initiative on the ballot in 1972.

PHOTO BY STEVE E . MILLER

NOMINATED : Like Janet Wolf, SLO County 2nd District Supervisor Bruce Gibson is running on his land-use experience and environmental record. Gibson also enjoys support from Ventura County.
Brennan represents Ventura at the Beach Erosion Authority and as chairman-elect of the Ventura County Regional Energy Alliance. He serves as chairman of the Ventura Regional Sanitation District. He's also a graduate of the Smart Growth Leadership Institute at the University of Maryland and was previously president of the local chapter of the Surfrider Foundation.
Port Hueneme City Councilman Jonathon Sharkey was also nominated. It will be the fourth time the four-term councilman and former mayor has thrown his hat into the ring. On the council, Sharkey helped draft Port Hueneme's city charter. He's also served on the city's water agency and the Beach Erosion Authority. He was a founding member of the Sustainability Council of Ventura County.
"I'm not coming into this because I have a particular project I want to push for. Other than experience, I think that's all you can ask of any state regulatory agency [nominee]," Sharkey said. "You need to have a fair, consistent process. You need to know what you have to do and how to do it.
"After all, process is what separates us from the barbarians," he laughed.
Many nominees agreed that the Coastal Commission often makes life difficult for private residents, and they acknowledged that relations between the commission and local jurisdictions and property owners could be improved.
OK. Commissioners. Local coastal plans. Land use.
Who really cares, anyway? After all, we're talking about some political goon being appointed to some seat at some government regulatory agency, right?
"If you drive down the stretch of Florida coast from Tampa to Miami, you will see the kind of development you get without an agency like the Coastal Commission—which is to say you won't see much of the coast," said the Sierra Club's Christie. "When you drive down Highway 1, if you like what you see, you can thank the Coastal Commission, the Coastal Act, and the voters who brought them into existence."
Staff writer Matt Fountain can be reached at mfountain@newtimesslo.com.