Xanadu is kind of a funny story. The campy, satiric musical is based on an unfortunately far less self-aware film of the same name, starring Olivia Newton-John. That legendarily bad film, boasting music by Newton-John and Electric Light Orchestra, is in turn inspired by the 1947 film Down to Earth. Xanadu is a copy of a copy of a copy—and seems to have heightened in absurdity with each successive replication. The Cuesta College Drama Department, staging the cult classic under the direction of bree valle, seems well aware of this.
PHOTO BY STEVE E. MILLER
YOU HAVE TO BELIEVE WE ARE MAGIC! : Director bree valle's productions are never short on spectacle and athleticism, and the upcoming production of Xanadu looks to be no exception.
Opening Friday, April 26, Xanadu tells the love story of Clio, the leader of the Greek muses (Shaley Gunther and Mariah Rose Allchin share the role) who takes pity on a Venice Beach chalk artist who wants to open a roller disco. Disguising herself as "Kira," an Australian hottie on roller skates, Clio descends to Earth from Mt. Olympus to help the hapless Sonny (played by Greg Threlkeld and Austin Whitford on alternating nights). But trouble ensues—along with a hit playlist of early '80s pop songs—when Clio begins to fall in love with the mortal, idealistic Sonny Malone, so dreamy in his headband and cutoff shorts. To make matters worse, Clio's jealous sisters—several of whom are actually men in drag—try to use this situation to their advantage, and ensure their sister's banishment to the underworld forever!
A TURD ROLLED IN GLITTER: Xanadu, directed by bree valle and staged at the Cuesta College Cultural and Performing Arts Center, opens Friday, April 26, and runs through Sunday, May 5, with performances at 7:30 p.m. Fridays and Saturdays and 2 p.m. on Sundays. General admission is $15; students pay $10.
The plot, is, of course, terrible in its own special way, being based on a film that attempted to marry the sublime with the utterly ridiculous. But this is the kind of production where the plot matters little and the dialogue, timing, and the actors' sheer commitment to the role makes all the difference. Where Xanadu the movie ranks among the worst things ever, maybe just below Troll II, the clever and self-referential stage musical is the winner of the Drama Desk and Outer Critics Circle Awards, and was even nominated for a Tony for Best Musical and Best Book (Douglas Carter Beane is responsible for the witty script).
Where music is concerned, however, Xanadu has always been a winner. The original film score was a commercial success, and several individual songs became hits. The stage musical's score boasts updated arrangements of Newton-John's "Magic," "I'm Alive," and "Suddenly," as well as Electric Light Orchestra's "Strange Magic" and "Evil Woman."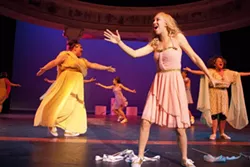 PHOTO BY STEVE E. MILLER
SING, O MUSE! : Shaley Gunther and Mariah Rose Allchin share the role of Greek muse Clio, pictured, who descends to Venice Beach disguised as Australian roller girl Kira in the camp-tastic musical Xanadu, based on the truly awful Olivia Newton-John film of the same name.
I attended a rehearsal of the performance sans musical accompaniment. Experiencing Xanadu a capella, and without the usual bells and whistles, I had a hard time gauging the impact of the final production (although it did make for a rather surreal experience). But with the addition of lights, fog, and, of course, a live five-piece band under the direction of Jumi Kim, Xanadu promises to be a hilarious, kaleidoscopic nonsense ride.
The double casting of Kira and Sonny lends an element of the unexpected to the show. As Sonny, Threlkeld and Whitford have very different acting styles, valle says. The same can be said of Gunther and Allchin, both of whom play Kira. The director mixes and matches her lead actors frequently. The choice, though perhaps the result of necessity, alters the performance every time and helps keep the dialogue fresh.
"Greg is an Equity actor and has a lot more experience onstage than Austin," valle said of her two Sonnys. "Greg's a little bit more specific maybe, and Austin is more fearless, on some level, I think, or spontaneous, maybe? I'm not sure. But the two Kiras are completely different as well. Shaley has had lots and lots of stage experience, and Mariah has had zero. She's never been in a play before. She has the most amazing voice."
A spot-on performance by William Benjamin, who works in Cuesta's HR department, as real estate mogul Danny McGuire, came as something of a surprise. When Benjamin first expressed interest in auditioning for a part in Xanadu, valle said, she assumed he was joking. But when he came to the audition and totally killed, she went on, she began to take the acting and singing chops of Bill from Human Resources a bit more seriously.
valle productions are typically high-energy shows, requiring a high level of athleticism on the part of her actors. In 2011's Rent, it was nonstop dancing. Last year's production of The Three Musketeers, it was epic swordfights. This year, it's roller-skating: The main characters not only sing and dance (Jude Clark Warnisher, of the modern dance group Variable Velocity, is choreographer), they do it while gracefully swaying on skates.
"I laughed so long and hard, I thought I was going to wet myself," said director valle, describing the first time she saw the musical. "I mean, the movie was an absolute turd, and what the playwright has done is rolled it in glitter and put it onstage." ∆
Arts Editor Anna Weltner likes arts and crafts. Contact her at aweltner@newtimesslo.com.