After trying the new WOW Yanagi at Oak Park and James Way in Pismo Beach three times, I'm pleased to say I was impressed every time I dined there. The ambiance was serene, the service was superb, and every dish I tried was excellent in freshness, quality, and portion size. When I recommended it to a nurse working in a nearby medical center, she retorted: "Why should I go there when I can enjoy my lunch and get an ocean view just down the street?" Admittedly, the location isn't nearly as impressive as Yanagi Sushi & Grill on 4th Street and James Way in Pismo Beach--with its wonderful ocean views--but WOW Yanagi offers the tranquil dining style I prefer.
Of course, during my last visit, I asked Yanagi owner and creator Jay Chung, a professional chef for more than 25 years, the same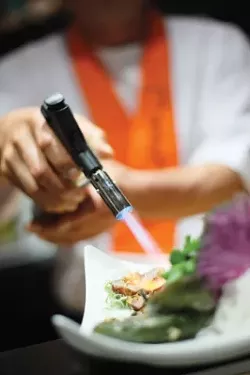 PHOTO BY STEVE E. MILLER
IN THE RAW : Jay Chung is the creator and owner of Yanagi. In five years, he's opened five restaurants around the Central Coast.
# question about location.
"This one is more classic and relaxed. It's a family-style restaurant," said Chung--who had a ready answer even though he wasn't expecting me. "It's a place where people want to relax and take their time."
It's quieter and less rushed but still friendly--a definite improvement over the loud and bustling 4th Street Yanagi where they frequently cater to large parties. It's been three and a half years since that version opened, and yet it remains as popular as ever.
One of the main reasons I prefer WOW is that the sushi chefs are more relaxed (at this point anyway). They seem to put more effort into the presentation of each order, although the dishes have always been artistic at each of Chung's restaurants I've visited. These chefs also have the time to ask their guests at the sushi bar if they're enjoying their meal. Another big plus for this location: There are plenty of spaces in the OSH/Ross shopping center's huge parking lot.
My husband Dan and I ordered the sashimi platter, which featured perfect, fresh slices of salmon, ahi, albacore, and yellowtail arranged over shredded daikon radish with fresh pickled ginger and wasabi. I note the freshness because it isn't quite as obvious at some local sushi houses. Although the rainbow roll is covered with pretty much the same selections of fish that we ordered on the sashimi platter, with fresh prawn and avocado added, I love it with the rice. Our new favorite special is the North Shore: thinly sliced yellowtail served with thin slices of fresh jalapeno that's dressed in a ginger ponzu sauce.
I've seen large assortments of rolls offered at other places, but few sushi houses offer as many interesting choices as Yanagi. Dan and I prefer a more classic Japanese meal, so we order simpler selections. I liked the sushi combination at lunch. It seemed expensive at $15.90, but I had no idea how much food I was getting: miso soup, green salad with house ginger dressing, five pieces of sushi, and a choice of a full-sized roll from a list of 12 offerings. I couldn't eat it all despite the excellent quality of everything served. At lunch or dinner, Yanagi is more expensive than most Japanese restaurants--but it offers good quality and generous portions.
WOW, which seems hidden away in the shopping center, replaced another sushi restaurant, named Daruma. Although I love sushi, I dined at WOW three times to be sure that the food and service were consistently good--and they were. When I interviewed Chung on my last visit, he asked me to deliver this message to my readers: "This sushi bar is totally different from Daruma." A gentleman seated a few chairs away at the sushi bar agreed out loud: "Everything about Yanagi is better."
I also visited Daruma three times, and it was always empty. I pitied the young couple who owned it because they struggled with English and had little business experience in restaurants. When the wildly popular Yanagi opened at 4th Street alongside Hwy. 101, only a mile away, that finished Daruma. The OSH/Ross shopping center seems a bad location, but if anyone can turn it around, it's Chung. When I visited Chung's first sushi bar in San Luis Obispo, he said he planned to create a small string of sushi restaurants on the Central Coast. I wondered if he could succeed with so much competition. Clearly he has. Five years later, Chung now boasts five sushi houses: the original in SLO, one in Paso Robles, one in Santa Maria, and now two in Pismo Beach within a mile of each other.
Chung opened the second sushi bar in Pismo Beach in a site that was formerly a Mexican restaurant and then a seafood house, neither of which succeeded in that jinxed location. I worried that he'd made the wrong choice then. But from day one, the parking lot was jam-packed whether it was lunch or dinner, seven days a week. I know this because I live around the corner and drive by at least twice daily. It was so jammed, his customers began parking in my neighborhood. Not only do I admit that I was wrong, I have to admire this savvy restaurateur. He told me he's planning to open a couple more Yanagi's, but only admitted to looking at Santa Barbara so far.
Chung named his newest branch WOW, he explained while flashing jazz hands, because the gorgeous plates have that effect on his guests. I can promise this: Everything tastes as good as it looks. That was one of the first things they taught aspiring chefs at the California Culinary Academy when I attended: No matter how beautiful the presentation, a chef's first order of business is to ensure that it tastes great.
It's easy to understand why Chung's proud of his restaurants and his sushi chefs. At WOW, Danny is one of the older chefs who learned his art in Japan. Each time I've visited, Sonny waited on me and I appreciated his friendly demeanor. He treats everyone respectfully. He's wonderful about explaining what's in each roll and helping find dishes that suit your taste. Even at busy times, Chung can be seen behind the sushi bar, yelling greetings to guests. When he wasn't busy preparing an order, he would run out from behind the bar to see that waiting guests were seated rapidly.
The big difference between the five restaurants is that neither WOW nor Yanagi Sushi in San Luis Obispo have the teppan grills. If you're just going for sushi, it's easy to choose between the two restaurants: Do you like a party atmosphere? Or do you prefer a relaxed ambiance? No matter which Yanagi you choose, the food will always looks pretty--and it tastes even better than it looks.
Contact New Times' Cuisine columnist at khardesty@newtimesslo.com.