BUONA TAVOLA: 1037 Monterey St., SLO, 545-8000 943 Spring St., Paso Robles, 237-0600
I always wonder why there are long lines at fast food chains in SLO during the weekday lunch hour when there are several great restaurants offering value-priced, freshly-made foods. Yet these popular restaurants are desperate for business. Most people have just an hour, which probably makes fast food seem more appealing. But seriously, is that bacon n' cheese ciabatta burger with 870 calories (Jack-in-the-Box website) really worth wasting most of your daily caloric intake? No, not when you can dine in a restaurant serving fresh foods that are delicious and healthy; and they promise to get you out in an hour. I recommend Buona Tavola's new "express business lunch menu," which will sate your appetite without busting your budget.
"People think of Buona Tavola as an expensive place for a long leisurely lunch, and it can be that way if that's what you want," said general manager, Antonio Moliné. "But our new express business lunch can accommodate the business person who's in a hurry." If you are in a hurry, do let them know when you stop in to experience their Italian version of fast food. Better said, they're serving good food fast.
The express menu includes a starter and entrée, for the price of the main course: minestrone or soup of the day, or choose the Caesar or mixed green salad with balsamic dressing. Main course offerings include: bruschetta pomodoro or bruschetta funghi (mushrooms), or one of each, $9, with addition of goat cheese, $10.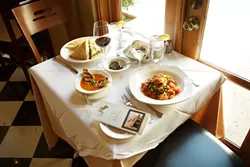 Five more entrées, priced $13.75 each, include: panini or sandwich of the day on homemade rosemary focaccia; short pasta tubes with spicy tomato sauce; homemade tortellini stuffed with pumpkin puree and ricotta cheese, dressed in mascarpone sauce with toasted walnuts; fettuccini with braised chicken, duck, veal and beef, in a herb-meat sauce; or orecchiette with chicken sausage, rapine broccoli, sundried tomatoes, garlic, and a tomato-basil sauce. The express menu also provides a complimentary soft drink, hot or iced tea, or coffee, if you dine at Buona Tavola. Order your express lunch to go and it includes a coupon for a complimentary bruschetta during your next dinner there.
According to Christian Mandarino, general manager at the Paso Robles Buona Tavola, the express lunch menu is available there, too. "If you're pressed for time we can get you out in a hurry, or you can sit and enjoy it as long as you want." Moliné invited me to come over to taste test the express lunch. It was our first meeting and I was impressed by the depth of his knowledge about the menu and the history of Buona Tavola. He's been there only two years, and clearly loves his job. He knows their wine list just as well and proved himself quite skillful at pairing the appropriate wine with each dish. This doesn't happen everywhere, even when a server knows the wine list; no matter how nice the restaurant, or whether it's in a small town or major city.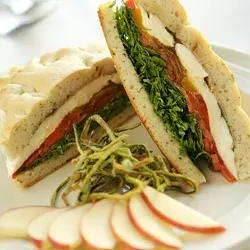 "We designed the express menu with value in mind, but it's pretty high quality cuisine you're getting," said Moliné. The express business lunch menu is served Monday through Friday, from 11:30 a.m. to 2:30 p.m. (Thursdays they close at 2 p.m. to prepare for the Farmers Market). Moliné brought out several dishes to sample. He started with a cup of the lentil soup with a taste of the Caprili 2006 Rosso di Montalcino (Brunello strain of Sangiovese). Soulful best describes the pairing, the rich plum and earthy notes of the wine melded perfectly with the earthy, satisfying flavor of the lentils. Buona Tavola serves this soup at the Thursday night Farmers Market in SLO, and several other good classic Italian dishes. Next was the Caesar salad, a lighter version than the classic recipe, topped with diced fresh tomatoes and parmigiana shavings. He served it with a taste of delicious Michele Chiarlo Gavi, Cortese from the Piedmont region where it's most famous.
He's so proud of every dish, he wanted me to try most of them, making me glad I asked for just a taste. The bruschetta, one slice topped with tomatoes, the other with sautéed mushrooms with the addition of goat cheese, was delightful with a full-bodied Jermann 2007 Chardonnay. As good as those were, my favorite pairing was the Prunotto Mompertone (60 percent Barolo, 40 percent Syrah) with the orecchiette del campo. That multi-layered red, so delightful alone, provided the perfect counterpoint to the full-flavored dish. The chocolaty, housemade tiramisu was the ultimate conclusion to a great meal; although it's not featured on the express menu it's available at lunch.
Whenever he recited the chef's specials or discussed the wines, he certainly sounded like a native son of Italy. He laughed at hearing that from me and admitted, "Native Italians can always tell my pronunciations aren't quite the same."
Moliné is the son of a Chilean immigrant who left his home during the military coup of President Salvador Allende in 1973. He married an American woman and their son Antonio was born in 1977. Moliné said he spent most of his life growing up in California; he moved to the Central Coast in 1999 to attend Cal Poly and study agriculture business. To support his wife and daughter, Moliné took on the job of general manager at the new Buona Tavola in Paso Robles in 2006. He moved to the original restaurant in 2007 and became general manager there. Moliné explained: "My job absorbed me and I began to focus on becoming better at it, so I left school."
He noted that chef Antonio Varia is "still the brain behind Buona Tavola," and that he's classically trained in French and Italian cuisine. Varia opened the SLO restaurant in 1992, and now divides his time to work at both restaurants. "He has imparted a lot of knowledge to me and our staff. Our chefs have been here over 15 years."
After tasting the fabulous lunch, a week later I returned with my husband Dan to try dinner. Again, I trusted Moliné to pair the wines with our chosen dishes and couldn't have been more pleased by the entire dining experience. Believe me, it's not something I do regularly; I'm very particular about wine. Not only did he provide interesting suggestions, he impressed me.
You can reach New Times' Cuisine columnist at khardesty@newtimesslo.com.