In the past, all the best wine and food festivals have taken place in spring and fall. No more there are tasty events to attend year-round. But it's not just special events that keep getting better. Our local wineries and restaurants continually work at improving everything they do and now we don't have to wait a year to get another taste. These three Central Coast destinations are offering new treats they hope will appeal to everyone's taste, and you'll want to check them out whether you're taking visitors to a local tasting room or treating yourself to a lovely Sunday brunch.


Grand opening of Cerro Caliente
In France winemakers who make highly sought after (which means expensive) wines in places that are the equivalent of a garage rather than a lavish estate in wine country are called garagiste. I've read features about some who boast their building was actually a garage for automotive repair. In SLO, however, we can brag one of our garagiste is as respected for his expert repair under the hood of your car as he is for his talent at the wine press. Owner and winemaker Don Peters of Cerro Caliente also owns Peters Automotive in SLO, where he's been making his wines since 1998.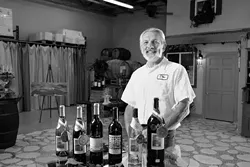 PHOTO BY STEVE E. MILLER
CHECKING THE FLUIDS : Owner and winemaker Don Peters of Cerro Caliente stands in his winery with a selection of his wines in a tasting room adjacent to his mechanic's garage.
# I can assure you Peters' line-up of fine white and red wines won't require a bank loan they're meant to be enjoyed rather than collected. A longtime wine aficionado, he started out as a home winemaker but soon became commercial with the success of his array of good quality wines at fair prices. Peters has earned national acclaim for his bold red wines with names like Multi-Viscosity (no, it's not motor oil but it's as rich as its name implies). In fact his wines landed him a starring role on the reality TV series Uncorked hosted by Ted Allen, who's famous for his television role as the food and wine expert in Queer Eye for the Straight Guy. Besides Peters' popular Multi-Viscosity selections he offers a "Super Syrah" and a barrel reserve Syrah aged 48 months.
Peters made another big move recently: space was pretty tight in that two-bay garage until early this year when his neighbor moved to bigger quarters, leaving Peters the room he needed to expand. He needed the extra space now that he makes 20 varietals under his Cerro Caliente label, and it gave him more space for the tasting room. He also added a professional kitchen for his talented wife Carol, who cooks all of the treats they offer during special events at the winery. Peters said now that they have the entire building on Via Esteban in SLO, he and Carol decided the time had come for a grand opening, which they've never done before. On Saturday, June 23 from 11 a.m. to 4 p.m. they're throwing open their doors to their loyal fans. They also hope to win many new ones.
Besides tasting the array of wines, guests can plan their arrival in time for some of the special classes they've added to their grand opening, such as: blackjack instruction by Aces & Eights, cake and cupcake decorating by Alice, wine and cheese pairing by Mitzi, and car maintenance tips by Don. They'll be serving Carol's appetizers and desserts throughout the day plus offering tastings of olive oils and wine-flavored ice cream. Not only that, they're dropping the usual $5 tasting fee for their guests. As if all that wasn't enough, the Peters will hold a drawing every hour from noon until 4 p.m. providing gift baskets and certificates for wine and hors d'oeuvres at Cerro Caliente. Don't miss it.
Cerro Caliente Cellars, 831 Via Esteban, SLO, 544-2842 or visit www.cerrocalientecellars.com.
Sundays on the Deck at SeaVenture
I love taking a Sunday off to sit back on a sunny patio alongside the Pacific's edge sipping Champagne (you may prefer a bloody Mary) with brunch or lunch while a musician plays my favorite blues and rock tunes. And I found it even better than I had imagined at the new attraction called "Sundays on the Deck" at SeaVenture in Pismo Beach. Happily, this event will continue through the end of September, Sundays from noon to 4 p.m. Despite a foggy morning, the day we attended it didn't dampen our spirits. Guests can order from the specialty cocktail list or a terrific list of local wines. You're also offered choices from the brunch or lunch menu or you can order small plates for sharing. Prices are quite reasonable across the board and there's no cover charge for this outstanding afternoon getaway.
SeaVenture Resort, 100 Ocean View Ave., Pismo Beach, 773-4994, or visit www.seaventure.com.


Sunday brunch at Artisan
Here's a good reason for rising early on Sunday mornings: the scent of freshly baked cinnamon rolls, scones, and applewood smoked bacon. And then there are all of the delicious things associated with them: iced platters lavishly covered with prawns and crab legs, an assortment of sushi, fresh fruit ambrosia, and crispy potatoes. I love brunch, so you can easily imagine how excited I was to hear of the addition of Sunday brunch at Artisan restaurant in Paso Robles.
Chef Chris Kobayashi and this team of professional chefs are making all of these enticing delicacies and much more every Sunday for a buffet that's nothing less than grand. Even better, you'll never complain of finding the same old thing every Sunday from this talented chef who wants his guests to experience an epicurean meal no matter what time of day they dine at Artisan. Each Sunday they offer an omelet and egg station and a hand-carved meat station. Other selections change weekly so there's always an array of interesting treats like free range chicken tabbouleh, shrimp and lobster wontons, and banana rum bread pudding. Besides specialty drinks there's a great wine selection. But I love the gentle "psst" of a cork popping from a bottle of Champagne the perfect accompaniment for this meal of savory and sweet dishes.
Artisan's Sunday brunch, 10:30 a.m. to 2 p.m., $25 per person (does not include alcohol, tax or tip), at 1401 Park St. at 14th, Paso Robles for reservations call 237-8084. Visit www.artisanpasorobles.com to check out all of their menus and get news of upcoming events.
---
SIDEBAR: Is your pesto the besto?
So you say you make the best pesto?
Well, you'll have your chance to prove it and win prizes for it during the 16th annual Basil Festival at Sycamore Farm in Paso Robles. This tasty event takes place on Saturday and Sunday, July 21 and 22, but the pesto contest is Saturday only. You must submit 2 cups of homemade pesto for the traditional or creative category that morning by 11 a.m. Judges include: Chef Andre Averseng of Dining with Andre, Lone Madrone winemaker Neil Collins, baker Ciro Pasciuto of Skipping Stone Productions, SLO Supervisor Harry Ovitt and me. For details contact Maureen Herrera at Maureen@LoneMadrone.com or call 238-0845.
---
You can reach New Time's Cuisine columnist at Kathy@GrapevineRadio.net.