When the music's damn good, you find a way to come together.
This is what Goodnight, Texas drummer and recent SLO County transplant Alex Nash has observed well. Band founders and songwriters Avi Vinocur, of San Francisco, and Patrick Dyer Wolf, of New York City (and previously, North Carolina), bonded over a love of guitar, banjo, and mandolin. This bond would remain unbroken by highway miles.
The geographic midpoint between Chapel Hill, North Carolina, and San Francisco—the place where the friends would meet up before heading on tour—just so happens to be the unincorporated community of Goodnight, Texas (population 28). Yes, Goodnight, Texas is a real-life place, named after pioneer rancher Charles Goodnight. The world is a strange place.
PHOTO COURTESY OF GOODNIGHT TEXAS
AMERICANA AFTERNOON: Old-time folksters Goodnight, Texas will play a laid-back afternoon set accompanied by local fave Jade Jackson on Dec. 14, at the Santa Margarita Peace Sign House.
"If you can play music you like, with people you really like, that's what it's all about," Nash said, adding that the band is lucky to have two talented bass players strewn across the country. Nash attributes the band's rustic sound to an inherent wanderlust and reverence for old Appalachian tunes.
"That kind of music is very stripped down; you hear people stomping, clapping, singing," Nash said. "We are very acoustic, although our live show has become sort of rock 'n' roll at times."
The songs are rich, worn, and filled with dusty lyrical treasures waiting to be discovered.
Nash said Vinocur and Wolf set out to write authentically American songs—stories of the road less taken, of life less lived. The first tune off their 2012 debut album, A Long Life of Living, is a soulful-yet-sly riff on Bob Dylan's wail, "Ain't going to work on Maggie's farm no more."
"Our song talks about slavery—how people didn't always have a chance to make that choice," Nash said. "Another song we love to play, 'Jesse got trapped in a coal mine,' is based on a story that wouldn't be told historically: A man literally trapped and killed within a coal mine. A man that planned to marry and have a good life."
Callouts to U.S. geography, the bright plucky resonance of banjo, spritely ring of mandolin, and warmth of acoustic guitar give the music undeniable resonance and a good foundation for painting lasting pictures of a bygone era.
Catch the boys in Santa Margarita this Sunday, Dec. 14, as they support their August 2014 release, Uncle John Farquhar. The show promises to be a no-fuss country affair. It's all going down at 2 p.m. at The Peace Sign House, which is owned by good friends and located at 22606 El Camino Real. Santa Margarita songstress Jade Jackson will lend her breathy vocals and sorrow-tinged lyrics to the bill, and you can bet you'll hear bone-chilling pedal steel provided by Brenneth Stevens.
Nash doesn't always know when the next Goodnight, Texas SLO County show will happen, so it's certainly sweet for him (he gets to sleep in his own bed, for one). But it's also sweet for local Americana fans who, if they are wise, will soak up this rare appearance in the Santa Margarita sun.
An eclectic SLO Brew winter
I don't know what "electronic grunge" is, but my first thought includes glow sticks and around-the-waist-flannel. On Dec. 11, Isla Vista's FMLYBND will show the world just how tragically wrong I am about all of this (SLO Brewing Company; 8 pm.; $10 to $12). The raunchy mix of guitar, synths, and sampled drums will collide with trance-inducing, ethereal vocals, and tried-and-true rock snarl. Santa Cruz act The Wild Wild will also join the bill, combining big pop hooks with a vintage feel. Don't you just feel hip reading that?
On Dec. 12, get ready for mind-bending Charlie Hunter (aka the seven-string guitar wizard) and Scott Amendola (Berkeley-based drummer extraordinaire), known for turning Hank Williams and Cars songs into their own psychedelic works of art (7 p.m.; $16; 21 and over).
"Dre Dog" Andre Nickatina will bring his San Francisco rap styling to the Brew stage with an aggressive delivery and a scarred smirk (7:30 p.m.; $23), and New Age pop princess HIRIE will perform with SoCal's laid-back, reggae-rockin' Wheeland Brothers on Dec. 14 (7:30; $10-$12).
Jingle, jingle! Dec. 18 marks the anticipated arrival of Five Man Jingle Jam to SLO Brew featuring Damon Castillo, Dan Curcio, Rolf Gehrung, Joe Koenig, and Kenny Lee Lewis (6:30 p.m.; $10 to $12). Don't forget those ugly holiday sweaters!
Holiday harps, jazz hands, and Irish shenanigans
Remember books? Step into a magical world of Irish and English literature with Legends of the Celtic Harp, a storytelling/music trio this Dec. 13 at Castoro Cellars (7:30 p.m.; $22).
The group, featuring Irish harp master Patrick Ball, will weave together "The Winter Gift," alongside harpers and multi-instrumentalists Lisa Lynne and Aryeh Frankfurter.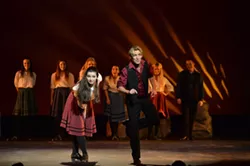 PHOTO COURTESY OF CAL POLY ARTS
CANDY CANES AND SHAMROCKS: Cal Poly Arts presents An Irish Christmas on Dec. 15.
"It's a truly special heartwarming show for the season," Lynne said (it should be known that the musician was chosen as one of Los Angeles Magazine's 50 most inspiring women).
The trio plans to showcase "a moving collection of tales and music from Celtic legend and traditional folk stories." Enjoy a "Child's Christmas in Wales," a chapter from The Wind in the Willows, and passages from Shakespeare, William Butler Yeats, and Thomas Hardy accompanied by Celtic harps, Swedish hyckelharpa, fiddle, bandura, and bouzouki.
"We are on a mission to reignite the love of storytelling for a new generation," Lynne added. Now that's what I call a gift. Call 238-0725 or stop by Boo Boo Records for tickets.
Cal Poly Arts' An Irish Christmas brings just about everything to the table this year: joy, hope, laughter, friendship, seasonal song, dance, and Irish shenanigans. Take part in the night of old-time magic and wonder this Dec. 15 (7:30 p.m.; $22 to $44) in the Harman Hall of the Performing Arts Center's Cohan Center.
This Celtic celebration—where performers are known to dance through the generations with brooms and butter churns—is geared toward a family audience. Songs are set to include: "Silent Night," "Little Drummer Boy," and "Carol of the Bells," bolstered by pipes, flutes, fiddles, button accordion, and bodhráns. For tickets, call 756-4TIX, Ext. 4849, or order online at calpolyarts.org.
The holidays just wouldn't be the holidays without the unified voices of the Cuesta Holiday Choir Concert. The skilled Voce, Cuesta Chamber Singers, Encore, and Concert Choir will showcase everything from gospel and vocal jazz to traditional choral tunes this Dec. 13 (8 p.m.; $7 to 12), at Mission San Luis Obispo and Dec. 14, at 3 p.m. at the CPAC).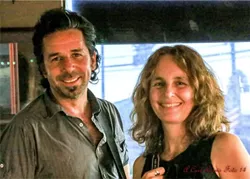 PHOTO COURTESY OF SONGWRITERS AT PLAY
IF MUSIC BE THE FOOD OF LOVE, PLAY ON: Alternative soul, flamenco, funky blues, and rock 'n' roll make up Luis Oliart and Debra Windsong's unique sound. The duo will perform at Shell Café on Dec. 11, in Pismo Beach.
Adding to the festivities, The Cuesta Jazz Ensembles will feature small jazz groups and favorite big band pieces this Dec. 12 (7:30 p.m.; CPAC Main Stage). And on Dec. 14, be sure to catch Cuesta's premier vocal ensembles and conductors for works by Whitacre, songs from the hit movie Frozen, as well as your favorite holiday chestnuts (3 p.m. at CPAC Main Stage; 8 p.m. at Mission San Luis Obispo for a special Dec. 13 performance).
Lastly, the Cuesta Jazz Combos will kick off a free concert this Dec. 16 (7:30 p.m.; Cuesta Experimental Theater), and a Cuesta Chamber Music Concert will commence on Dec. 17 ($5; 7:30 p.m.; CPAC Main Stage), bringing solos and small ensembles together for an informal musical experience. You can even sit right on stage with the performers while they rock out.
Get your jazz hands ready and swing into the Central City Swing Band's annual Christmas Concert this Dec. 16 (7:30 p.m.; donation appreciated). Dive into energetic Christmas music arranged in a swing and modern jazz style and performed by a 17-piece swing band.
Conducted by Bob Swayze, this retro affair promises jaunty renditions of "Away in a Manger," "Christmas Bells are Ringing, "Oh, Holy Night," "Frosty the Snowman," "Silver Bells," "Sleigh Ride," "Winter Wonderland," "White Christmas," and "Santa Baby" all jazzed up and ready to bop. Put on your best dancing shoes, and shimmy your way to Unity Chapel of Light Church, located at 1165 Stubblefield Road in Orcutt for this blast from the past.
Folksy fun
PHOTO COURTESY OF ERIN INGLISH
DOS DUOS: Songwriters at Play is gearing up to present two contemporary folk duos at D'Anbino Vineyards and Cellars on Dec. 12 including Erin Inglish (pictured).
If you like the idea of alternative soul, flamenco, funky blues, and rock 'n' roll blended into a soulful smoothie, this show is most certainly for you. Songwriters at Play presents Luis Oliart and Debra Windsong for a unique performance at Shell Café this Dec. 11, (6:30 p.m.; pass the hat), and it promises to be a danceable doozie for sure. Oliart has dazzled audiences at venues throughout the world, including BB King's, CBGB, Hard Rock Cafe, House of Blues, Key Club, Knitting Factory, The Bitter End, Troubadour and—you guessed it—Carnegie Hall. Windsong, locally famous for her soulful blues harmonica skills and lush vocals, is ready to fill your ears with sweet riffs and catchy grooves. It's all going down at 1351 Price Street in Pismo Beach (For more information, call 773-8300).
Double the folk for one low price? Yes, please! Songwriters at Play is also gearing up to present two contemporary folk duos at D'Anbino Vineyard and Cellars this Dec. 12 ($10; 7 p.m.): San Francisco's Misner & Smith and Central Coast darlings Erin Inglish & Dylan Johnson. Each duo will play a rocking 45-minute set, with a special guest opening at 7 p.m. Banjo goddess Inglish is always coming up with new collaborations—this time, she's accompanied by bassist and Cuesta College music professor Dylan Johnson.
Sam Misner and Megan Smith met as actors, first in a Shakespeare play, and later in the musical Woody Guthrie's American Song. The two have acted in the play over a hundred times around the country, and began to form a musical partnership based on a mutual love of roots music, and, in particular, harmony singing. Crafting songs rich in meaning and texture, Misner & Smith's sound is anchored by their unique vocal harmonies and evocative lyrics.
Reservations are recommended. Call 227-6800, Ext. 700. Oh, and come hungry! Food service begins at 6 p.m. sharp.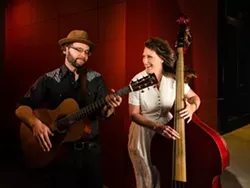 PHOTO COURTESY OF SONGWRITERS AT PLAY
TWO VOICES, ONE SONG: San Francisco's Misner & Smith love to rock the harmony. Catch their roots set at D'Anbino Vineyard and Cellars on Dec. 12.
More music …
Trini Lopez is a pop icon. The "If I Had a Hammer" crooner has rubbed elbows with Frank Sinatra, toured Paris with none other than The Beatles, and claimed more than a dozen Top 40 hits since 1963. Now, he's working with local singer/songwriter Joe Chavira on a new album which will be recorded right here in SLO County (keep your eyes peeled for an upcoming 2015 tour).
Also be sure to catch Lopez performing with Chavira on the UNITYshoppe Celebrity Telethon from 4 to 8 p.m. on KEYT News Channel 3 in Santa Barbara and online at unityshoppe.org/telethon this Dec. 13.
Glen Starkey is taking a much-deserved vacation. Continue to send your music news to gstarkey@newtimesslo.com.