"First is the worst. Second is the best. Third is the nerd with the hairy chest."
It's a schoolyard taunt that's haunted some of us down the years. Forget that there are just about as many variations as there are schoolyards. Forget that it was chanted by kids who were basically sore losers. And forget that it's essentially nonsense. Think, instead, on the nugget of hope this simple rhyme offers.
In this rat-race-paced, success-driven, win-at-all costs society, is being first really so great? The winners will give an affirmative, sure, but what about the runners-up?
This week, New Times decided to nudge the spotlight a couple of feet back to put the attention on the second-placers, the competitors and list-makers who are repeatedly passed over for interviews and attention merely because they're not in the top spot. After all, just because they're not No. 1 doesn't mean they're not noteworthy.
And at least they didn't come in third.
---
Fast on her feet: The No. 2 cross-country runner
In a world where athletes call for their teammates to pass the ball and slap each other's hindquarters after a good play, long distance running especially cross-country, which draws runners up long hills and roads with nary a spectator in sight seems like a lonely sport.
And if you're one of the hundreds of cross-country runners who doesn't happen to be Mission College Prep's Jordan Hasay, it may seem even lonelier still.
PHOTO BY STEVE E. MILLER
GOING THE DISTANCE : Junior cross-country runner Karlee Owens has a level head, talent, and a team she loves she doesn't need to worry about running in Jordan Hasay's shadow.
# Since emerging on the high school cross-country scene in 2005, Hasay has dominated both races and headlines, winning regional and national championships. With her tendency to take off at the beginning of each race, most competitors can't even see Hasay's shadow, much less compete in it. Her feats of athleticism have so thoroughly garnered the focus of the county's cross-country fans, it's difficult to establish an obvious second place runner. Local coaches mention runners like Paso Robles' Lauryn Bedell and SLO's Julia Uytewaal. Another name that you frequently hear is Karlee Owens, the Arroyo Grande High School runner who qualified for the CIF finals as a freshman.
As a sophomore, Owens placed third in the PAC-7 league championship at Cuesta College with a time of 19:26. She concluded her season by placing seventh in her heat of the Southern Section Division II preliminaries with a time of 18:25. She missed advancing to the finals by a single place, but her performance earned her a place in DyeStatCal's first-team All-State Soph Girls Squad for 2006 a place she shares with Hasay, who's listed as the group's leader.
In addition to an obvious natural talent for long-distance running, Owens shares some uncanny similarities with the county's hare-like young runner. Despite the fact that Hasay attends school in SLO, she's an Arroyo Grande resident, making Owens and Hasay neighbors. More importantly still, both are embarking on their junior year season, giving them four more seasons two for cross-country and two for track and field to make an even greater impact on the long-distance running scene. And both became serious about the sport in seventh grade, primarily as a result of having athletic parents and an active upbringing.
But Owens isn't worried about the possibility of running in Hasay's shadow. For one thing, the two aren't competing in the same league or even the same section. Mission College Prep competes in the Central Section while Arroyo Grande High School participates in the Southern Section. For another, Owens is a team-oriented runner, focusing as much on her team's goals as her own athletic aspirations. This season she hopes to qualify for state, and in order to achieve that goal she took advantage of downtime during the summer to put in some additional mileage. But she also wants her team to qualify for CIF finals, a feat they almost accomplished last year.
Regardless of whom she's pounding the track against, Owens insists that she wants to run her own race. With an athlete like Hasay, Owens knows she's going to run out at the beginning of the race, and she needs to remain focused on her own strategy. And it doesn't hurt that the levelheaded runner has made a discovery that many athletes go their entire lives without making how to push herself toward a goal while enjoying herself.
"Running is just a good part of my life, and it keeps me healthy and relaxed," Owens said. "Our team is so fun to be around. It's like a family and I hope we go far together. It should be a good year."
- Ashley Schwellenbach
---
Fight! Fight! Fight!: The No. 2 ass-whooper
On the midnight hour of Halloween, the second-best professional pound-for-pound fighter in San Luis Obispo County (behind former UFC light heavyweight champion Chuck Liddell) could be seen celebrating the holiday in downtown SLO wearing a dress.
With his fingernails painted black, tattoos covering his thick neck, and his muscular body clad in a French maid's costume, Antonio Banuelos may have looked like he came out of a scene from a modern remake of The Rocky Horror Picture Show.
Yet talking trash to the 5-foot, 3-inch, 135-pound, sometimes cross-dressing fighter would be a big mistake. The former Cal Poly wrestler now fights people inside of a locked cage for a living and has been terrorizing his opponents for the better part of the past six years.
And because of his 14-4 mixed martial arts record and flamboyant style, Banuelos has risen to the top of a talented Pit Fighting Team, which includes Ultimate Fighting Championship veteran Jason von Flue, K-1 kickboxing contender Scott Lighty, World Extreme Cagefighting competitor Cruz Gomez, and North America's No.1 ranked women's kickboxing contender Christina Martin.
"He's a dynamic wrestler with explosive moves and is always in top shape," Banuelos' trainer, John Hackleman, said of him. "But the thing that sets Antonio apart is his colorful personality."
"He always jokes. He calls me a crossdresser," Banuelos said. "Every Halloween, I dress up like a girl. For my birthday we got a little thing where everybody dresses up in suits, and I wear a dress. I don't know if that's a problem, but I like it."
Banuelos also likes pummeling his opponents.
With an array of mixed martial arts techniques, a strong wrestling background, and an improving jiu-jitsu game, no one would question if Banuelos sought a win via submission every time he set foot inside the cage.
But out of his entire fighting arsenal, the 135-pounder favors a knockout.
"I love to just blast off," Banuelos said cheerfully.
One of his signature moves is when he picks a guy over his head, looks in the corner for Hackleman and good friend Liddell the undisputed No. 1 ass-whooper in SLO County runs the guy over to them, slams him down, and starts beating him right in front of them.
"It's like the cat bringing the mouse back to the house," Hackleman said.
With moves like that, many fans may wonder why Banuelos isn't fighting in the UFC. The reason: The UFC's current lightest weight class is the 155-pound lightweight division.
"He'd be in the UFC right now, but they don't have his weight class," Hackleman said. "He's that caliber."
Banuelos initially got involved with mixed martial arts in 2001 shortly after his falling out with collegiate wrestling. A pair of friends persuaded him to train with them at The Pit in Arroyo Grande. After his first training session, a sadistic love affair was born and within four months Banuelos had his first fight, in which he posted a technical knockout over his opponent.
Though Banuelos has upgraded from fighting under the Central California Valley sun to sprawling underneath bright Las Vegas lights, his journey isn't yet complete.
"I want to be the best 135-pounder in the world," Banuelos said. "I'm only 27 years old. I want to take this as far as my body and mind will let me. This is my life and this is what I want to do."
- Kai Beech
---
Home is where the stuff is: The No. 2 Highway 1 eccentric home tour
The two grungy toilets perched next to the "Next Tour" sign are an early indication that things aren't quite as, let's just say "pretentious," at this home tour as they are at the slightly more famous one a bit farther up Highway 1.
In fact, at first glance Nitt Witt Ridge looks just like a pile of
PHOTO BY STEVE E. MILLER
A MAN'S HOME IS HIS CASTLE : Mike O'Malley demonstrates how Nitt Witt Ridge reflects its creator's eccentricity, like Hearst Castle a-ways up Highway 1, but with more toilet seat de cor.
# junk, which, it turns out, it essentially is. But at second glance it becomes increasingly fantastic if a little creepy and at third glance it's just completely astounding. That's about when one comes to realize that the home, just like Hearst Castle, was built by an eccentric and possibly mad man with not just a vision, but the commitment and the means to make his strange vision a reality. Except that Art Beal was as poor as Hearst was rich and he built his masterpiece with his own hands. He was once Cambria's official junk collector, and it's said that he never made a trip to the dump. He didn't have to, because all of his collections ended up in the walls and hillside of his creation.
Take the tour really, take the tour and you quickly come to the opinion that the meandering, Seussian building seems to be constructed of one part abalone shells, one part beer cans, three parts cement, and 187 parts random bits of mid-century rubbish. I didn't even mention the toilet seat photo frames.
Art Beal is dead now, but he lived in the house until he was 92, alternately greeting gawkers with friendly banter or angry fists, depending on his reading of their character and the number of Busch-brand building materials he'd consumed that day.
At least that's according to Mike O'Malley. Mike and Stacey O'Malley own the place now, but they aren't allowed to live there. Really, you wouldn't want to. There's no electricity and no water anymore. It's not exactly up to code.
The couple bought the place in 1999 for $42,000, but that's maybe not the deal it sounds like, since, because it's an official California state landmark, it can never be torn down and the county has turned away O'Malley's efforts to subsidize its upkeep by selling T-shirts and the like.
Thus Mike O'Malley gives tours daily beginning at 10 a.m. (those traveling a-ways are encouraged to call first: 927-2690) but asks only for donations in exchange for a funny and fascinating 45-minute walking tour.
After sitting abandoned for 10 years, the house needed a lot of work just to make it habitable again, and there has to be something of the eccentric in a person just to be willing to do the work. But Mike O'Malley still seems fascinated by the man who built the house, which has a few items that are believed to have been taken out of Hearst Castle itself.
"Art Beal was a rebel, but not in a negative way," he said. "Howard Hughes was a rebel too, but he did some bad things in his life."
Oh, and what does Nitt Witt Ridge look like at fourth glance? A pile of junk again. But a great one.
- Patrick Howe
---
It's not easy being green: The No. 2 county crop
Wine: It's the be-all, end-all of county agriculture. Locals love it, visitor and convention bureaus parade it, and tourists taste it by the gallon. Wine grapes alone account for just shy of a quarter of San Luis Obispo County's overall crop value, pulling in $151,990,000 in 2006, according to a recently released annual report from the county's Department of Agriculture/Weights and Measures.
Behind the ubiquitous wine grape, however, sits the county's second most valuable crop. At first glance, broccoli may not seem to be as sexy as the festive and fruity front-runner, but the green vegetable has a family history that puts all other agricultural competitors to shame.
Forget the fact that broccoli brought $64,044,000 into the county in 2006. Forget that a new UC Berkeley study potentially attributes even more immune-boosting powers to the plant than anyone originally thought. And definitely forget that George Bush, Sr., made headlines by talking about how much he hated it.
PHOTO BY STEVE E. MILLER
EAT YOUR VEGETABLES : Broccoli pulls in big bucks in SLO County, though not as many as wine grapes. Still, the green vegetable has its fans, especially along the Pacific Rim.
# To truly appreciate how suave broccoli is, one merely needs to explore its roots historically, not literally. Though dismissed by some "historians" as an urban legend (Wikipedia writers, we're looking at you), broccoli's storied past has been traced to the Broccoli family, whose notable son, Albert "Cubby" Broccoli, produced 17 James Bond films in his lifetime. The man who talked United Artists into investing resources into Dr. No and a basically unknown actor by the name of Sean Connery was building on an enterprising family history that, according to some legends, involved Italian ancestors crossing cauliflower with something green (rabe? peas?) to create the tree-like crop we know so well today.
Even if that story is apocryphal, locals can't argue with the numbers. Forty growers harvested more than 11,000 acres of broccoli in the county last year. According to Bob Lilley, agricultural commissioner for San Luis Obispo County, broccoli has another characteristic that makes it stand out locally.
"It's very unique, because it's the only vegetable that we grow 12 months out of the year," he said, noting that with help from Santa Barbara and Monterey counties this area grows most of the broccoli produced in California.
Lilley attributes the vegetable's success to its shelf life, as well as its exportability. Pacific Rim locales, mainly Japan and Taiwan, pay top dollar for local broccoli.
International appeal and a connection to 007 may not be enough to elevate broccoli to the top of the county's ag report, but it's enough to garner a nod as the second-place crop.
- Ryan Miller



---
A tough call can we try another?: The No. 2 brewer
With a barrel full of awards and a mass of devoted fans, Paso Robles' Firestone Walker brewery is easily the dominant player in the local brew scene. So who's No. 2?
Locally, three breweries have risen to the top of pint glasses across the county. That's right, I said three.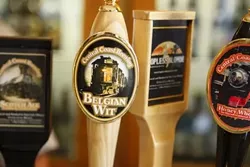 PHOTO BY STEVE E. MILLER
HAVE A PINT : New Times staffers had a hard time picking the beer to nip at Firestone's heels. Central Coast Brewing is one of three contenders.
# Though this may sound like a ruse to curry hops with all the area brewers so New Times staffers can get some free drinks, it's . heh, heh, heh.
Anyway, because of the vast variety of beer, we felt it necessary to separate the No. 2 designation according to three categories: production amount, brewmaster, and up-and-comer status.
PRODUCTION: Central Coast Brewing Company has recently purchased a load of beer-making equipment and is in the process of increasing its production six-fold from a four-barrel system to a 24-barrel system. The new equipment should make the brewery on Monterey Street the second largest brewery in the county.
The company came to be in 1997 when George Peterson, a Cal Poly alumnus and aspiring home brewer, went to acquire some brewing equipment from the then-closing Beer Factory.
"I went to buy a kettle and a bottler and the bank said they would like to sell the whole thing," said Peterson, who was working at the time as a car salesman. "It was scary. But, hey: No risk, no gain."
Peterson said that the brewery went through a five- to six-year period in which they were treading the financial waters.
That's changed. Now the brewery is expanding in an attempt to supply customers' demands.
"We're the farmer's market of beers," Peterson said.
BREWMASTER: Any beer enthusiast knows beer tastes best fresh from the tap, and one man reigns as the county kegmaster when it comes to local beer brewing: Steve Courier.
The current brewmaster of Downtown Brew has been brewing tasty beers for more than 15 years. According to the brewer's website, Courier has won several awards in connection with his work and is nationally recognized for his brewing skills.
"Steve's the best local brewmaster in this town, no question," said Will Cavanagh, a local wine tasting room manager who secretly loves the taste of beer. "His beers have a small-batch character with an intensity in flavor and balance. It's on the money when it comes to components."
UP AND COMER: Making a big splash in the local beer market is Cayucos Beach Ale. The story behind the beach brew is a Cayucos surf shop owner, Steve Hennigh, who decided there was a need for a beer for the local surf culture.
"I got into the surf industry so I wouldn't run out of surfboards," Hennigh said. "And I got into the beer industry so I wouldn't run out of beer."
What may have started as a way to quench one man's thirst in 2002 has evolved into a microbrew favorite among SLO County drinkers.
Now, more than five years since his first batch of beer was brewed, Hennigh has an estimated 80 accounts with local restaurants, bars, and liquor stores.
"We're going pretty crazy with orders right now," Hennigh said. "It was going to be a cult brand of microbrew, and I didn't think it had a whole lot of legs, but it just got bigger and bigger."
Hennigh credits the Cayucos Beach Ale's success with the beer's unique labeling: a Native American woman sitting in a canoe, grasping the shaft of a paddle, with a barreling wave breaking behind her during a picturesque sunset. The product itself helps too.
"It's a premium craft beer," Hennigh said. "It's well received around the coast because it's very clean and crisp."
Which one's really No. 2? Maybe the answer will come with one more round.
- Kai Beech
---
Send comments or suggestions to the editor at rmiller@newtimesslo.com.