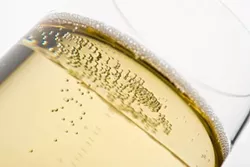 PHOTO BY STEVE E. MILLER
UNCORKED : Local winemakers share their favorite bubblies, just in time for New Year's Eve—not that you need a holiday as an excuse to open a bottle.
I never tasted real Champagne until I was hired by Wine Spectator's tasting coordinator in 1989. Suddenly, I was tasting the stars, as the Benedictine monk Dom Perignon is often quoted as saying, from the finest Champagne houses in France. I tasted vintage Champagnes bearing prestigious names like Krug, Dom Ruinart Rosé, Dom Perignon, and Roederer Cristal. Prices for their finest cuvees in a normal 750/ml bottle started at more than $150 and rose to astonishingly high prices, some at $370 each. I wish I could still drink those wines annually, but they're way beyond my budget. And unlike Wine Spectator magazine, I don't get free samples of those. Sigh—I really miss that job. Dom Perignon and Roederer Cristal are sold at BevMo!, priced $129.99 and $199.99, respectively.
To clarify the difference between Champagne and sparkling wines: Only wines from the Champagne region of France are labeled "Champagne" because they're grown and produced there. Although it's not a law everywhere, winemakers around the world respect the original French Champagne houses by labeling their sparkling wines differently even when they're produced under the same high standards used by the Champenoise. Californians call it sparkling wine, Germans call it sekt, Italians call it Spumante, and the Spanish call it Cava.
Although fine Champagne is unaffordable for most Americans, you can find reasonably priced alternatives. Like most wine connoisseurs I know, we can always find pretty decent sparkling wines that are good buys. Admittedly, on New Year's Eve or any other special day, we splurge a bit more for a taste of the better ones. I recently called on local winemakers who share my love of sparkling wines, and they provided many good values in local markets that I haven't yet tried but will soon. Here are their recommendations for celebrating the arrival of 2011. Why not grab a couple extra bottles while you're at it, to enjoy with brunch on New Year's Day? If there's one dish that makes me crave Champagne or sparkling wine, it's eggs topped with hollandaise sauce.
Winemaker Lane Tanner, who makes wine under her eponymous label in Santa Maria Valley, had a good value wine to recommend: "Rick and I are drinking Santa Julia Brut Rose, it's only $12." Tanner and her husband Ariki "Rick" Hill, who makes Labyrinth Wines, found the non-vintage (NV) bubbly at 15 Degrees C in Templeton.
"The Santa Julia is fruity and really clean, but not sweet at all. I thought it was a pretty good Champagne and it amazed me when I found out it's from Argentina," Tanner said.
When asked what she was pairing with it, she amazed me: "I'm serving it with some seriously hot chicken wings. They're basically pure butter and fiery goodness. The bubbly cuts through the beautiful, oily butter and refreshes your palate for the next wing."
Winemaker Paul Lato, who also makes wines under his name, was formerly a sommelier in Toronto before relocating to the Santa Maria Valley to become a winemaker. He provided two good selections, a bargain-priced Spanish Cava and a special occasion Champagne.
"I really like the Segura Viudas NV Brut Reserva for good value; it has been my favorite for several years," Lato said. "It's uncomplicated and best enjoyed with strawberries and your lover in a warm bath."
When it comes to Champagne, however, he's willing to spend more for quality: For a truly nice wine, buy the Billecart-Salmon Champagne NV Rosé. It's available in finer wine shops. The Cava and the Champagne, both currently on sale at BevMo!, are priced $6.99 and $59.99, respectively—normally $8.99 and $99.99. If you can afford the Champagne, this is a great time to buy it.
"The Rosé is much more complex and very good on its own," Lato noted. "I like to drink Champagne at the start of a good dinner, and I like to finish dinner with Champagne instead of dessert."
Augie Hug, owner and winemaker of Hug Cellars in Paso Robles, said his go-to Champagne is always Veuve Clicquot NV Brut Rose, available at Bistro Laurent Wine Shop in Paso Robles for $60.
"I'm a traditionalist when it comes to food and wine pairings," Hug said. "I love four cheese raviolis with butternut squash sauce spiced with nutmeg. The Rosé cuts through the sweetness of the squash, and the nutmeg complements the spice in the wine. This is also very good for cioppino, a dish I usually make on holidays."
In Edna Valley, Chamisal Vineyard winemaker Fintan "Fin" du Fresne picked two sparkling wines. "I really like a classic Australian sparkler, so I buy Jacob's Creek NV Sparkling Brut. It's much better than many at the price of $7.99, and I prefer it as an aperitif," Fin explained, adding that it's available at BevMo!. "But with food I prefer something you spend more money on for body and character. I recently tasted the Laetitia 2006 Brut de Noirs. It's 100 percent Pinot Noir that spent more time on the yeast because it's a vintage wine. It's got a richer mid-palate and the classic blanc de noirs character, much like Rosé. It would pair well with something classically paired with Pinot Noir like salmon or ahi, but definitely not with oysters."
Available at Laetitia's tasting room on Hwy. 101, at $28 retail it's a very good buy compared to Champagne.
Red Zeppelin winemaker Stillman Brown, who tasted wines with the deceased Chef Wilhelm "Bill" Hoppe for his Cayucos bistro, recommended a New Mexico bubbly for its value pricing: "I still really like the Gruet NV Blanc de Blanc, although it's a little more expensive."
It's $17.99 retail at DePalo & Sons in Shell Beach. When asked what he likes to eat with it, Stillman quipped: "You know I'm not into the food and wine thing. If I'm hungry, I just open another bottle."
I must admit, I don't need a holiday to inspire me to open bubbly. There's always a bottle in my fridge, ready at a moment's notice.
Reach New Times Cuisine columnist Kathy Marcks Hardesty at khardesty@newtimesslo.com.