A dog can be anyone's best friend, not just man's. They befriend men and women, children, other dogs, and sometimes even cats.
The incredible mindset and temperament of the canine is the subject of A Dog's Life, currently showing at the Great American Melodrama in Oceano, which explores the subject with wit, humor, music, and heart.
A Dog's Life—written by Sean Grennan with music by Leah Okimoto—shows through late April at the Melodrama. Theatergoers have more than a month of performances to make it out to the show, so there are no excuses for not catching this one, especially if you're a dog owner or have an affinity for the furry creatures.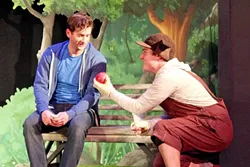 PHOTO COURTESY OF THE GREAT AMERICAN MELODRAMA
MAN'S BEST FRIEND: The Great American Melodrama's production of 'A Dog's Life' is a comedic heartfelt look at dog ownership and how canines may very well see the world.
The story takes a small cast, and that's because of its central focus on one dog, Jack (Tim Stewart), and his journey from the animal shelter to a real connection with human Joel (Jeff Salsbury). While hoping for an adopter to enter the pound, Jack spends time talking with two other dogs, simply named Big Dog (Philip Bolton) and Little Dog (Mia Mekjian), in the program.
These two, a Doberman and a terrier, couldn't be more different, and they highlight how plain Jack is. Jack is somewhat of an "every dog," and reveals that in a great song when Joel comes into the shelter looking to adopt. He doesn't fetch, doesn't do tricks, and can't sit and stay, he explains with a carefree tune. Of course, Joel doesn't understand a word of it, nor does Jack understand Joel. This is a fun trope used throughout the play, and Stewart and Salsbury build quite the rapport as the initially frustrated owner and the doe-eyed dog. Stewart also has a fantastic singing voice and gives Jack a playful innocence.
Once adopted, we get to enjoy the minutia of dog life through Jack's eyes, always in comedic scenes and song. Riding in the car, going for a walk, fetching in the park, digging in the trash, and more, all get their moment. The show is actually arranged in short scenes, all of which are punctuated by moments of darkness, allowing scene changes in which pre-recorded quotes play through the speakers—always relating to dogs, of course.
The Great American Melodrama exhibits a close relationship with PCPA resident artists in this production, as local theater fans will recognize Erik Stein's voice reading the quippy, often ironic quotes. Michael Jenkinson, another PCPA resident artist, directed the show, evident in the number of well-choreographed dance numbers in the musical scenes.
Many of these dance-filled musical numbers are performed by Big Dog and Little Dog (Bolton and Mekjian), who are adopted by the same owner, even though they hardly have anything in common. Bolton and Mekjian are delightfully funny and talented singers and dancers, illustrating the hilarity of a dog-on-dog relationship.
CATCH THE SHOW: The Great American Melodrama presents its production of A Dog's Life followed by Please Stand By … A Television Vaudeville Review, showing Wednesdays through Sundays through April 24 at the theater on Highway 1 in Oceano. Cost is $19 to $25. More info: 489-2499 or

americanmelodrama.com

.
The tale truly does span Jack's life, through all its decades of dog years, and we get to see our beloved characters go gray in the fur. When the inevitable happens, tears flowed freely at the Melodrama, certainly more so among the dog owners in the crowd. We see Joel grieving in the park when he makes a connection with a woman he sees there often, Annie (Leah Kolb), who hasn't had a dog since she lost her little fur ball years before. It's a heartfelt moment, one that genuinely captures how powerful a canine companion can be.
To dry up the eyes and get the audience laughing again, the Great American Melodrama continues its tradition of the closing Vaudeville Review, this time with Please Stand By … A Television Vaudeville Review, which showcases the cast's multi-talented abilities, from song to dance, and ensemble comedy to monologue. All the while, pianist Kevin Lawson is ready with the tunes, accompanying more than just the singing.
For those with an affinity for pooches, the Melodrama's current production is a must-see, and for everyone else, it's a fantastic time as well! It just goes to show how versatile the little theater in Oceano is, eliciting laughs one moment, tears the next, and keeping an audience entertained for hours with fantastic live performance.
Joe Payne, arts editor for our sister paper the Sun, cried like a baby when thinking about his lost dog Pepper. Contact him at jpayne@santamariasun.com.