Grom is a term for a young surfer. Short for "grommet," it implies some level of inexperience but not in a bad way. Groms often have a rosy outlook that more experienced surfers wish they still had. To say "Lil' Grom," then, might seem redundant, but the downtown shop actually carries surf and skate accessories for infants and toddlers prompting the brand's first slogan: "It's always overhead to me."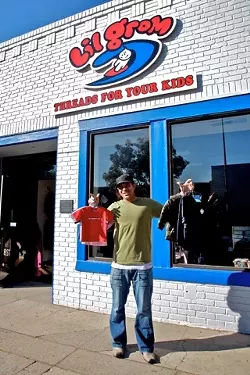 PHOTO BY JESSE ACOSTA
FOR KIDS ONLY : Lil Grom owner Lonnie Zavala serves up style for the little guy.
# In addition to its own line of clothes, Lil' Grom offers board shorts and hoodies by Quicksilver, Independent, and Santa Cruz Dot labels all the way to size 7, but is growing to fit kids as old as 12. Also on the way is a wetsuit trade-in system. Parents can buy one suit at regular price and trade up every year for a new suit at a reduced price.
Owner and Central Coast native Lonnie Zavala and Santa Cruz-based partner Jennifer Sears started the Lil' Grom line and, eventually, stores in SLO and Santa Cruz because they couldn't find clothes for their own kids. The line now includes hats, beanies, hoodies, onesies and T-shirts bearing messages like: "Born to rip" and "My Mommy surfs better than your Dad" reinforcing that the shop's not just for boys.
The inspiration for the store, 2 1/2-year-old Kai, is now a proud big brother. Since the arrival of Noe Bella less than a month ago, we can expect to see more products with girls in mind. A shirt that says "Skateboarding is not a crime" or "Born to rip" may be fitting for your Grommette, but many parents do take a softer approach to dressing their girls. Cute shirts and skirts from Roxy and Tiki Baby, as well as pink Ugg-style booties and clothes from local brands can be found in softer colors, too.
Designer baby clothes may seem a little like consumer training pants, but Lil' Grom has specially designed boards as well, so the products don't just promote brand imprinting, they promote lifestyle training.
"We really want the store to stay true to the surf, skate, and snow board culture," Zavala emphasized, adding that all products are high quality and many come from local companies.
In addition to the spongy short boards they already carry, at least one local shaper has signed on to make a kid-sized surfboard. Local skateboard maker Rootamental is making a smaller deck for kids, and Forever Stoked, Central Coast's favorite surf art collective, has also supplied the store with a line of onesies and T-shirts branded with some of their more playful designs.
If you have kids, you've probably learned that taking them shopping can be a traumatic ordeal. Zavala hopes to ease the pain by offering a play area, complete with movie projector, so kids can hang out while you shop. Stop by Lil' Grom at 782 Marsh Street in SLO, and bring the kids. For more info, call 543-9900 or visit www.lilgrom.com.
Kylie Mendonca compiled this week's Strokes and Plugs. Send your business news to kvelie@newtimesslo.com.