PHOTO BY STEVE E. MILLER
FEELING THE SQUEEZE : With water tables dropping, many wine-grape growers are making an effort to irrigate less often. Some are using "pressure bombs" to see just how much water squeezes out of the leaf stem.
When more than 40 North County wine-grape growers gathered at a Paso Robles tasting room on a sunny morning earlier this month, the topic on their lips was not the quality of this year's harvest or the plans for the latest wine event. Their focus, instead, was deep under their feet.

Once thought to hold an almost-infinite abundance to keep North County faucets flowing for hundreds of years, the vast underground water basin is now showing surprising signs of stress. Well drillers are busy punching deep down to replace wells gone dry at rural ranchettes east of Paso Robles. A worrying "cone of depression" sits under the vineyards and golf courses along Highway 46 East, where groundwater levels have fallen as much as 70 feet. City-dwellers who sprinkle their yards too often are hit with a $100 fine, as Paso Robles has been forced to close down some of its wells because of declining production and poor water quality.

In the third year of a severe drought, water supplies are a concern throughout San Luis Obispo County and much of California. But in the North County, instead of the usual finger pointing and arguments about who's sucking too much from the underground basin, a new spirit of cooperation is rising as water levels fall.

"You know the old adage, 'Whiskey's for drinking, water's for fighting over,'" said James Caruso, a SLO County planner who's been studying the issue. "It's almost a lovefest now, with everyone saying, 'We need to do something.'"

Nearly 30 percent of SLO County residents rely on the extensive Paso Robles groundwater basin, which lies under Atascadero, Templeton, Shandon, Creston, and San Miguel, as well as Paso Robles. The 790-square-mile underground aquifer also supplies 40 percent of the county's agricultural production.

With so many straws sucking away the water, the basin is close to a once-unthinkable tipping point, when it won't recharge as much as it's pumped. Already the total pumping is estimated at 90 percent of the basin's yield. And according to documents prepared in 2007 to win a state grant for a groundwater management plan, "Overdraft is forseeable (estimated within five years)."

"We've had the rural areas pointing their fingers at agriculture, agriculture pointing at urban areas, and urban areas pointing at rural areas. But we're all in the same boat," said SLO County Supervisor and former Paso Robles mayor Frank Mecham.

"Water is a key issue not only for this county but also for the state, and the world. People have been saying, 'If we go to war over oil, why not a war over water?'" he added.
The North County's new emphasis on working together is designed to prevent the type of fighting seen in the South County, where water users in Nipomo and Santa Maria have endured decades of costly courtroom battles and "the only ones who win are the attorneys," Mecham said. Judges in the South County water war have now called for cooperative management of the Santa Maria groundwater basin, a decision which has helped inspire North County water users to take action now—before lawyers and judges step in.

Traditionally, local groundwater users have kept information about their pumping rates close to the chest. Under California law, landowners have a right to unlimited use of the underlying water, without any monitoring requirements or other government intervention. That makes the area vulnerable to a "Tragedy of the Commons" situation, where what belongs to all is cared for by none.

But vineyard owners in the Paso Robles area are bucking tradition. Working in cooperation with the Paso Robles Wine Country Alliance and the University of California Cooperative Extension, the 41 local wine-grape growers who met earlier this month have decided to share their irrigation records, as long as their anonymity is protected. Mark Battany, an agriculture specialist with the Cooperative Extension, will install monitoring devices on each vineyard's irrigation systems for an unprecedented three-year study, designed to show exactly how much water all those wine grapes are using.

As Mecham put it: "We need to know what we have, what we're using, and collectively put our heads together to determine how to best use it."

One recent pumping study of the Paso Robles groundwater basin by Todd Engineers showed that in spite of the green sea of leafy vines along Highway 46 East and beyond, vineyards are using just 20 percent more underground water than the thirsty alfalfa fields they've replaced over the last two decades.

Today, many wine-grape growers are using much less water than in the past, when "they were basically selling water in a grapeskin," as well-driller Kurt Bollinger, president of Miller Drilling in Templeton, described it.


PHOTO BY STEVE E. MILLER
BIG BASIN : Covering 790 square miles, the Paso Robles groundwater basin supplies nearly 30 percent of county residents and 40 percent of county agriculture.
These days, according to Steve Lohr, vice president and chief of vineyard operations for J. Lohr Vineyards & Wines, "We think very hard about the amount of water we use. If we use too much, quite frankly, the grapes don't taste that great."
Vineyards were once irrigated with as much as two acre-feet of water per acre of vines, or enough to cover an acre with 24 inches of water. Now, thanks to water-conserving practices throughout the Paso Robles area, in some vineyards it's down to 12 inches per acre, or one acre-foot.
Vineyards outside the Paso Robles groundwater basin are also feeling the squeeze. In the Adelaida area west of Paso, vineyard wells are using "ice age" water, deposited during Pleistocene times, according to Cal Poly Soil Science Professor Thomas Rice. "When you use it, it's gone," Rice said, adding that he knows of half a dozen wells in the area that have gone dry in the last couple of years.
At J. Lohr and other vineyards, conservation-minded growers use "pressure bombs" to determine exactly how much water their vines need. They pick a grape leaf along with its stem, put it in a small gas chamber, and apply pressure until water squeezes out the stem. "We can tell how much stress the grape vine is under—it does better under a little stress. Then we know exactly how to keep the irrigation level to a moderate stress," Lohr explained.
They also rely on moisture sensors in the soil, placed at 12 inches, 24 inches, and 36 inches deep. With just seven inches of total rainfall last winter at J. Lohr's Highway 46 East vineyards—half of the average amount—the moisture sensors provide valuable information about what's happening in the soil, a conservation technique that Lohr said could also be applied in homeowners' yards.
In wineries, too, there's a new water-saving ethic in evidence. At J. Lohr, hoses have been fitted with high-pressure, low-flow nozzles that spray seven gallons a minute instead of 20. Winery workers use squeegees, rather than water, to remove grapeskins on the floor. Barrel washing nozzles have been replaced and hose-flushing practices have been modified.
Treated wastewater from the winery is reused in the vineyard, sprayed between the rows to keep mite-inducing dust down and thereby reducing pesticide use. Under an incentive plan, when winery workers keep water use under the daily goal, they're treated to a free lunch.
"It's all about behavior modification," Lohr said, adding that their winery has cut water use down to 1.2 gallons for every gallon of wine produced, compared to an industry-wide estimate of seven gallons of water per gallon of wine.
In the rural residential areas east of Paso Robles, however, no one knows if water conservation techniques are being implemented. No lot-by-lot pumping records are collected and no water meters are in place. But the evidence indicates that wells are going dry at a record pace in the Jardine and Geneseo areas, forcing some residents to spend an estimated $20,000 each for deeper wells.
Homeowners are reluctant to talk about their well levels because of concerns about declining property values if word spreads. As one said privately, "Who wants to buy a house with no water?"
PHOTO BY STEVE E. MILLER
WATER CONSERVATION IN ACTION : Steve Lohr (right) of J. Lohr Vineyards & Wines shows Cal Poly intern Katherine Malin (left) how to use "pressure bombing" to determine irrigation schedules.
But an anonymous 2007 posting on the website of Dry Creek Neighbors for Responsible Growth, a group of residents of the rural community of the Jardine and Dry Creek area, tells more of the story. "I personally know five people other than myself that have had to drop their wells … all in the Jardine area. Think second mortgage," it states. Another declares, "We are running out of water."
Bollinger of Miller Drilling, whose drilling rigs have been kept busy installing deeper wells in the area, said he's heard of cases where people couldn't afford to drill a new well and had to give up their homes.
"You've got Grandma out on Jardine Road and her well dries up. It's not her fault," Bollinger said, adding, "I'm for property rights. If I buy a piece of land, it's my right to drill down and use all the water I want. And I don't want government looking over my shoulder."
County planners receive several calls a month from homeowners in that area whose wells have gone dry, according to Caruso. Supervisor Mecham is also hearing from rural residents who wake up to find they have no water. "Most folks who live in the rural area don't know where their water is till their well runs dry," Mecham said.
Even the county Public Works Department's water resources engineer, Courtney Howard, doesn't know what's happening with her Jardine Road well, although she admits to being "nervous."
Mecham is hoping to convince rural residents to help with groundwater management efforts by sharing their pumping data. "It may take me walking through the minefield and approaching them, but it's their individual right to participate or not. That will be one of the most challenging areas," he said.
Within the city limits of Paso Robles, water conservation efforts are starting to catch on. After city councilmembers passed an emergency ordinance in spring, residents have been required to cut back on the amount of time sprinklers can run in their yards. Summertime water use has traditionally been four times higher than wintertime use, although Water Resources Manager Chris Alakel said this summer's usage is down by around 20 percent, with only a few fines issued for improper use.
"The cheapest source of water is water conservation," Alakel said, adding that city officials are working on a water conservation plan that may include the use of reclaimed water for golf course irrigation, limitations on turf installation for new development, and a "cash for grass" program for homeowners who rip out lawns. City voters will be asked in November to approve a new water rate structure that rewards conservation.
Atascadero Mutual Water District has had a conservation program in place for years, offering a variety of rebates—for high-efficiency washers and toilets, rainwater-harvesting cisterns, and replacement of lawns with water-conserving plants. "Conserve our water. It's not an option anymore," their website declares.
Both cities plan to reduce their groundwater pumping once the Nacimiento Water Project comes on line in a few years.
Still, the recent Resource Capacity Study prepared by county planners for the Paso Robles groundwater basin shows that the Atascadero sub-basin has already reached its perennial yield, based on pumping estimates in the Todd Engineers report. The resource study suggests that before the situation becomes critical, Atascadero should prohibit future subdivisions that increase water use.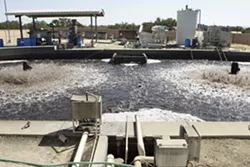 PHOTO BY STEVE E. MILLER
RECLAIMING AND REUSING : There's more emphasis now on using water more than once. J. Lohr's winery wastewater treatment plant produces reclaimed water that's used to keep dust down in the vineyards.
But the data are best-guesses that could use some refinement, and five water agencies have agreed to an unprecedented joint funding plan to do just that. County supervisors are expected to approve the plan on Sept. 22, calling on groundwater experts to calculate how much water has been coming in and going out of the basin.
"The county can't regulate individual users, but it can keep plugging away on a cooperative approach. It's a long process. It wasn't overnight that the problem happened, so we won't solve it overnight," Caruso said.
A $312,000 groundwater management plan for the entire basin is also starting up, aimed at understanding more about how much water is in underground storage and how it can best be used.
Lohr concluded, "I think it's fantastic to work together. Rather than pointing fingers, everybody is looking for solutions. That's what community is about—thinking about the greater good so there's enough for everybody."
National award-winning environmental journalist Kathy Johnston can be reached at kjohnston@newtimesslo.com.