Kiss those clamshell takeout boxes goodbye.
The Grover Beach City Council moved forward with enacting a ban on expanded polystyrene food and drink containers, as well as other products made from the material, at its regular meeting Jan. 8, joining four other SLO County municipalities that have enacted similar ordinances over the last two years.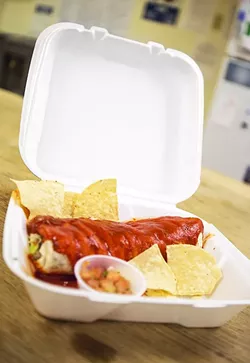 File Photo By Kaori Funahashi
FOAM FREE Grover Beach is set to join four other SLO County cities in banning the use and sale of expanded polystyrene food containers, plates, and other products
Grover Beach's ordinance not only prohibits the use of polystyrene containers for prepared food by restaurants or vendors at local events like the city's popular Stone Soup festival, but also bans the sale of cups, coolers, plates and other products by retailers like supermarkets.
Exemptions from the ban included polystyrene containers for raw fish or meat. The ordinance also contains language that allows businesses to seek an exemption from the ban if it causes them undue hardship, but they will have to get permission from the city to do so.
City Manager Matthew Bronson said that enforcement of the ban will work on a complaint basis and added that first-time violators will be able to pay for alternative products made from an allowable material in lieu of a fine.
"Our goal with this ordinance is to seek compliance," Bronson said.
The council voted 4-0, with Councilmember Debbie Peterson absent, to approve a first reading of the ban. It will come back to the council for final approval at their Jan. 22 meeting. If passed, local businesses will have six months to use up or get rid of their remaining stock of polystyrene items.
If it passes, Grover Beach will join the cities of SLO, Morro Bay, Arroyo Grande, and Pismo Beach, which have all passed similar ordinances. Bronson said Grover's ordinance is consistent with the other cities' bans.
Janine Rands, a member of the SLO Foam Free organization that lobbies many cities to enact the bans, said having the cities signed on could help open the door to push for a similar ordinance on a county-wide scale.
"We needed the Five Cities before we go to the county," she told councilmembers at the meeting.
Speaking to New Times, Rands said that the organization was still mulling when and if it would approach the county, citing uncertainties about whether some members of the SLO County Board of Supervisors' conservative-leaning three-member majority would support it. Δ