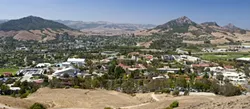 FILE PHOTO BY STEVE E. MILLER
WHEN IN DOUBT, EXPAND: Though Cal Poly's campus is already expansive, university officials said they'd have to add housing, programming, dining, and classroom space in order to accommodate President Jeffrey Armstrong's stated goal of 25 percent enrollment growth.
When Cal Poly President Jeffrey D. Armstrong stepped out on the Cohan PAC stage on Sept. 16 and boldly proclaimed that the university should add between 4,000 and 5,000 students by 2022, it was the start of an effort that will likely define the university's next decade.
While Poly's top brass is largely in lockstep with Armstrong, students, faculty, and SLO government officials have expressed mixed feelings about university expansion. Essentially, their concerns boil down to ensuring Poly's resources generated by such an expansion end up in the right places. To wit:
SLO City Councilman Dan Carpenter: "I want Cal Poly to participate financially in improving city resources in order to accommodate that growth."
Associated Students Inc. President Jason Colombini: "Students want to make sure they get the classes they need—that's the biggest priority—and we need to be focused on providing a net benefit to students."
Mechanical engineering professor and California Faculty Association Chapter President Glen Thorncroft: "Historically, enrollment increases have been on the backs of the faculty. We're already not paying our faculty enough, how is adding more students going to help?"
Though some stakeholders were more pessimistic than others, all expressed hope that, if executed properly, Cal Poly's expansion could be a boon for the entire city and university. For now, that's a giant, unresolved "if."
"I think it's important to note that we're talking about slow growth over a decade," said Keith Humphrey, Poly's vice president for student affairs. "Expansion is the way we can best serve the state of California, and it's a conversation that is moving forward."
When asked how the proposed 25 percent expansion in enrollment would affect the university's already-strained resources, Humphrey explained that the university wants to add resources: 5,000 new on-campus beds, along with more dining facilities, programming space, and classrooms.
"We want to absorb that growth on campus," Humphrey told New Times. "The demand for campus improvements is definitely there."
On the financial end, Poly's interim vice president for administration and finance, Stan Nosek, likened Armstrong's comments to another famous presidential declaration.
"It's kind of like Kennedy saying we were going to put a man on the moon by the end of the decade," Nosek said. "All the people who had to implement that were wondering 'Wow, what is that going to take?' and so are we."
Nosek said that California Gov. Jerry Brown's education-friendlier 2013 budget—in conjunction with Proposition 30 revenue and a substantial, student-approved "student success fee"—gave Armstrong the fiscal confidence to commence the expansion discussion.
Student body president Colombini said the fee—currently set at $210 per quarter per student—was a tough sell for some, but the 57 percent of students who ended up voting for the fee in 2012 did so because it injects cash into crucial areas with much greater efficiency than a system-wide tuition increase would be able to.
While many in the Cal Poly community are supportive of the proposed expansion, CFA president Thorncroft said that he's among the most skeptical of stakeholders, as are his fellow Poly faculty members.
"We always look at enrollment growth with incredulity," Thorncroft said. "It's unlikely there will ever be equivalent resource growth to make the student surge a net positive."
Thorncroft said he had mixed feelings because he believes in Poly's product and wants to make it more accessible. However, he said professors also want to see the promised resource growth fully realized and implemented before 5,000 new students flood the campus.
"Right now, students are crammed into classrooms and you can't even buy lunch on campus because the lines are so long," Thorncroft said. "The state needs to put its money where its mouth is first, and then we can grow.
"I just hope that we won't become victims of our own success. A quick expansion can really change the focus and quality of an institution—I think we have to be very careful with growth," he said.
On the city of San Luis Obispo's end, government officials are walking the same tightrope as ever. Cal Poly students, parents, and staff are a vital source of income for the city, but the university also puts a heavy strain on SLO's police and fire services, housing supply, and general infrastructure.
"My concern is that their enrollment will jump up before our housing supply can increase," councilman Carpenter said. "I'm generally supportive of expansion as long as our neighborhoods are protected and not denigrated."
Carpenter said the city has been on the receiving end of the "you should do whatever we want because we bring you money" mantra from previous Poly administrations, but that message has been diminished during Armstrong's tenure.
"It's changing," Carpenter said. "I think Armstrong will participate more in growing these city resources."
Staff Writer Rhys Heyden can be reached at rheyden@newtimesslo.com.