Rated: R | Where? Streaming on Netflix
When you mention the name of famed filmmaker Sam Rami, you're likely to remember him one of two ways.
The first is as the young, ambitious "indie-before-there-was-an-indie" filmmaker who, along with his college buddies and very little cash, birthed the frantic, gory, and bizarrely comedic Evil Dead horror film series in the 1980s. If you're younger or a comic fan, Rami's name also rings a bell, as he directed the first three Spiderman films beginning in the early 2000s.
Darkman, released in 1990, isn't considered one of Rami's most successful or best films, but it does combine the director's legendary love for monster movies with a classic superhero saga.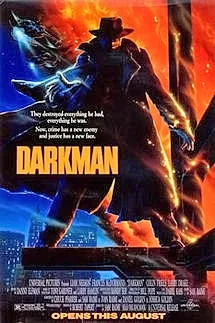 PHOTO COURTESY OF UNIVERSAL PICTURES
MONSTER MASH : 1990's 'Darkman' is a superhero action movie with horror sensibilities.
Darkman tells the story of Peyton Westlake (Liam Neeson), a gifted scientist who invents a synthetic skin that can be used to treat burn victims and those with facial deformities. That invention's pretty convenient for Peyton, who is horribly disfigured and left for dead by a group of thugs lead by the menacing Robert Durant (played by the late, great character actor Larry Drake). After the attack, Peyton is reborn as the hideously scarred Darkman. He vows to get back at the men who attacked him and win back his girlfriend, Julie Hastings (Francis McDormand) in the process.
Peyton uses his lab to construct masks, disguising himself as the henchmen who attacked him and takes his revenge. The catch is that the synthetic skin degrades in the sunlight, giving him limited time to operate incognito.
Coming on the heels of 1989's wildly popular Batman, Rami's take on the superhero genre bears a striking resemblance to Tim Burton's film, right down to a musical score by Danny Elfman. But while the movie borrows its style from Burton's dark, brooding Batman, there's no way you can miss Rami's sensibilities in Darkman. The film features some truly gruesome moments, from Neeson's horrific monster makeup to some fantastic scenes of his "masks" melting and oozing off his face—a stunning show of the practical effects seen in Evil Dead. In interviews, Rami said the movie was, in part, homage to the old Universal Pictures monster movies. Combine that with some odd (and possibly out-of-place) moments of physical comedy (again reminiscent of Evil Dead), and there's no mistaking that this movie was made by anyone but Sam Rami.
Living in a time where slick, big-budget superhero movies are cranked out regularly and seen by millions, Darkman represents a time when filmmakers and movie studios were still trying to figure out how to bring superheroes to the big screen. The rules of the game weren't set in stone, which meant filmmakers like Rami could experiment and take risks. The results, while not always perfect, are interesting and in the case of Darkman, worth checking out.