When? 2004
What's it rated? PG-13
Where's it available? DVD, Streaming on Amazon
Does anyone besides me even remember Envy? I'm including the people involved with the film when I ask that (its reputation warrants self-inflicted amnesia). But I wish those who do remember it would speak up about it. In the pantheon of panned to pulp cinema, I truly believe Envy gets shortchanged in the retrospective arena. I'm not trying to sound condescending, but feel free to picture me looking down on you from a tower shouting trivia tidbits—"This film was received so poorly that both Jack Black and Ben Stiller publicly apologized for its existence at the 2004 Cannes Film Festival. Did you know that? Did you?!"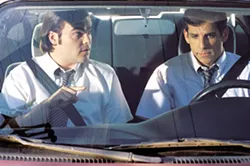 Photo Courtesy Of Dreamworks
BLACK COMEDY When Nick (Jack Black) strikes gold with a billion dollar invention, Tim (Ben Stiller) gets green with envy in the appropriately titled Envy (2004).
But before I get ahead of myself, let's talk about the plot. The film opens with a quirky montage paralleling the lives of its two leads: Tim Dingman (Stiller) and Nick Vanderpark (Black). It's morning and we see them wake up next to their wives, shaving in the bathroom, eating breakfast with their families, yada yada yada. It's almost as if they're the exact same person right? Can two people really have that much in common?
The opening sequence ends with a shot outside of their homes and it's revealed to us that the two men are next-door neighbors. We soon realize they're also co-workers and pretty close friends as well. While carpooling to work that morning, Nick notices a man walking his dog on the sidewalk. The man stops to pick up poop after the dog defecates and a light bulb goes on in Nick's head. After work, he pitches his epiphany to Tim—a spray can that makes poop disappear. Tim scoffs at the idea and turns down Nick's proposal that the two go halfsies on an investment.
Cut to months later: Nick still lives next-door to Tim but the neighborhood has changed, mainly due to most of it being purchased and demolished to make room for his mansion and the theme park in his backyard. Nick's thriving success with his poop vanishing invention makes Tim green with the film's title. This leads to Tim making poor choices, which causes a chain of terrible events because envy is bad and that's the moral of the story ... ?
This premise caught the eye of Oscar winning filmmaker Barry Levinson, the director behind Rain Man and Good Morning Vietnam. And you know what, I can't say I blame him. I might come across as sarcastic and snarky throughout this review, but the truth is I actually like Envy. Why? If I had to narrow it down, maybe it was solely due to Christopher Walken's performance as the J-Man (a barfly Tim meets halfway through the film) or the contagiously hummable soundtrack by Mark Mothersbaugh of Devo or the excessive amount of poop jokes. I'm not admitting to the latter but I do love the name Nick chose for his invention—Va-Poo-rize ("It's just like vaporize except you add an 'O' so you've got 'Poo' right there in the middle"). (99 min.)